PHOTO: GETTY IMAGES
TANK ARRESTED, AND TASERED, IN NEW ORLEANS » R&B singer Tank (real name: Durrell Babbs) was arrested after being subdued by a Taser when he tried to walk through a crime scene in the hours after a basketball game, New Orleans police said. The "Please Don't Go" singer was arrested around 2 A.M. Monday morning (Feb. 18th) in an area of the French Quarter where gunfire had been reported about an hour earlier, Sgt. Joe Narcisse said. Three people received non-life threatening injuries in that incident and no arrests have been made.
Tank, and a lady friend, were leaving a club, and walking to meet their driver when they encountered the police roadblock. According to an inside source, the police were very rude to the two of them in telling them that they couldn't walk through the area. Like a gentleman, Tank spoke up for himself and his lady friend, telling the cops they didn't have to speak to them in the way they did. The two proceeded to walk AWAY from the scene, then out of nowhere 3 cops tackled Tank and began using tasers on him. Tank was booked with public intoxication, interfering with an investigation and disturbing the peace by threats, Sgt. Narcisse said. He was later released on bail.
First Trey Songz, and now Tank? The po-po must have a vendetta against male R&B singers! Joe, Tyrese, and Ginuwine better watch out. Usher doesn't have anything to worry about, as long as he keeps his bodyguard wife with him at all times!
PHOTO: GETTY IMAGES
CHARGES DROPPED, BUT TONY YAYO STILL GETS COMMUNITY SERVICE » Criminal charges against rapper Tony Yayo were dismissed last Thursday (Feb. 14th), although the rapper pled guilty to a violation, regarding an incident last March involving the 14-year-old son of a rival music executive. In March of last year, Yayo (real name: Marvin Bernard), was accused of slapping the son of music executive Jimmy "Henchmen" Rosemond, who manages a number of top rappers, including G-Unit rival The Game. Yayo and several associates were accused of surrounding the boy and backhanding him across the face for wearing a Czar Entertainment T-shirt during an altercation on W. 25th street in New York. According to reports, that very street houses offices for both G-Unit's management Violator and Rosemond's Czar Entertainment and has been the scene of several other violent incidents in the past.
According to Yayo's attorney Scott Leemon, the G-Unit member agreed to a plea that would allow him to avoid a trial and labeled the violation a "glorified traffic ticket" that will not effect the rapper's criminal record at all. Yayo will serve 60 days community service, while Scott Fletcher, one of the associates, was sentenced to nine months in prison for his role in striking the boy. Fletcher admitted to striking the teenager the on the night of his arrest in March of 2007, and admitted to the assault again in August of 2007, while being interviewed on unrelated criminal charges. Fletcher claimed that it was he who had assaulted the child and that Yayo restrained him.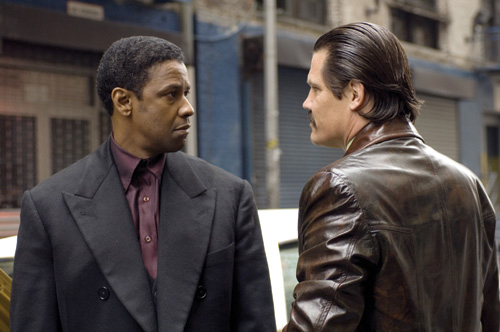 PHOTO: NBC UNIVERSAL
SUIT AGAINST "AMERICAN GANGSTER" DISMISSED BY JUDGE » The $55 million lawsuit filed against NBC Universal by former federal agents who claim the film American Gangster inaccurately portrayed them as criminals has been dismissed. According to New York's Daily News reports, Manhattan Federal Judge Colleen McMahon threw out the case last Thursday (Feb. 14th), noting that the New York City Drug Enforcement Agency doesn't even exist.
"It would behoove a major corporation like Universal (which is owned by a major news organization, NBC) not to put inaccurate statements at the end of popular films," McMahon wrote. "However, nothing in this particular untrue statement is actionable."
The lawsuit sought part of the film's $130 million box-office gross as damages, along with a statement from NBC telling the truth about the DEA's role in the Lucas case. Despite being told they don't have a case, the three agents may continue to pursue the matter. "We will appeal," the agents' attorney, Dominic Amorosa told the Daily News. "The judge was mistaken." Amorosa also represents retired DEA agent Gregory Korniloff, who sent a cease and desist letter to NBC Universal in November and also demanded a retraction of statements made in the film.
Be the first to receive breaking news alerts and more stories like this by subscribing to our mailing list.