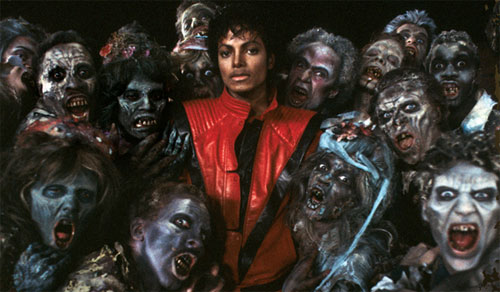 As you should know, Michael Jackson is the juggernaut of Pop (music, culture, fashion). His album Thriller 25 is in stores now, I ask all of the true MJ fans and non-believers to participate in making this album, not equating with the original, the best-selling album to date. Here are the facts (keep in mind – this is all quoted in Guiness Book Or World Records):
1. Biggest Selling Album Of All Time – Guiness Book Of World Records: Michael Jackson's "Thriller" Album is the biggest selling album of all time, with over 50 million copies sold worldwide. Thriller is also the biggest selling U.S album with sales of 25 million copies.

2. Most No1 Hits in 1980's: By The End of the 1980's MIchael Jackson had more #1 hits than any other artist for the decade.

3. Biggest Selling Video: Michael Jackson's "The Making Of Thriller" is the biggest selling video to be released by an artist.

4. Entertainer Of The Decade: With the #1 (Thriller)and #2 (Bad) ranked albums in the world Michael was the 1980's Entertainer Of The Decade.

5. First Video: Michael Jackson was the first black artist to have a video aired on MTV.

6. #1 On Charts: In 1983 Michael became the first artist to simultaneously hold the number one spots on Billboard's rock albums and rock singles charts, as well as the R&B albums and singles charts.
There you have it, that's not even the half of it, so what more could you ask for? If you stroll the Earth, you will find three famous nouns: God, Coca-Cola, and Michael Jackson. Now come MJ fans! Let's make Thriller number one on the charts once more- and I DARE a mf to spew their negroid hatred and speak blasphemy towards this wonderful man … I wish a mf WOOD.
Be the first to receive breaking news alerts and more stories like this by subscribing to our mailing list.