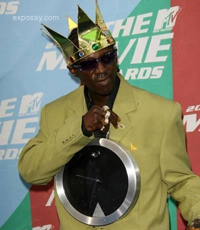 Looks like Flavor Flav isn't done being an "actor!" If you think that shit on VH1 is reality, then I have some swamp land near Paris Hilton's malibu mansion to sell you. Anyway, MyNetworkTV has ordered 13 episodes of a new sitcom called "Under One Roof," which stars William Drayton aka Flavor Flav, that will debut in Spring '08. The series will feature Flav in the role of Calvester Hill, who is an ex-con who moves in with his wealthy, conservative brother Walter. Upon his arrival, Hill starts bringing his old prison buddies by the house, teaching his nephew how to be a gangster rapper, and clashing with Walter's wife Ashley.
"I am real excited about my new sitcom Under one Roof," Flav said in a statement announcing the deal. "I want to thank MyNetworkTV for believing in your boy because we are about to blow this out of the water. I am about to take MyNetworkTV and make it MY network."
Under One Roof is currently in production in Toronto. Does anyone else see the resemblance of "Fresh Prince," which is currently in syndication on Nick-At-Nite? I mean, minus the ex-con bit … but still the same general idea.
Be the first to receive breaking news alerts and more stories like this by subscribing to our mailing list.