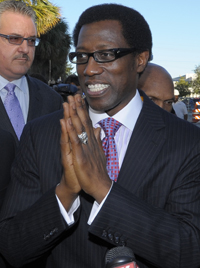 WESLEY SNIPES ACQUITTED OF TAX FRAUD, BUT MAY STILL SERVE TIME » Wesley Snipes was acquitted of tax fraud in a Florida courtroom on Friday, but was convicted of failure to file taxes. Snipes, who was convicted of three misdemeanor counts of failing to file a tax return on his income that amounted to millions of dollars. As he left the court room, he said: "I'm feeling great – a little confused, but great." When asked if he is worried about going to prison, he replied, "I don't know. It's nice to be out here with you right now. We live in the moment." He was acquitted of two felonies, including conspiracy to commit tax fraud. He was also acquitted of three misdemeanor counts of willful failure to file a tax return. Snipes now faces up to three years in federal prison, which is a lot better than facing a possible 16-year prison sentence, had he been convicted of failure to file taxes.
And speaking of "failure to file taxes," another celebrity might be in trouble! Word on the sidewalk is that Fat Joe might owe over $150,000 in back taxes to the IRS.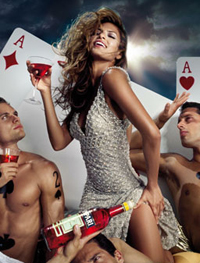 EVA MENDES SEEKS HELP FOR "PERSONAL ISSUES" » What the hell is Eva Mendes doing in rehab? Yeah, that's the first question that hit my mind too! Apparently the "Ghost Rider" actress checked into a swanky rehab facility in Utah a few weeks ago to deal with a supposed substance abuse problem. This is what her rep had to say:
"Eva has been working hard for the past year and made a positive decision to take some much-needed time off to proactively attend to some personal issues that, while not critical, she felt deserved some outside professional support. Out of respect for Eva's privacy, we do not wish to discuss further details."
Eva is currently checked into the Cirque Lodge rehab facility, which is also the same facility Lindsay Lohan checked into back in August 2007. The substance Mendes is being treated for has not yet been reported. Eva was just named Sexiest Actress of 2008 by Victoria's Secret and will be featured in an upcoming Calvin Klein Fragrances advertising campaign, which will debut next fall. Mendes also just wrapped filming on two flicks, "The Spirit" and "The Women."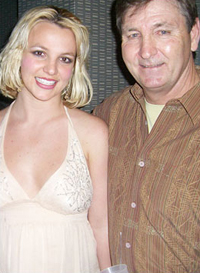 BRITNEY'S FATHER NOW (TEMPORARY) POWER OF ATTORNEY » Jamie Spears, accompanied by ex-wife Lynne Spears, was granted temporary legal control over their daughter in an emergency court hearing this Friday. Commissioner Reva Goetz stated that she found Jamie's petition for conservatorship to be in the singer's "best interest," and that Jamie was a "suitable and qualified person." The decision from the court also states that Britney's manager, Osama Lutfi, is not allowed to see her. The ruling by Commissioner Goetz gives Mr. Spears the power to hire round-the-clock security guards to protect the singer, to bar people from her property in Beverly Hills, and gain temporary control of her assets.
Word on the sidewalk is that when Britney heard the news, she wasn't particularly happy. "Nobody's taking my house. Who is my family?" she screamed into a phone at one point, TMZ said. Britney Spears, whose home was robbed on Friday, is currently under psyche evaluation at the UCLA Medical Center. Her original 72-hour stay has been extended to 14 days.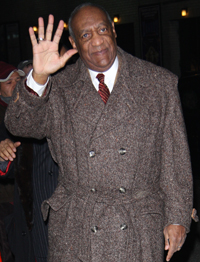 BILL COSBY TO RELEASE A RAP ALBUM SOON … NO REALLY, HE IS! » Bill Cosby, who is very outspoken on his opinion of rap music, is set to release a Hip-Hop album called "State of Emergency," which will be a sanitized, issue-oriented CD, reports All Hip Hop. Sources tell the hip-hop website that the actor, comedian and philanthropist will address issues like proper parenting, teen pregnancy, drug abuse, Black-on-Black crime and the dropout rate in America's high schools. In 2004, Cosby said in a speech:
"Your dirty laundry gets out of school at 2:30 every day, it's cursing and calling each other [the N-word] as they're walking up and down the street. They think they're hip. They can't read. They can't write. They're laughing and giggling, and they're going nowhere."
Cosby's album will not contain any profane language, nor will it offer any denigrating comments towards women. State of Emergency would be the 35th album for the legendary comedian, actor, who released his first album Bill Cosby is a Very Funny Fellow in 1963. Whether or not Cosby will work with rappers on his lyrical flow or his musical selection was not known at press time.
Be the first to receive breaking news alerts and more stories like this by subscribing to our mailing list.