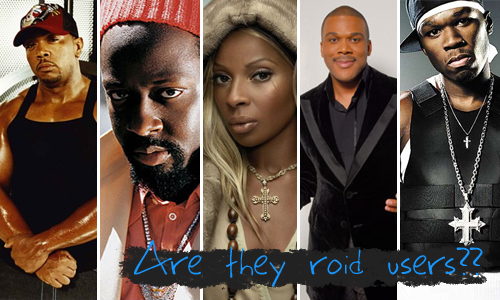 And here we thought steroids were just for athletes! Some of music's biggest names like Mary J. Blige, 50 Cent, Timbaland and Wyclef Jean came up in connection with an Albany, New York based steroid investigation, The Times Union of Albany reported. They even named playwright/director Tyler Perry!
Citing unidentified sources, the report alleged that the above-mentioned music stars, along with award-winning author and producer Tyler Perry, may have received or used performance-enhancing drugs. Grammy-winning singer Blige blasted the report when reached for comment by the New York Daily News. "Mary J. Blige has never taken any performance-enhancing illegal steroids," the singer's spokeswoman Karynne Tencer told the News. Ken Sunshine, a spokesman for Perry, declined to comment to the Associated Press.

Law-enforcement officials have said evidence does not indicate the celebrities broke the law. For now, at least, officials are focusing on the doctors, pharmacists and clinics providing the drugs. Albany District Attorney David Soares launched his investigation into steroid trafficking last year. Soares has declined to comment on or confirm the identities of the stars who came up in the probe. His multistate investigation has focused on Signature Pharmacy of Orlando, Fla. So far, 10 defendants have pleaded guilty and some professional athletes have been linked to the probe in news reports.

Records shared with the Times Union and information from several cooperating witnesses on Long Island indicate the celebrities received prescribed human growth hormone or steroids. In some cases, aliases were used for their delivery. Former Sen. George Mitchell released his report last month on performance-enhancing drugs in baseball. Hearings are set to begin this month in Congress on the Mitchell report.
Well … I'll be damned! The outcome of this will be quite interesting.
Be the first to receive breaking news alerts and more stories like this by subscribing to our mailing list.