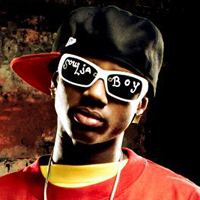 Seventeen-year-old "Crank That" rapper Soulja Boy recently went to venting via his "claim to fame," MySpace, denying rumors of him impregnating a nineteen-year-old Atlanta woman by claiming that those rumors are "not true." He then goes on to address plagiarism claims brought to him by some Ohio band, and acknowledged personal attacks made to him by such celebrities as Steve Harvey with the disc jockey saying [Solja Boy's music] is "vulgar". Here is the full message:
Wuz hannan dis ya folk Soulja Boy I just wanna let all my fans know that rumor about me having a baby on the way is not true.. So FUCK that site Mediatakeout And FUCK Bet Black carpet for lying on me! lol

And Oh yeah this is my only Myspace page all the others is fake. And FUCK D.O.B. for lying and saying im joccin them I never heard of them in my life if I leave a comment on ya page and say yo music tight u should take that shit as i compliment DUMBASS! And when I come to Ohio I wish yall niggaz would try some shit I will beat the shit out of yall niggaz myself

I look around and see alot of haters.. Even famous people who don't know me. Steve Harvey hating? I mean Damn.. STEVE HARVEY? wtf I grew up watchin this nigga on TV and he wanna get on radio saying my songs are vulgar and trying to stop me from gettin my paper. I mean damn dude if yo son was out here trying to provide from his family you wouldn't wont someone trying to stop his success and making up shit.

How you gone say some shit on Radio where ALOT of people will believe just because of who you are leave your mouth if you didnt make sure it was true? I got old ass niggaz from Wu-Tang dissin me. Some dude named GZA from Wu-Tang Clan dat was born in 66′ lol, who I never met in my life.. I'm like wow..

Don't hate. INHALE IT IN NIGGA BREATHE IT IN! BASK IN IT!
I hate to admit it, that 'Boy has a point! As much as I dislike most of his music, I wouldn't go on to spread hateful rumors about him or say that his songs are "vulgar". And if he did write this, most likely, I surely wouldn't dissect his savvy Internet speech and come to the conclusion that he's ghetto or whatever! Who takes MySpace seriously anyway? Again, I'm not really all into his music like that but I avoid (key word) it, somehow. I'm definitely not mad at him though. He writes, produces, and markets his own music which means he ain't got to listen NOBODY ($$$). So I applaud him for that, him being almost my age and all, achieving already more than I have. He is very young and ultimately, he is going to rebel, that is just apart of growing up. I somewhat respect him for this though … don't ask me why.
Be the first to receive breaking news alerts and more stories like this by subscribing to our mailing list.