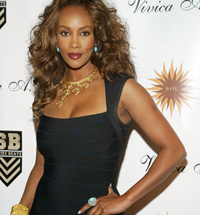 PHOTO: WIRE IMAGE
Just so you know, in my opinion, you're not a real celebrity until a blurry video of you doing the nasty with your significant other (or just a random jump-off … whatever makes your boat float) "leaks" to the internet. Word on the sidewalk is that a certain Atlanta radio personality who goes by Porsche Foxx lucked up on a sex tape (recorded via cell phone, mind you) featuring Vivica Fox and an unknown male companion. Apparently Aunt Viv was blowing dude's whistle, if you know what I mean. And Sandra Rose basically confirmed it, but of course Porsche's denying that she said it was really Viv!
Sex tapes aren't really all that bad. Look what they did for the careers of Paris Hilton and Kim Kardashian!! Besides, it's the year 2008 … you should know by now that anything "recorded" and not immediately deleted/destroyed is liable to get out SOONER OR LATER. When are people gonna learn?!
Be the first to receive breaking news alerts and more stories like this by subscribing to our mailing list.