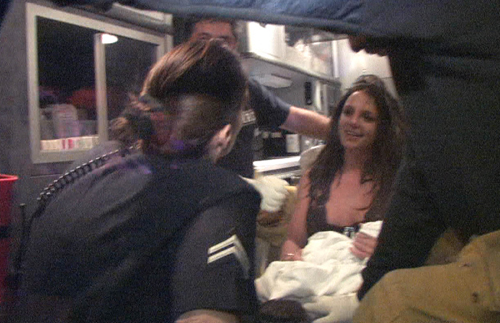 PHOTO: SPLASH NEWS
Pop singer Britney Spears kicked off the year 2008 in a way that she, and only she, can. If you remember correctly, she earned a spot at the top of our celebrities who failed to "Think2wice" in 2007 list, and it appears like she might make the top spot for this year too!
Police were called to Britney Spears' home Thursday night in a custodial dispute that lasted nearly three hours before an intoxicated Spears reportedly turned over her children to ex-husband Kevin Federline. Officers were called to the home around 8 p.m., and the 26-year-old singer turned over the children around 10:50 p.m., Officer Jason Lee, a police spokesman, told City News Service. Aerial footage from KTLA-TV showed Spears being lifted in a gurney into an ambulance. It was unclear where she was being taken. Lee said Spears was under the influence of an unknown substance, and no injuries were reported.

The incident involved a family dispute that police worked to resolve "peacefully by court order," he said. An Associated Press photographer outside the gated community that includes Spears' house saw six police cars, an ambulance and a fire truck enter around 10:30 p.m. A dispatcher with the fire department referred calls to the police department. Spears and Federline are fighting over custody of their sons, 2-year-old Sean Preston and 1-year-old Jayden James. Federline, 29, has temporary custody of the children because Spears, who has limited visitation rights, has defied court orders. The two were married in October 2004 and divorced in July.

Calls to attorneys for Federline and Spears were not immediately returned. Earlier Thursday, the singer appeared for a deposition in the custody dispute. She was deposed for just 14 minutes, attorney Mark Vincent Kaplan told reporters after she left. Spears called in sick for a Dec. 12 court-ordered deposition, but was photographed that day driving with a friend. She also didn't show up for a session Wednesday, Kaplan said. Spears' attorneys from the firm Trope and Trope on Wednesday filed a court motion asking to be relieved due to a "breakdown"in communication with their client.

Kaplan said Spears' attorneys were present for what became a very abbreviated session. "The deposition proceeding did go forward today. It was scheduled for 9:45 to 11:45," Kaplan said. "However, it wasn't able to commence until 11:32. You can imagine in 14 minutes there's not a lot of time to develop questions,"he said.

Kaplan said another deposition would be scheduled. [ NY DAILY NEWS ]
In my honest opinion, I don't think Britney's going to be getting custody of those kids any time soon. Word on the sidewalk is she'll be shipped off to a mental institution. I'll keep you updated … if you care, lol.
Be the first to receive breaking news alerts and more stories like this by subscribing to our mailing list.