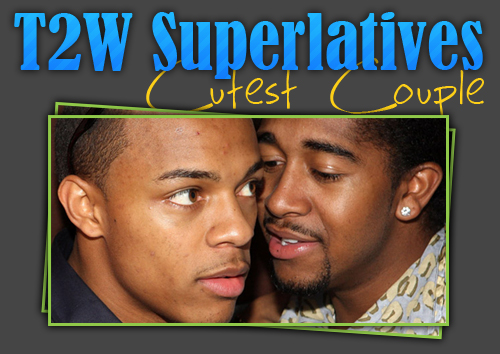 Just to throw in some more laughs, we thought about having "Superlatives!" You know what those are right? They're in the Senior section of your high school yearbook. They list the cutest couple, biggest flirt, best all around, most athletic, most likely to ___, etc. If I had thought of this sooner we could have had you guys participate by nominating and voting, but we'll save that for next year. This time around we're going to pick the winners. Cool? Anyhow … "Cutest Couple" for the year 2007 goes to …
BOW WOW & OMARION »
Bowmarion, as we like to call them, received the 2007 "Cutest Couple" award because they deserve it and you damn well know it. For the past year or two, these two have been inseparable. From parties to award shows, to television appearances and random interviews, you just can't get these two Butt Pirates [1] apart! Recently, the couple have released a joint-album together – "Face Off" – and are currently on tour with Chris Brown in the "Up Close and Personal" tour. To see a public display of Bow Wow's love and affection for his other half, peep this youtube video of the little guy taking up for his man. Love is such a beautiful thing.
[1] Sorry y'all, I just got through watching "I Now Pronounce You Chuck & Larry!"
Be the first to receive breaking news alerts and more stories like this by subscribing to our mailing list.