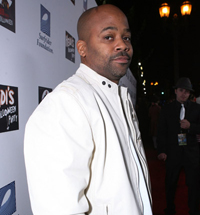 PHOTO: WIRE IMAGE
Damon Dash, former Roc-a-fella CEO, is in hot water for allegedly exposing himself to an Atlanta woman, and requesting that she perform oral sex on him. Dame met the woman, Jamie Roberts, and introduced himself as "Jeremy McIntire" at a party in 2004 in Miami. Dash insists he has never even met his 24-year-old accuser.
"It's quite obvious that this is a false allegation," Dash said in a statement. "We know nothing about it."

A complaint filed in Manhattan Supreme Court says the encounter left the woman – who admits to suffering from schizophrenia and bipolar disorder – hearing Dash's voice in her ear "giving her certain instructions to follow." Roberts alleges she met someone introducing himself as "Jeremy McIntyre" at a Miami nightclub in March 2004, and agreed to rendezvous with him later at a marina near the club.

Roberts, who declined comment, also claims she never had a clue who Dash was until she spotted him on "Chappelle's Show." She is seeking $30,000 in damages. Dash was sued by an ex-model who accused him of a 2003 sexual assault in Brazil, and has had a long-running court battle with the mother of one of his children. [ NY DAILY NEWS ]
Uhm … this chick is bi-polar and schizophrenic? You can't be serious!!
Be the first to receive breaking news alerts and more stories like this by subscribing to our mailing list.