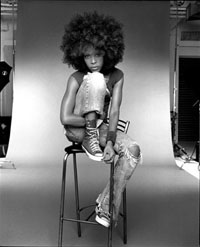 Nu-soulstress Erykah Badu recently revealed the name of her 4th full length album, Nu AmErykah, which will feature production by Madlib, 9th Wonder, Mike "Chav" Chavarria, and a guest spot from Bilal the LP's due date is expected for a Winter release (February 26th) of next year via Universal/Motown. In reference to the prior provisional title, Kabbah, Badu says that that name was never final and that she prefers to wait and title her albums once they're finished:
"I named the album Nu AmErykah because I'm dealing with whatever is to come instead of what was," said Badu. Apparently being her 3rd LP, Worldwide Underground, in 2003 due to lackadaisical sales which was due to timing the singer proclaims, "I didn't feel like doing the whole promotional circuit for that record. I'd just had a baby." – source
Nu AmErykah will include a total of 18 pre-recorded tracks on a two disc format and will include the psychedelic single "Honey" produced by 9th Wonder.
Be the first to receive breaking news alerts and more stories like this by subscribing to our mailing list.