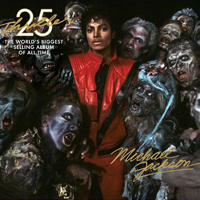 THRILLER 25TH ANNIVERSARY EDITION (CLICK TO ENLARGE)
EPIC RECORDS/LEGACY RECORDINGS UNVEIL THE 25TH ANNIVERSARY EDITION OF MICHAEL JACKSON'S THRILLER THE WORLD'S BIGGEST SELLING ALBUM OF ALL TIME Well it has indeed been a long time coming but the wait is now worth it, The World's Top-selling Pop Artist Ever Mr. Michael Jackson will be returning with brand new and unreleased material featuring Will.I.Am and Fergie from the Black Eyed Peas, Akon and Kanye West for the final installment of Thriller 25th Anniversary Edition! The album will be available for purchase February 12th of next year and expect a new single to be announced sometime in December of 2007. I'm so overzealous — you have no idea! The album Thriller has been certified by the RIAA 27x platinum thus achieving Double Diamond status and making history as the first and only record to be America's top-selling album two years running (1983 and 1984). Michael Jackson has started a mainstream phenomenon in everything, not just music, he is just simply the greatest and there will never be another quite like Michael. Ahh, I think my all-time favorite MJ cuts would have to be (next to "Thriller" of course), "They Don't Care About Us," "Leave Me Alone," "Ghost" and "Scream!" But really, I like all of 'em! This man puts out consecutive hits to me, he will always be number one, I cannot stress that enough. Oh, I'm so excited — can you tell?! **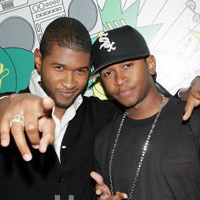 PHOTO: GETTY IMAGES
HIT-MAKING PRODUCER J.LACK PENS MAJOR PUBLISHING DEAL WITH EMI MUSIC PUBLISHING
Young hit-maker and Atlanta native James Lackey, or 'J.Lack' as he likes to be called, is responsible for the enticing melodies and heavy synth to R&Ber Lloyd's "Get It Shawty" (hence the "this is a J.Lack track, man!" introduction) as well as other relative artists. He's work with the likes of Chris Brown, One Chance, Ryon Lovett, and yes, even Usher. Lackey's sound is both stellar and sonically unique to the ear. I forethought an equality of success for him, not factoring his biological relationship to Usher but becoming just as "noticed," if anything Lackey is a complete opposite. So, it is really no surprise that he obtained a worldwide publishing deal with EMI: "JLack is an incredibly talented songwriter and producer. He has a true musical sensitivity and this, coupled with his incredible drive, is the combination for a bright future. He has emerged gracefully as a true songwriter," says Big Jon Platt, Executive Vice President/Head of Urban at EMI Music Publishing. Lackey is currently residing in New York working hard in the studio on new upcoming projects to offer, I cannot help but wait, bring it Lackey!
**BONUS: IT'S THRILLER, BITCH!
Be the first to receive breaking news alerts and more stories like this by subscribing to our mailing list.