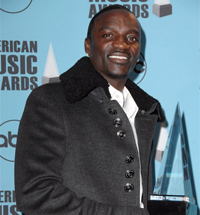 According to People, police are slapping hip-hop star Akon with criminal charges after a fan said she suffered a concussion in an incident involving him throwing a fan off of the stage at a concert in Fishkill, NY. Akon is due in a Fishkill courtroom Monday to be arraigned on misdemeanor charges of endangering the welfare of a minor and second-degree harassment, the Associated Press reports.
During the summer concert, Akon threw an audience member from the stage into the crowd after a bottle was thrown at him. According to AP, the boy landed on another fan, Abby Rosa, who told the Poughkeepsie Journal that she suffered a concussion. I wonder if, and when, she's gonna sue Akon since she "suffered a concussion."
Be the first to receive breaking news alerts and more stories like this by subscribing to our mailing list.