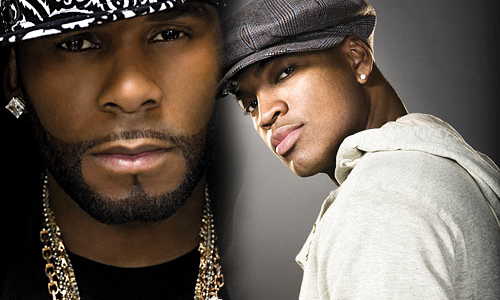 [audio:radio_neyo-on-rkelly.mp3]
Ne-Yo called in to Big Tigger's radio show on 95.5 yesterday to speak on the craziness surrounding the Double Up tour with he and R Kelly. As we reported yesterday, he was dropped from the tour and he cleared the air and talked about the REAL reason why he was dismissed. Ne-Yo went on to say that he still has respect for R Kelly as an ARTIST, but as a person … some (if not, all) respect has been lost. And I don't blame him! Let me sum it up for you:
1. The venue in Columbus, Georgia only has 7 dressing rooms. Guess how many Mr. Robert Kelly wanted to use? All 7! Fortunately for Ne-Yo, his people worked it out, and Ne-Yo and his dancers eventually got one of the rooms.

2. He was told that he and his crew had 4 hours of rehearsal time, but R Kelly only wanted him to have 2 so he would physically go out there and try to rush them off of the stage.

3. Reviews from the show have primarily been focusing on Ne-Yo's set and Kellz is a little pissed about that. Kind of childish if you ask me…

4. And this is the icing on the cake … no one was allowed in the hallways when R Kelly was walking through. Who the hell does he think he is??? I mean really, it ain't that damn serious.

5. Ne-Yo's not sure what's going on as far as the Keyshia Cole rumor because he hasn't heard anything from her or her people.

6. He apologized to all of his fans for not being able to be on the tour and speaks highly of J Holiday and Keyshia saying that they're "doing their thing." And he ends with telling them (his fans) to "support R Kelly if they feel like it" LMAO!
So he's not trying to start any beef, he's just speaking the truth. No harm in that right? I'd like to hear what Kellz has to say about this. And we have YET to hear Keyshia's side to the story. Ne-Yo's the only one being real with us.
Be the first to receive breaking news alerts and more stories like this by subscribing to our mailing list.