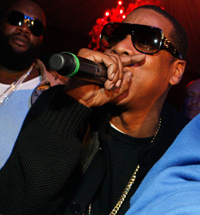 PHOTO: WIRE IMAGE
Jay-Z took the initiative and banned his latest LP, "American Gangster," from iTunes because he wants his fans to listen to the album in its entirety, rather than downloading a track here, and a track there, which iTunes lets you do for only $0.99 per song.
As movies are not sold scene by scene, this collection will not be sold as individual singles.
If American Gangster, which is in competition with Chris Brown's "Exclusive," charts #1, Jay-Z will tie Elvis for the most number one albums in history. Only the Beatles have more, with 19.
In other Jigga news, word on the block is that he's also infiltrated Sirius radio, where he is taking over the satellite station for the week. Jay-Z will be in charge of Hip-Hop Nation channel 40, playing songs from his albums as well as other artists of his choosing.
And on top of that, 106 & Park will be doing Friday's show at a top secret location in his hometown of Brooklyn, New York for a free mini-concert. He's doing it up big!! To be a part of this once-in-a-lifetime free event, please email audience106@bet.com for tickets and more information. Brought to you by BET, tune into 106 & Park on Friday, November 9th at 6:00 P.M. ET/PT to see it all go down.
Be the first to receive breaking news alerts and more stories like this by subscribing to our mailing list.