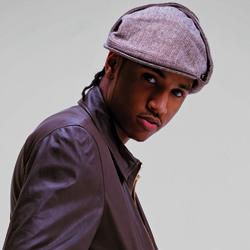 First up, a big thank you goes out to ijeoma for updating me on the Trey Songz situation. Apparently he was just caught up in a mess and was totally innocent. The charges brought against him will probably end up getting dropped. But unfortunately for the Springfield, Massachusetts police, they're not going to get off as easy, because Trey is considering legal action against them, and I don't blame him one bit.
Trey Songz says he is contemplating legal action against the Springfield, Massachusetts, police department after he and two members of his entourage were arrested early Sunday morning following a performance at Springfield's Hippodrome. In an incident involving several police officers that followed a person firing a gun into the crowd outside the Hippodrome, Songz (real name: Tremaine Neverson) was arrested for resisting arrest and disorderly conduct, according to Springfield police. Kenny Bugg, who was with Songz, was arrested on the same charges while another man in their party, Jasper Murray, has disorderly conduct charges pending. Both offenses are misdemeanors. Anthony Williams, the man who allegedly fired the gun, is charged with a number of crimes including assault with intent to murder, assault and battery and assault with a dangerous weapon.

"The show went real well. No incidents [inside]," Songz recalled on Tuesday morning (November 6), describing the night. "As soon as we finished [performing], they turned the lights on and everyone started to leave." Ironically, the end of the show marked the beginning of Songz and company's problems. They exited through the performers' entrance, but that entrance leads into the same parking lot used by the general public.

"My homie goes to get one of the police officers to escort us out of there and [someone in the parking lot] started bussin' [firing a gun]," Songz recalled. "So we started ducking in the car. So my homie runs back to the car and gets in like, 'They bussin'!' By the time we look up, we see the police [had] apprehended somebody, so we said, 'We ain't finnin' to wait.' We got out the car and proceeded to walk, 'cause the hotel is only a block away. The police stopped us and were like, 'Hold up, hold up.' "

Songz said that the police were not letting anyone out of the parking lot without being searched. Songz said he and his entourage were trying to comply with the officers' request to search them, but things went badly. "They go to my road manager Bobby and they wanna check him," the singer said. "Bobby tells them he had like $6,000 in show money — because if they started feeling on that, they might think something. So he tells the cops he's got the money in his pocket and the cops break bad with him. They grabbed the road manger by the neck, and I'm standing right beside him. So my bodyguard steps out and pushes me out the way because that's [his] second nature. They think because he steps up, he wants to stop something."

Songz said that one officer tried to take down his tall, 300-pound bodyguard but did not succeed, so more officers got involved and took him down. "It was seven on him, beating his a–," Songz said bitterly. "He caught it in the back of the head with a nightstick. His face was swollen. His arm was out of place." Songz said he too got roughed up after yelling at one of the officers. He said he was angry because he saw a group of white officers laughing about what had just happened, and verbalized his disdain.

"The officers were joking about hitting [us]," Trey fumed. "I was like, 'Man, y'all stomped my n—a's face in.' That's when they tackled me. It was like four officers on me. One officer had his knee in my throat. They was kicking me in the ribs. Talking to people in that community, they say that thing happens all the time. "I'm blessed to be up out of that situation," Trey continued. "Somebody could have gotten shot. I look at the best of the situation but something's gotta stop with the nooses, Jena Six. So much is going on in so little time."

Upon hearing Songz's comments, Jennifer Flagg, chief of staff of the Springfield Police Department, told MTV News that Songz and his friends were arrested because officers found them to be "verbally and physically combative after attempting to cross the police line." As for Songz's allegations of racism on the part of the police, Flagg said, "I would ask him why the other hundreds of African-Americans [who attended the show] were not harassed either." Flagg also said officers of different races were assigned to the scene, including black and Hispanic officers. Songz said one black officer had talked to him briefly; the singer also admitted that during the chaos, he was not able to procure the officers' badge numbers or names. Songz says he has no connection to the shooter and police have said they have no reason to believe that one exists, although an investigation is still pending. No motive for the shooting has been given. Songz's tour continues and will head to Europe soon. He said he has hired an off-duty police officer to travel with him from now on.

"I have to have the police to protect me from the police," he said. "I know a lot of people want to give me the bad-boy stigma after this, but I ain't out there looking for no trouble." Songz said he has talked with his lawyers about legal action, but his first priority is to get the charges against him and his crew dropped. [ SOURCE: MTV NEWS ]
Be the first to receive breaking news alerts and more stories like this by subscribing to our mailing list.