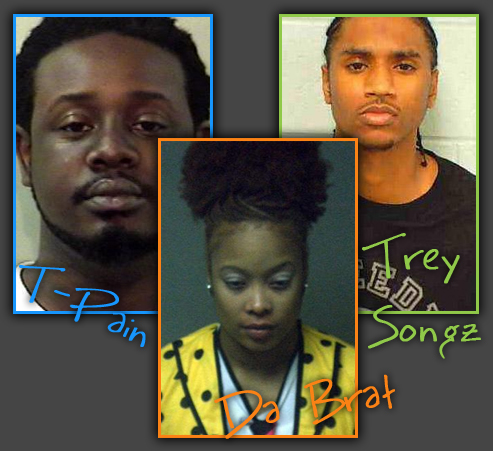 In my short absense from blogging, I missed the arrest of 3 … count them … THREE … celebrities! I mean really, is this becoming a trend? Is getting arrested what's hot in the streets? If so, let me know so I can throw on my stocking cap with the eyes cut out and hit up the local nursing home so I can collect some Social Security checks! Anybody with me? Or maybe I can just smash a bitch in the face with a bottle like my homeboy Da Brat. Continue reading so you can shake your head at this mess…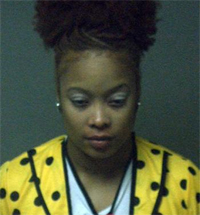 BOOKING PHOTO (VIA AP)
Da Brat was arrested early Thursday after a dispute with a waitress at Studio 72, Jermaine Dupri's clu. 33-year-old Shawntae Harris was charged with aggravated assault, said DeKalb County Police spokeswoman Mekka Parish. Club owners couldn't immediately be reached for comment. But according to the police report this is how it all went down: The waitress accidentally bumped into Brat and the two proceeded to get into a little "verbal scuffle." The waitress apparently didn't want to hear Mr. Harris' mouth so she walked away and baby gangster (Da Brat) took a bottle of rum, and hit the waitress in the face with it! Parish said the waitress, who sustained a deep laceration to the cheek and some swelling on the forehead, was driven to a hospital by a friend. I mean really, was it that serious??? Anyhow, Shawntae was released the next day after posting $50,000 bond. It's unknown whether or not he'll face any charges. I know the government is making a killing off of these celebs getting arrested left and right! If they keep this shit up, we'll be out of debt in no time! Y'all know I'm bullshittin' right? LOL!
BOOKING PHOTO (VIA TMZ)
Next up is Faheem Najm, better known to us common folk as "T-Pain." He was arrested in Florida on Friday for "outstanding warrants." According to TMZ, he turned himself in at Leon County Jail, where he was charged with driving on a suspended license. He's not a G like my boy Da Brat! TMZ reports that police saw T-Pain driving in Tallahassee in June and, after running his record, discovered that he had a suspended license. Anyhow, if my sources are correct, Teddy Penderass was still able to perfrom at FAMU's homecoming with Lil' Wayne and Boosie. Meanwhile, JIVE is denying pretty much everything (minus the FAMU homecoming bit) mentioned in the previous 5 lines. Go figure!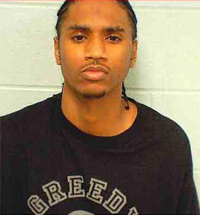 BOOKING PHOTO (VIA TMZ)
And last, but not least, Tremaine. Tremaine Neverson that is. We know him as "Trey Songz" by the way. Anyhow, he was arrested Sunday night in connection with a shooting in Springfield, Massachusetts. Really? Springfield? Hmm … no comment. Anyhow, Trey was among a group of men taken into custody on Sunday following the incident in the parking lot of The Hippodrome, where he had performed the previous evening. The shoot-out left one man injured and he was taken to a local hospital with non-life threatening injuries. The alleged gunman, 29-year-old Anthony Williams, has been charged on multiple counts, including assault and battery by means of a dangerous weapon, possession of a firearm without a lisence and assault with intent to murder (dayummm, homie!).
Tremaine was charged with "behaving like a disorderly person" and resisting arrest for his part in the crime, although it is unclear whether he is connected to either man. He was released after posting $500 (GBP250) bond. According to Lieutenant John Slepchuck of the Springfield Police Department, cops were present when shots were fired behind the venue in the early hours of Sunday morning.
He tells AllHipHop.com, "Our disorderly person charge can involve several different things including the use of certain language, failure to do what an officer asks. "(Neverson) was interfering with an active crime scene involving a victim."
Nice try Trey, but you're still not on the level of Da Brat! She, excuse me, HE killt (yes, pronounced KILLT) all y'all hoes with her assault charge!
Be the first to receive breaking news alerts and more stories like this by subscribing to our mailing list.