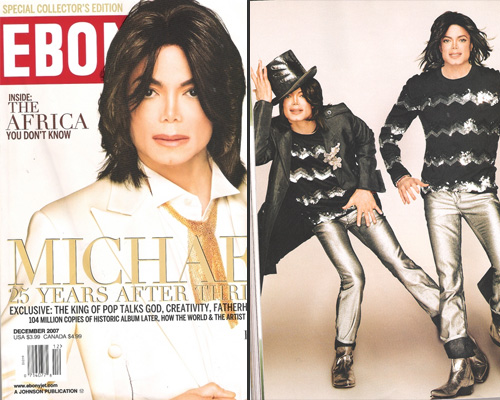 If you didn't know already, Michael Jackson is slated to make a big comeback with a new album paying homage to "Thriller," an album he released 25 years ago, featuring productions from a few of the heavy-hitters in the industry. Just to mention a few names … Kanye West, Akon, and Will.i.am of the Black Eyed Peas. Sounds like it's going to be a pretty crazy project!
Anyhow, Jacko is featured on the cover of the latest edition of Ebony Magazine in honor of "Thriller" turning 25. Spies told the NY Post's Page Six that MJ was "very sweet" and asked a ton of questions about the lives of the crew members on the set at the Brooklyn Museum of Art. "He did go on and on about kids, though, saying how much he loved them," reported the spy. After the shoot, he posed for photographs with the crew.
Mike really needs to let go of how much he loves children if he wants anyone to believe he isn't a pedophile. But eff all that … 25 years?! Where can some of these so called "artists" today say they'll see themselves in the year 2032. Working the graveyard shift at Lil' Cricket [1]? I mean really, what will Soulja Boy being doing 25 years from now.
[1] Only my fellow South Carolinians know what that is!
Be the first to receive breaking news alerts and more stories like this by subscribing to our mailing list.