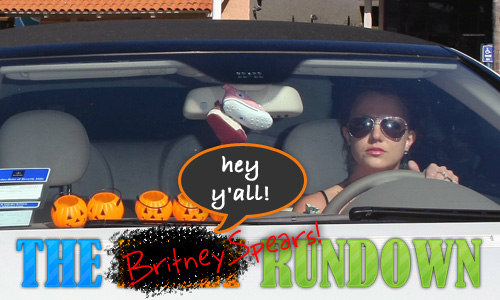 Sorry for my slack this week. I've been having some serious internet problems since last weekend. There's nothing I can really do about it though besides waiting it out seeing as we only have one cable internet service in this area … and they suck!*cough*CHARTER*cough, but anyhow, Britney Spears has been in the news a lot this week, and if you haven't been keeping up with her, let me help you out in that area . . .
BRITNEY SPEARS TURNS HERSELF IN FOR AUGUST 6TH WRECK »
Britney Spears reported to a Los Angeles-area police station Monday night to be booked in connection with two minor fender-benders. Spears breezed in the front doors the station in the Los Angeles suburb of Van Nuys around 9 p.m. Monday, after declining an offer to sneak in through the back. Hiding a case of pinkeye (ew!), she spent between 30 and 45 minutes getting booked. You know, the usual. Getting her mugshots, fingerprints, etc. "She was fine, cooperative," said LAPD officer Mike Lopez. "She did her business and came out." Spears' appearance at the station was a prelude to an October 25 court date on charges she bumped up against another car while turning into a spot in a Studio City parking lot on August 6. Spears checked out the damage before heading into an adjacent buidling. Unfortunately for Britney, the paparazzi caught the whole thing on camera. I'm sure you've seen it all over the net and on TV. Kim Robard-Rifkin, the lady who owns the car Britney hit, reported the incident several days later.
WHY DOES BRITNEY GO COMMANDO? »
According to a friend close to Britney Spears, she doesn't wear underwear because … well, she just doesn't want to! That's a good enough reason, right? Check out what "Tuesday" revealed to In Touch below:
A longtime friend of Britney Spears is exasperated that the singer keeps exposing herself in public. "The underwear thing is ridiculous — and I've told her," Tuesday Knight, a jewelry designer who has been a friend of Britney's since 2003, tells In Touch. "I've said, 'You cannot walk into a store wearing just a shirt with your underwear off.' I've told her that no one will take her seriously when she does this." Tuesday believes Britney's insecurity after her divorce from Kevin Federline led to her exposing her private parts. "I love Britney — adore her — but she brings a lot of it on herself," says Tuesday, 38. "I've heard Paris Hilton, Lindsay Lohan and Britney talk about how they shock Hollywood just for the fun of it. They were discussing how they could play a little joke on all of us."

"Britney has always been a good mother," she says. "I want people to know that she's the better parent — not Kevin!" Tuesday adds, "Britney asked me, 'Doesn't anybody get to see this part of me?' The answer is, no, they don't. People just read about her not wearing underwear." Tuesday blames Kevin, 29, for Britney's transformation from international pop star to train wreck. "I knew Britney when she and Kevin first met," Tuesday says. "She remade her entire life so it was all about him. She didn't even want to sign a prenup. Since then, I've watched her spiral downward." Now, her problem of flashing could get her in even more trouble with the law. "The rules on indecent exposure are the same for everybody," says attorney Myles Alderman Jr. of New York's Alderman & Alderman law firm, which does not represent Britney. "If you can see her exposing herself at eye level, then that would be sufficient evidence and could create a legal issue." Before that happens, Tuesday hopes that her friend will realize that she doesn't have to humiliate herself to get attention. "Britney doesn't need to do it and she knows it's stupid," says Tuesday. "But she says that she just doesn't like to wear underwear."
Well that sure does explain a lot. Thanks for the dirt "Tuesday!"
BRITNEY SPEARS' VISITATION RIGHTS SUSPENDED »
First, sole custody for the kids went to Kevin, and now she can't even visit them! According to a court document released Thursday, Britney spears has lost visitation rights to her two sons, Jaden and Preston. "[Spears's] visitation with the minor children is suspended pending [her] compliance with court orders," the document reads. No further explanation was given.
But a source close to Spears says the judge removed visitation rights after the pop star was unreachable by a cell phone designated for court-related scheduling. "She waited by the phone," says the source. "It never rang." Turns out the phone wasn't getting a signal at her. Now, ain't that a bitch! But uhh … aren't most cell phones equipped with this neat little feature that lets you see if your phone has a signal? I mean, I'm just saying…
Be the first to receive breaking news alerts and more stories like this by subscribing to our mailing list.