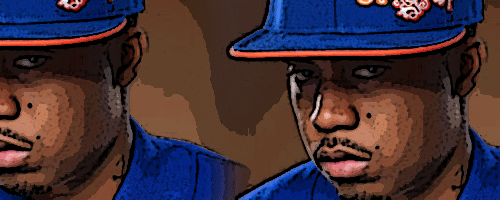 Hip-hop legend Nasir Jones, 34, is completely baffled at recent reports of the supposed "relapse" of his upcoming album, slated to be release December 11th. As you may know, there has been continues claims of [ the label's ] impediment towards the project and even the preposterous rumor of "inevitable" withdrawal. But the emcee insists [1] that you shouldn't believe anything you've heard about Def Jam, or the rumor about him chaning his album's title for that matter.
"I don't know where that [report] came from and neither does Def Jam," Nas stated, early yesterday morning, in a Manhattan recording studio when asked about a recent article published earlier this week. "None of us knows where that came from."
Nas, now making an example out numerous blogs and media outlets, has added more controversy by changing his album's name from the term "N*gga" to "N*gger". -_-
"You ain't got no business worrying about what the word 'n*gger' is or acting like you know what my album is about without talking to me," Nas addresses the recent remarks made by political advocate Rev. Jesse Jackson among others.
Well, y'all . . . pro/cons? Me, I think I've come to the point of ultra liberalness, so it isn't really concerning/uncomprehending to me. I'm sure there is logic behind this; I don't think we should pass judgment so quickly. However, you are entitled to your discretion so feel free to discuss in the commenting section if you would like. [ SOURCE ]
Be the first to receive breaking news alerts and more stories like this by subscribing to our mailing list.