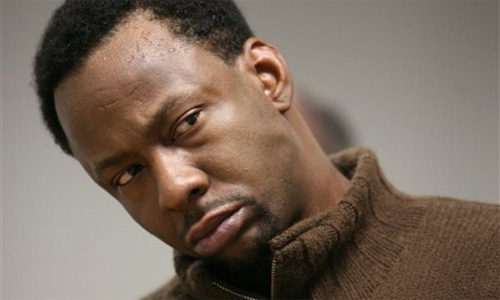 Yesterday TMZ put out a story saying that Bobby Brown had a HEART ATTACK SCARE and recorded a "death bed video" and err-thang! . . . Well according to Bobby-B himself, that's totally not the case. The "King of R&B" (according to Whitney Houston) spoke with Lee Bailey of Eurweb exclusively about the "incident." Apparently he was just in for a pre-tour checkup. Way to go TMZ!
A healthy-sounding Bobby Brown spoke exclusively with EUR's Lee Bailey Wednesday to deny published reports that he was taken to two Los Angeles hospitals Tuesday night with severe chest pains that were later diagnosed as a mild heart attack. "I heard that I had a heart attack earlier, but I didn't," Brown told Bailey during a phone call Wednesday afternoon. Reports on TMZ.com, the Atlanta Journal-Constitution and the Associated Press cited confirmation from Brown's Atlanta-based lawyer, Phaedra Parks, who said Wednesday: "This morning they did diagnose him as suffering from a mild heart attack … they attributed (it) to stress and diet."

However, the 38-year-old singer said he went to the hospital for a simple pre-tour check-up – "I gotta make sure my vitals and everything is straight" – and next thing he knew, folks were reporting that he had suffered a heart attack. "That's what happens when you're Bobby Brown," he joked. "I just had some procedures done. The doc cleared me and said, you know, [go] do what I do." As for his lawyer Parks' confirmation to various outlets regarding the supposed heart attack, Brown says: "She got bad information from somewhere else, and that just goes to show that people need to talk to each other more often in order to make things right."

"But everything's all right with me. I got a clean bill of health and everything's fine," he says. "I'm ready to get on this road and do these shows and take care of what I gotta take care of." Brown said he was concerned that the heart attack rumors would have a negative affect on his children. He said: "It bothers me a lot because my kids are hearing it and they're calling me crying and stuff, so I just had to let everybody know that I am okay, and it's good that I have someone who I can tell that I'm okay, and you can pass the word on to everybody else."

Brown says he hadn't even heard about TMZ.com's report of him filming a death bed video message for his family. "Just in case I didn't make it huh? That's something new to me," Brown laughed. "I gotta find out about that one." Meanwhile, Brown says he will be part of a New Jack Swing tour featuring Aaron Hall, Keith Sweat, Johnny Gill, Tony! Toni! Tone!, K-Ci and Jo-Jo and others. "It's a nice little tour that we're gonna do to give respect to our sound," said Brown. "I'm just looking forward to getting out on that stage and giving my all, and doing what I do best, which is perform."
Be the first to receive breaking news alerts and more stories like this by subscribing to our mailing list.