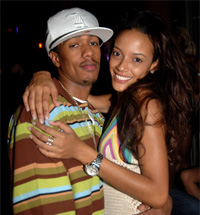 PHOTO: WIRE IMAGE
THE ENGAGEMENT IS OFF! » Certified cornball Nick Cannon and Victoria's Secret model Selita Ebanks have called off their engagement and split up, Ebanks's rep confirms to PEOPLE exclusively.
Selita and Nick are taking a break to focus on their careers but still very much love each other and remain the best of friends.
The breakup comes just five months after the Drumline actor made a proposal that lit up New York's Times Square – literally – as he asked Ebanks to marry him with the help of a jumbotron. By August, Cannon, 26, was more measured when it came to nailing down wedding details, telling PEOPLE, "We haven't really talked about a lot of that stuff. You've got to take it slow." (Maybe he was taking it a bit TOO slow — Dustin) As for Ebanks, she said earlier in the summer that the pair had some fundamental differences between their ideal ceremony. "He's all about the bling and having a big wedding. Me? I'm all about the courthouse."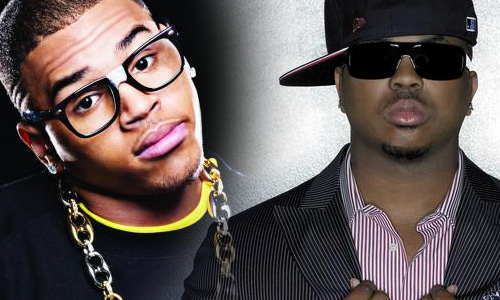 ISN'T IT A LITTLE TO EARLY IN THE GAME FOR "BEEF?" » The Dream, popular for Rihanna's "Umbrella," J.Holiday's "Bed," and more recently, his own single, "Shawty Is a Ten" is heated at fellow R&B singer Chris Brown! In a recent interview with Billboard The Dream revealed he has beef with the teen crooner over comments Brown made regarding his hit song "Bed."
The track was considered for Chris Brown – he thought it was his – but it was my record and I decided to give it up to J.Holiday. Chris said the record won't be No. 1 unless he's on it. I bet someone $500,000 that it would go to No. 1 and I collected my money just last week. … He said the wrong thing to me. He has a track from me now that I was paid for already and I want to give him his money back. At the end of the day, I'm big on principle and loyalty. Put that to bed.
Aww snap! But I'd love to hear Chris Brown's side of the story. There's The Dream's side, Chris' side, and then the truth! But I wouldn't put it past ol' CBrown to make a comment like that. He IS getting a little big in the head area. But I'm glad Dream gave the song to J.Holiday. I can't imagine Chris singing that song since it fits J so well.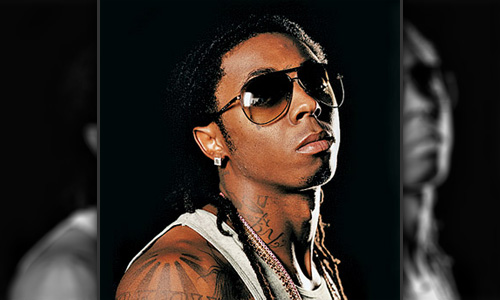 WEEZY IS A TRIP! LMAO » See this is why Lil Wayne is one of my favorite rappers lol. Home boy is a clown! Remember back in August when 50 called Lil' Wayne a "whore" for being featured on damn-near everyone's tracks? Well this is what Weezy had to say about that…
Vibe: Back in August, 50 Cent was talking trash about you jumping on everyone's tracks.
Lil' Wayne: You talking about 50 Cent from G Unit?

Vibe: Yes.
Lil' Wayne: The big 50 Cent?

Vibe: Yes.
Lil Wayne came out his mouth?

Vibe: Mmm hmmm.
Lil' Wayne: OH MY GAWD! I'M BIG! [sarcastic voice] I'm big, man! I didn't know that dude knew me! What's up 50? I got beaucoup 50 Vitamin Waters. He got the coldest one, the rest of 'em are really nasty. For real – don't get that Revise – that other purple one. Naaaah, you gotta get that Formula 50. I done been fooled like that plenty of times. 50 got like the best-tasting Vitamin Water.

Vibe: So you don't have anything to say in response to him calling you a whore?
Lil' Wayne: A person like 50 Cent say anything about me, you gotta understand, that's what makes them who they are. So me getting mad, that would be outta Lil Wayne's character. There's been plenty of recorders right here in my face saying, What you think about such-and-such saying…? Nothing! I don't think nothing! That ain't me, I'm from New Orleans, man, we kill, for real, I'm not gonna stress that! [ READ MORE HERE » ]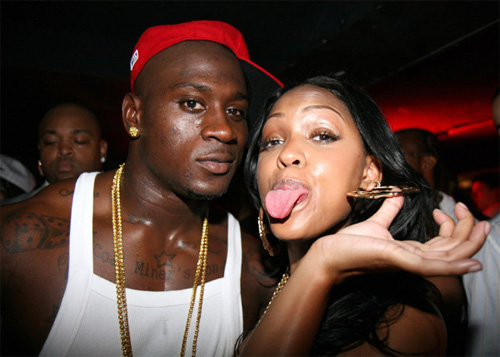 "ACTRESS" MEAGAN GOOD JUST MIGHT BE PREGGERS! » The infamous Miss Jones from "The Miss Jones Morning Show" on popular NYC radio station Hot 97 announced that Meagan Good is pregnant by her boyfriend NFL player Thomas Jones. This past Tuesday Jones was a guest on the morning show and was asked by Miss Jones were he and Megan expecting a baby. His response was "No Comment." Just like with any pregnant rumor, we'll see (with time) whether or not this is true!
Be the first to receive breaking news alerts and more stories like this by subscribing to our mailing list.