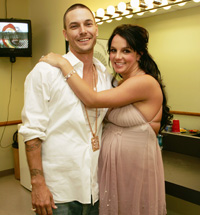 PHOTO: GETTY IMAGES
BRITNEY MIGHT HAVE TO START PAYING CH-SUP! » For all of you out there scratching your heads wondering wtf "ch-sup" is … it's short for child support! Lol. Anyhow, if you've been living on planet earth the past few weeks, you'll know that Britney Spears and Kevin Federline have been a part of a nasty custody battle. Fortunately for Kevin, and unfortunately for Britney, custody of their two sons, Preston and Jaden, was granted to their father, Kevin Federline. Commissioner Scott M. Gordon did not say why he took the action or say how long Spears would be denied custody. But two weeks ago, he said there was evidence that Spears was "a habitual, frequent and continuous" user of drugs and alcohol. He ordered her to submit to twice-weekly drug and alcohol testing, undergo co-counseling with Federline and receive parent coaching. The parental coach was ordered to report back to the court later this month, ahead of a November 26th court date. So … does that mean Kevin will be getting child support from Brit?? Damn! But check out the photo the left! Awww! They used to be so happy! I wonder what happened…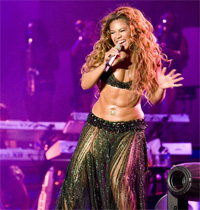 PHOTO: WIRE IMAGE
MUSLIMS DON'T LIKE BEYONCE… » In an effort to avoid "Muslim outcry" and to protest against their beyond strict dress code, Beyonce has axed her debut concert in Malaysia. Her agent ICM cited a "scheduling conflict" as the reason, but the source said unofficially she was unhappy over a possible hostile reception in the mainly Muslim nation. "They foresee that when she comes over to Kuala Lumpur, there will be protests against her," the source said. "They didn't want that to happen." The source also said Beyonce, known for her skimpy outfits, also balked at government rules banning sexy attire and running and jumping on stage. "You mean when she comes to Malaysia she has to change all her stuff?" the source added. "It's also beyond the dressing. She has to change the show. Basically, the ministry wants her to stand in front of the microphone and open her mouth. Just sing and cannot move." So no weave-shaking and booty popping?? A Beyonce show IS NOT a Beyonce show without those two. It just ain't right!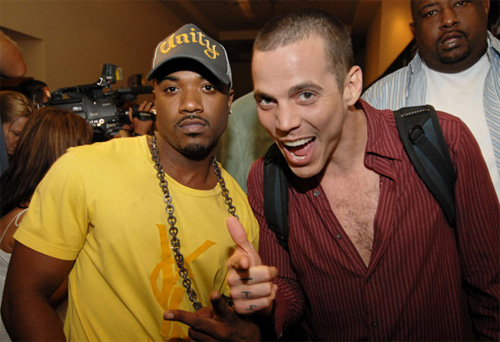 RAY J AND STEVE-O A FEW MONTHS AGO IN LAS VEGAS // PHOTO: WIRE IMAGE
1100 WOMEN? YEAH RIGHT … I WANT PROOF! » Silly me! I could've sworn we were done with this fool. I guess not! According to various news sources, including AOL Black Voices, R&B singer Brandy's brother Ray-J is working on releasing a memoir entitled "Sex Machine." In this tell-all book, he describes how he has had sex with over 1,100 women. Yeah, you're reading it right … 1 1 0 0! 4 digits. Ray J? Hell no. But then again, in this day and age, you can walk up to almost any girl (notice I said ALMOST) and say "give me some …" and they'll be like "ok!" Now tag on being a "celebrity" and they're all for it! But 1100??? He's not even 30 yet! Who else besides me would like documented proof???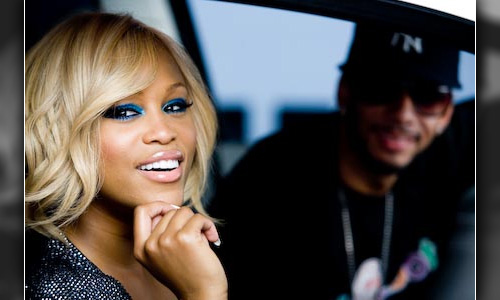 EVE & SWIZZ BEATZ ON THE SET OF "TAMBOURINE"
ALBUM PUSH-BACKS ARE BECOMING A FAD! » So is this the new thing with labels now? Pushing albums back and shit?! Anyhow, Eve's album has been pushed back, once again! No, it's not coming out this month, next month, or even this year! Apparently the album has been pushed back to 2008… No word on when, in 2008. Just know that it's 2008. A spokesperson for her Geffen Records label had no comment on the reason for the delay of "Here I Am." The first single from the project, "Tambourine," stalled at No. 17 on Billboard's Hot R&B/Hip-Hop Songs chart. A new track, "Give It to Me" featuring Sean Paul, has yet to chart, although it has been at radio for several weeks. Well, I'll … be … damned …
Be the first to receive breaking news alerts and more stories like this by subscribing to our mailing list.