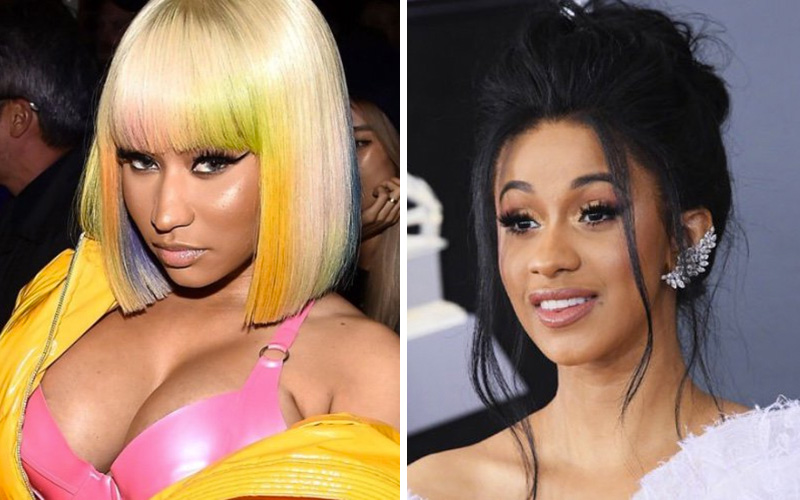 It looks like this beef between Nicki Minaj and Cardi B isn't going anywhere anytime soon.
The "Barbie Dreams" rapper announced last week via Instagram that she would be dropping a line of "Nicki Stopped My Bag" merchandise, which will include backpacks, T-shirts and jackets.
The new line of merch is a direct reference to Nicki's highly-publicized beef with the "Bodak Yellow" chart-topper, which became mainstream fodder when Cardi threw a shoe at Nicki during a New York Fashion Week event last month.
Nicki later said the incident was "mortifying and humiliating," and in the wake of the fight, Cardi addressed the situation on Instagram, writing, "I let you sneak diss me, I let you lie on me, I let you attempt to stop my bags, f**k up the way I eat."
Since then, the phrase "Nicki Stopped My Bag" has gone on to become a viral hashtag and a meme on social media, with Nicki herself joining in. And now, Nicki is ready to cash in on her beef with Cardi.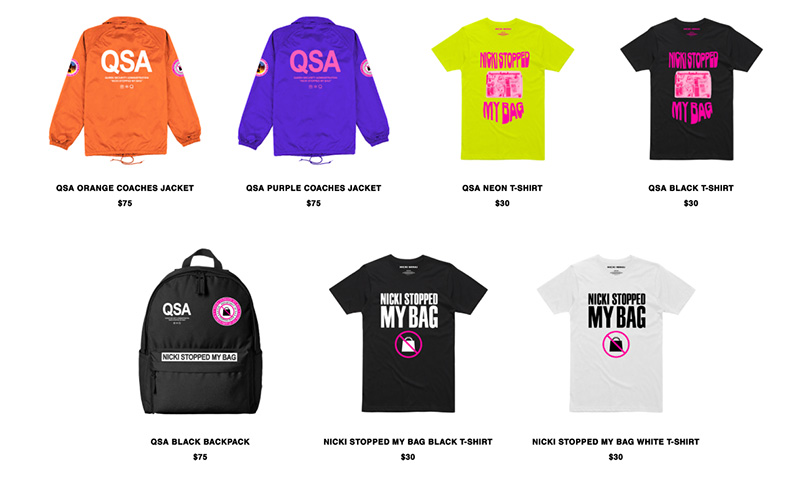 The TSA-inspired merch features the words "QSA (Queen Security Administration)" as well as the viral phrase "Nicki Stopped My Bag." T-shirts are priced at $30, while backpacks and jackets both cost $75. They're all currently available for purchase on Nicki's website.
Meanwhile, Twitter users are conflicted about Nicki's newest entrepreneurial endeavor, with some calling it a genius idea and others accusing Nicki of reaching new levels of petty.
Going to get my "Nicki stopped my bag" bag. pic.twitter.com/qzbA6NA20w

— ? Rhy ? (@_Pettiona_) October 4, 2018
Nicki really about to capitalize off this ' stopped my bag ' nonsense ? A BUSINESS WOMAN ! pic.twitter.com/j0eXTwEZbM

— Gaëlle (@kweenGahyelle) October 4, 2018
That "Nicki Stopped My Bag" merch is so brilliant. Ugh I love good and perfectly timed branding. Kudos @NICKIMINAJ ????

— Myleeza?? (@MyleezaKardash) October 4, 2018
Oh I definitely need a "Nicki stopped my bag" jacket and backpack ??? pic.twitter.com/D2WjK2uOnh

— D.Rok The Ally Cat! ? (@PrinceD_Rok130) October 4, 2018
Nicki so childish. Selling "Nicki Stopped my Bag" backpacks……… pic.twitter.com/HGQ5WeklBI

— Shelby Ivey Christie (@bronze_bombSHEL) October 4, 2018
so nicki coming out with "nicki stopped my bag" merch? don't say nun when cardi come out with "bitch come here" merch ??

— Lil AP ? || Ashley ?? (@imthatkidd_a) October 4, 2018