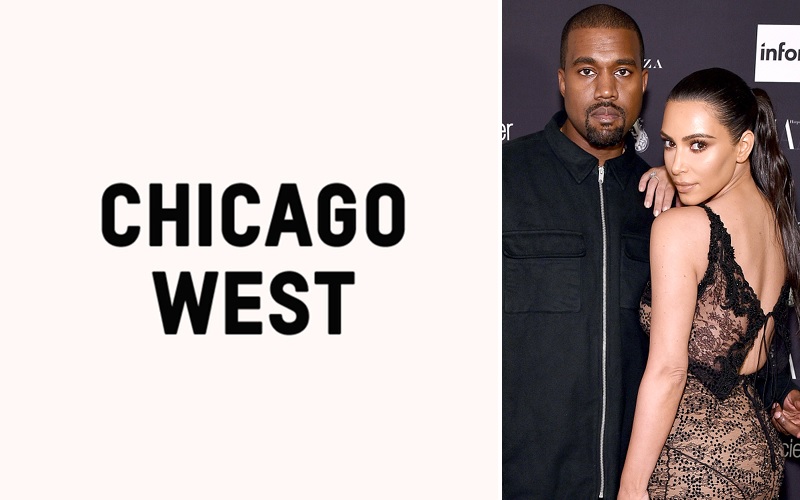 All the guessing and speculation of the name of the newest Baby West can finally come to an end. Just as anticipation reached a fever pitch, Kim Kardashian and Kanye West have revealed the name of their third child!
Chicago West!
Chicago West. https://t.co/3MyLwcIzTh

— Kim Kardashian West (@KimKardashian) January 19, 2018
Kim revealed the name of her daughter via her app on Friday. It's unclear if the couple chose the name earlier in their surrogate's pregnancy or after meeting their newborn daughter. Kanye grew up on the South Side of Chicago.
Kim also added that the baby's nickname will be Chi, pronounced "Shy."
North, Saint & Chi

— Kim Kardashian West (@KimKardashian) January 19, 2018
Baby Chi was born via surrogacy on January 15 and weighed 7 lbs., 6 oz. Kim and Kanye were both in the room when she was born and Kim was the first to have skin-to-skin contact. Kim announced her daughter's birth via her app on Tuesday (Jan. 16).
"Kanye and I are happy to announce the arrival of our healthy, beautiful baby girl. We are incredibly grateful to our surrogate who made our dreams come true with the greatest gift one could give and to our wonderful doctors and nurses for their special care. North and Saint are especially thrilled to welcome their baby sister."
This is Kim and Kanye's third child. They also have daughter North, 4, and son Saint, 2. We wish the family of five well.
Of course once the news hit Twitter, the jokes and memes came right in like clockwork:
Chicago West pic.twitter.com/xE8eLzQwm4

— yaniris (@yanirisagomez) January 19, 2018
Me when I found out Kim named her baby Chicago West pic.twitter.com/6jdEsNW4cX

— ? ?? (@Karennsita_) January 19, 2018
How Chicago West sleeps at night knowing that there's haters pressed about her name but her net worth at 4 days old is more than yours in a life time. pic.twitter.com/AQOsxeztXB

— KELS (@itsKELSEYtho) January 19, 2018
Chicago West isn't a community college?

— Travon Free (@Travon) January 19, 2018
Chicago West pic.twitter.com/rFLAfOHk13

— Taylor Gray (@officialtaygray) January 19, 2018
Chicago West??? Really?? pic.twitter.com/6j7dHWkALt

— ????? cr?n? (@kaycronk) January 19, 2018
Chicago West might be the Blackest thing Kanye has done in about 5 years or so.

?And they will call her Chi PRONOUNCED (SHY) and not (CHAI) FYI!

— Jasmyn Lawson (@JasmynBeKnowing) January 19, 2018
https://twitter.com/dreesoul/status/954418986183163904
"Chicago West" pic.twitter.com/9EbOrDKjvz

— AC (@10PieceCombo) January 19, 2018
Chicago West is a FIRE name.

— Big Cat (@BarstoolBigCat) January 19, 2018
How Chicago West shall be introduced from here on out. pic.twitter.com/QAI8IOCUnj

— Scott Johnson (@_scottjohnson) January 19, 2018
Chicago West sounds like a hospital.

— king crissle (@crissles) January 19, 2018
*white parent voice* I can't believe Kim and Kanye named their baby girl Chicago West, that's ridiculous! Oh no, it's almost 4:30, I need to pick up my kids Lakynn and Nayvie. pic.twitter.com/NfToiowbfh

— Denizcan Grimes (@MrFilmkritik) January 19, 2018
"Chicago West" pic.twitter.com/B6cK8c1SEl

— Kalen Allen (@TheKalenAllen) January 19, 2018
Chicago West sounds like the pizza your mum gets from Aldi

— Stephen Tries (@StephenTries) January 19, 2018
https://twitter.com/commonGirl12m/status/954435859524198400
Kim & Kanye just named their baby girl "Chicago West".

I'm jealous American locations always sound cool as names !

(Dakota, Brooklyn, Montana, Georgia etc.)

If I tried to name my child after a Scottish location it'd end up with a name like "Cumbernauld Wilson"…

?

— Danny (@DannyCalidonia) January 19, 2018
When you realize Kanye named his kids – North West, Saint West, and Chicago West …..

Because Kanye thinks of himself as a North Chicago Saint pic.twitter.com/xdNy18824A

— Michael Tannenbaum (@iamTannenbaum) January 19, 2018
You know there are white people making fun of the name Chicago West who are gonna name their daughter Brooklyn.

— Nick Jack Pappas (@Pappiness) January 19, 2018
Chicago West on her "Chicago World Tour" in 2041

— ???• ? (@LipsTaco) January 19, 2018
Kim: Mom we've named our baby girl Chicago West
*Kris thinking about the media attention* pic.twitter.com/vdh4q2I0q5

— Sophie (@trafotoz) January 19, 2018
"What did Kim and Kanye name their baby?"
"Chicago West."
"No, not the name of the hospital, the name of the baby."

— Nick Jack Pappas (@Pappiness) January 19, 2018
"Kim named her baby Chicago West"
All of Chicago: pic.twitter.com/Szt3Ov3c91

— Oke Metitiri (@kaymetitiri) January 19, 2018