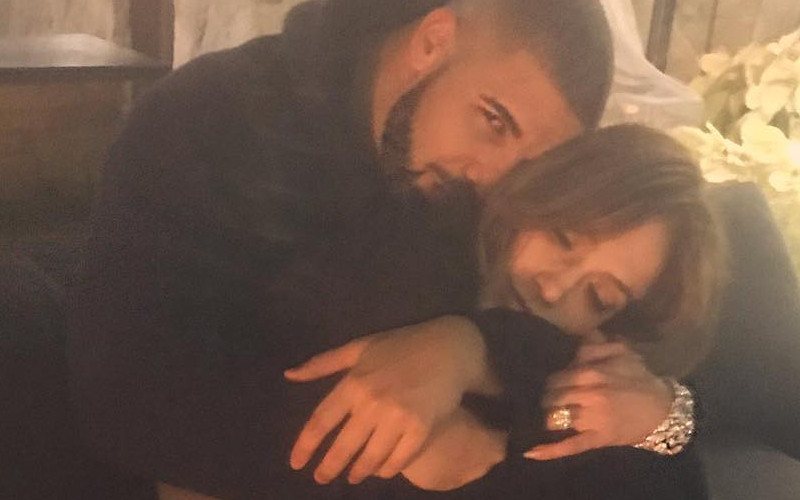 Has the first celebrity super couple of 2017 already formed? People are going nuts as it seems Jennifer Lopez and Drake are now in a relationship.
The two entertainers all but confirmed their relationship status early Wednesday morning (Dec. 28)/late Tuesday night with a simple Instagram photo. Drake posted a photo with J-Lo wrapped in his arms with her eyes closed. Lopez posted the same pic around the same time.
Neither post included a caption, which left us all decide to for ourselves what the boo'd up pic truly meant. Of course, social media immediately concluded the 30-year-old rapper and 46-year-old entertainer are officially an item.
I'm imagining Drake & J Lo listening to "I'm real" in the car & Drake making J Lo do the Ja parts so he can sing

— Rikky! Rikki! Rikkè! (@rwxoxo) December 28, 2016
Drake about to be Hispanic for 6 months. Gasolina remix coming soon! ? pic.twitter.com/mDOLSqZmQx

— Trash Lanez (@TrashLanez) December 28, 2016
Dear Diary,

Mi nuh know why tha wan stop me dating the bad ting J.Lo. Dem call us DrayLo. Jealousy.

-Drake pic.twitter.com/w81InZC3se

— X (@XLNB) December 28, 2016
Drake & Jlo: "This will definitely break the internet!!!!"

'Friend': "It sure will!! Am I done here?" pic.twitter.com/VOElTS704p

— Tora Shae (@BlackMajiik) December 28, 2016
Out of all the things Drake has done, dating JLo tops them all & it's not even close.

— Joe Santagato (@JoeSantagato) December 28, 2016
Can we award Drake "Ho of the Year" yet? His peen might as well be a Groupon special. He's been attached to more people than an adapter.

— Awesomely Luvvie (@Luvvie) December 28, 2016
Wait, so when Drake said "got my Spanish ting convinced that I know Spanish" it was J Lo all along? pic.twitter.com/ldQEb0G7GQ

— Sexual Gifs ? (@SexualGif) December 28, 2016
Drake is bout to have Latinx influenced music for the next few months & it started with Mexican rep in Future's "Used To This"

Bet on it

— ? (@Only1Perseus) December 28, 2016
"Drake and JLo are dating"
"Drake and JLo are goals" pic.twitter.com/D743P24PLG

— Bitch Problem?? (@FemaleTexts) December 28, 2016
if Drake and JLo are really dating… i'm gonna cry

— ?ice queen (@urbandoll) December 28, 2016
You reckon drake has fancied J-Lo since he was 3?

— Scotty T MBE (@ScottGShore) December 28, 2016
When you've moved to Rihanna, Serena Williams & J Lo all in one year.

Drake wins ? pic.twitter.com/9GLUuEIXXK

— GRM Daily (@GRMDAILY) December 28, 2016
Jennifer Lopez is the epitome of vintage vagina. Any woman over 40 that's aging like wine and not milk is vintage. And Drake won at life.

— Charlamagne Tha God (@cthagod) December 28, 2016
Diddy gone pop up on drake like.. pic.twitter.com/r8uoG3JzVB

— ? (@empyreall) December 28, 2016
Drake is 30 years old while JLo is 47 years old So keep calm, your future bae isn't born yet

— Isaac Night (@IsaacNight13) December 28, 2016
Rumors of a Drake & J-Lo relationship first began earlier this month when Drake was spotted at two of Lopez's Las Vegas All I Have shows. He followed that up by shutting down the West Hollywood restaurant, Delilah's, for a private dinner for the two. Although their entourages were also invited; I guess to throw us off a little.
Lopez recently ended a five-year relationship with backup dancer Casper Smart. Drake's longtime off-again-on-again relationship with Rihanna also seems to have fizzled for the time being.
Speaking of Rihanna, Us Weekly is also reporting she unfollowed Lopez on Instagram over the Christmas holiday. Putting all the pieces of the puzzle together, its believed she's caught wind Drake and Lopez's new fling.
Social media can probably calm down on this one though. Drake and J-Lo's newfound relationship is most likely just a fling that won't last more than a few months. As Twitter noted, he likes to sample whatever he can and Lopez's ex-husband and father of her twins is now on the market.
Marc Anthony just filed for divorce from his wife of two years and he and Lopez recently shared a kiss onstage.