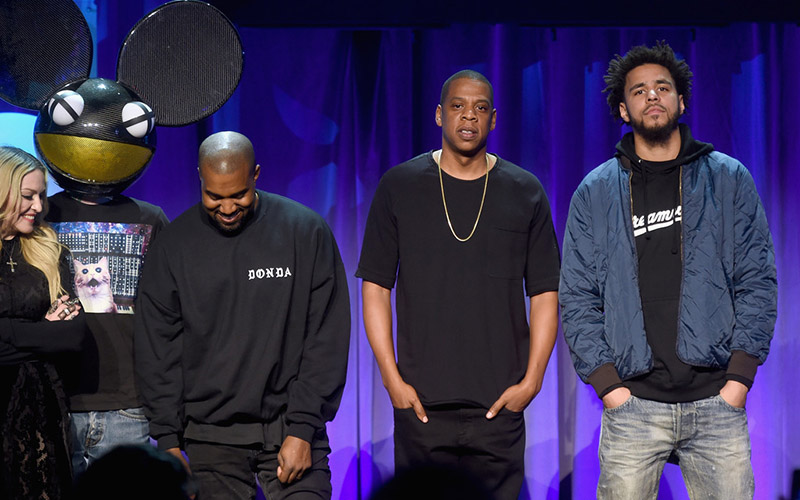 Last month, Jay Z and his millionaire musician friends (Beyoncé, Alicia Keys, Madonna, Kanye West, Rihanna, Nicki Minaj, Usher and more) teamed up to launch "Tidal" — a "global music entertainment platformed owned by artists" — to much fanfare.
Ever since then, the service has been experiencing a wave of bad press, with critics predicting its failure, only made worse by the fact that no one is really signing up for the subscription-only service. Even Kanye has distanced himself from the company.
As of now, it is the 49th most popular music app in the iOS app store, and overall, it's not even in the top 700. Meanwhile, Tidal's main competitors Spotify, Pandora, and Beats Music are all at least in the Top 100.
This is what Gawker had to say about Tidal:
Some of Tidal's problems were apparent to anyone who is not a wealthy member of the illuminati or close personal friend of Jay Z: its main value proposition was that, for only 10 dollars a month more than you're paying for Spotify—that's just two Starbucks lattes!—you can feed and clothe the famous multimillionaires you see on your screen.

But it also had some less obvious flaws, like a very shittily-designed app with broken search functionality and a marketing message—attacking those other, non-artist-benefitting streaming services—that seems to have helped Spotify more than it helped Tidal. Boy Genius Report points out that Spotify saw a nice spike in downloads coinciding with the day Rihanna, Nicki, Kanye, Madonna and Jay-Z took the stage to reclaim music for the top-40 artists who already dominate it.
The general consensus among critics and music fans alike is that no one wants to further line the pockets of these so-called "struggling musicians" who have more money in their bank accounts than most of us will ever see in a lifetime.
Also, no one really cares about "exclusive" content or "high fidelity" audio. We just want to listen to music and not feel like we're buying Blue Ivy her own Bentley in the process.
But Jay Z says that's not what Tidal is about. And in response to the backlash, on Sunday (Apr 26), the 45-year-old Hip Hop mogul took to Twitter — a platform which he rarely uses — to air out his grievances with critics and defend his company with #TidalFacts.
Despite the negative press, The Jigga Man claims that Tidal is "doing just fine" and has acquired over 770,000 subscribers in less than a month. "We are here for the long haul," he wrote. "Please give us a chance to grow & get better."
Look below for more #TidalFacts:
Stream of consciousness coming in 5, 4, 3, 2… #TidalFacts

— Mr. Carter (@S_C_) April 26, 2015
Tidal is doing just fine. We have over 770,000 subs. We have been in business less than one month. #TidalFacts

— Mr. Carter (@S_C_) April 26, 2015
The iTunes Store wasn't built in a day. It took Spotify 9 years to be successful…

— Mr. Carter (@S_C_) April 26, 2015
We are here for the long haul. Please give us a chance to grow & get better. #TidalFacts

— Mr. Carter (@S_C_) April 26, 2015
There are many big companies that are spending millions on a smear campaign. We are not anti-anyone, we are pro-artist & fan. #TidalFacts

— Mr. Carter (@S_C_) April 26, 2015
We made Tidal for fans. We have more than just music. We have video, exclusive concerts, tickets for events early, live sports!…

— Mr. Carter (@S_C_) April 26, 2015
….Tidal is where artists can give their fans more without the middlemen. #TidalFacts

— Mr. Carter (@S_C_) April 26, 2015
Indie artists who want to work directly w/ us keep 100% of their music. "If you don't want the CEOs all in the videos" haa #tidalfacts

— Mr. Carter (@S_C_) April 26, 2015
Tidal pays 75% royalty rate to ALL artists, writers and producers – not just the founding members on stage.

— Mr. Carter (@S_C_) April 26, 2015
Rich getting richer? Equity values… YouTube $390 billion. Apple $760 billion. Spotify $8 billion. Tidal $60 million. #TidalFacts

— Mr. Carter (@S_C_) April 26, 2015
My cousin just moved to Nigeria to discover new talent. Tidal is a global company.

— Mr. Carter (@S_C_) April 26, 2015
We have Tidal X – it supports artists by giving them a platform to connect with their most loyal fans. Tidal is for all. #Tidalfacts

— Mr. Carter (@S_C_) April 26, 2015
Our actions will speak louder than words. We made Tidal to bring people the best experiences…

— Mr. Carter (@S_C_) April 26, 2015
and to help artists give that to their fans over and over again…

— Mr. Carter (@S_C_) April 26, 2015
We are human (even Daft Punk ha). We aren't perfect – but we are determined. #TidalFacts

— Mr. Carter (@S_C_) April 26, 2015