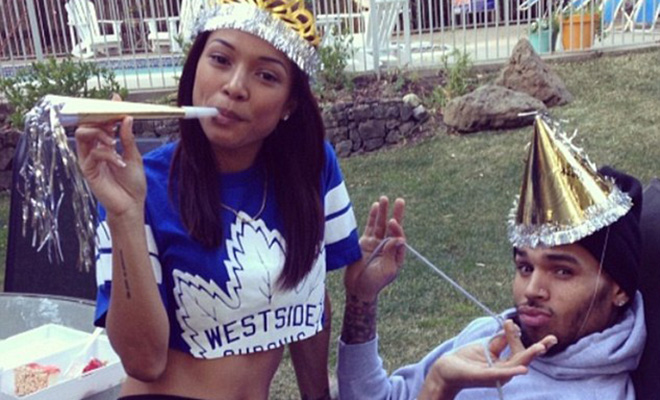 Chris Brown's on-and-off girlfriend Karrueche Tran has been holding him down ever since he was thrown in jail back in March, and now there are rumors floating around suggesting that the singer is considering proposing to her when he's released.
Brown, who brought in his 25th birthday Monday (May 5) behind bars, is still facing jail time due to a probation violation (his next hearing is May 9), but a source tells Hollywood Life that Chris sees Kae as "wifey" material.
And not only that, but he has finally realized how lucky he is to have a woman like Karrueche standing by his side, unconditionally, throughout all of his legal drama and everything else he gets himself into.
Karrueche has stuck by Chris from the first day he appeared in court and Chris has taken notice. We've learned exclusively that he has even considered marrying her after he gets out of jail because she's been one of the only people outside of his mother to comfort him.

"I don't know if that's him being lonely in jail but that's what he tells her. He calls her his wifey and tells her all the time that she's perfect wife material," a source revealed to HollywoodLife.com exclusively. "He knows Kae is incredibly loyal and has literally put her life on hold to hold him down in jail. She's taken care of just about everything in his house."

"He basically told her that when he gets out things are going to be way different between them and that he's going to return all the favors she's given him with a surprise of a lifetime," the source added.
The "source" went on to say that Karrueche wasn't isn't sure if she'd except a proposal, but was "very happy" to hear him call her "wifey."
Karrueche fueled the "proposal" rumors by declaring her love for him in an Instagram post showing a throwback photo of her sitting on Breezy's lap. She wrote in the caption:
Karrueche fueled the "proposal" rumors by declaring her love for him in an Instagram post showing a throwback photo of her sitting on Breezy's lap. She wrote in the caption:
Karrueche fueled the "proposal" rumors by declaring her love for him in an Instagram post showing a throwback photo of her sitting on Breezy's lap. She wrote in the caption:

Happy Birthday Christopher, I love and miss you… Can't wait to give you a big kiss and hug