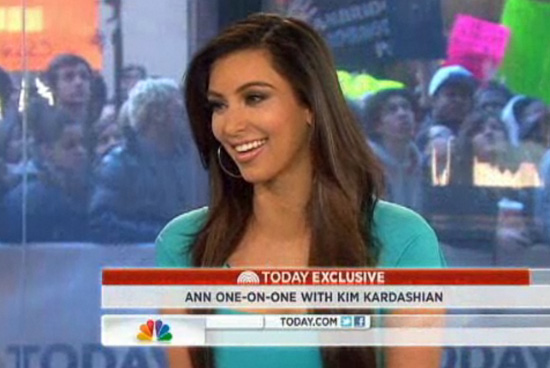 Less than a day after being spotted out with her new boo Kanye West, Kim Kardashian appeared on the "Today" show this morning.
Smiling from ear to ear, Kim happily answered questions about her new romance with Yeezy. (Well, sort of.)
"Kanye and I have been friends for years and you never know what the future holds or where my life will take me," she told host Ann Curry.
Kim also admitted to loving Ye's new song "Theraflu," in which the rapper reveals he fell in love with her around the time she got with Kris Humphries.
When Kris Humphries was brought up during the conversation, Kim made it clear she no longer wants to talk about him. "I have closed that chapter. I'm ready to move on," she said.
Watch the full interview below:
Damn…it must really suck to be Kris Humphries. He's lucky Ye aint have Jay drop him from the team!! (LOL)