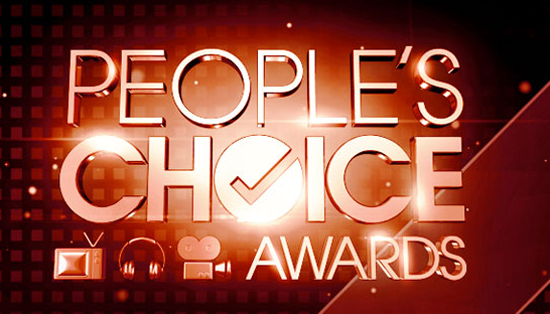 Here are the official nominees for the upcoming 2012 People's Choice Awards, which will be held at the Nokia Theater in Los Angeles on January 11th 2012 and will air live on CBS.
Leading the pack of nominees is "Harry Potter and the Deathly Hallows Part 2," the final installment in the insanely popular movie series, with nods in 5 different categories, including Favorite Ensemble Movie Cast, Book Adaptation, Action Movie and more.
Other films nominated for PCAs include "Transformers: Dark of the Moon," "Pirates of the Caribbean: On Stranger Tides," "Fast Five," "X-Men First Classj," "the Hangover Part II" and more.
As far as the celebrities (actors, actresses, musicians, etc.) are concerned, folks like Beyonce, Lady Gaga, Adele, Eminem, Jay-Z, Bruno Mars, Chris Brown, Rihanna, Justin Bieber, Daniel Radcliffe ("Harry Potter"), Robert Pattinson ("Twilight"), George Clooney, Morgan Freeman, Jennifer Aniston, Reese Witherspoon and many others are also up for awards..
The People's Choice Awards, now in its 38th year, celebrates the biggest and brightest in the categories of music, movies, television, books and everything in between.
Fans can check out PeoplesChoice.com to cast their votes from now up until December 6th 2011.
Check out the FULL list of nominees below:
Favorite Movie
Bridesmaids
Harry Potter and the  Deathly Hallows: Part 2
The  Help
Pirates of the  Caribbean: On Stranger  Tides
Transformers: Dark of  the Moon
Favorite Movie Actor
Daniel  Radcliffe
Hugh  Jackman
Johnny  Depp
Robert  Pattinson
Ryan  Reynolds
Favorite Movie Actress
Anne  Hathaway
Emma  Stone
Jennifer  Aniston
Julia  Roberts
Reese  Witherspoon
Favorite Movie Icon
George  Clooney
Harrison  Ford
Morgan  Freeman
Robert  DeNiro
Tom  Hanks
Favorite Action Movie
Fast  Five
Harry Potter and the  Deathly Hallows: Part 2
Thor
Transformers: Dark of  the Moon
X-Men: First  Class
Favorite Action Movie Star
Hugh  Jackman
Ryan  Reynolds
Shia  LaBeouf
Taylor  Lautner
Vin  Diesel
Favorite Drama Movie
The Adjustment  Bureau
The  Help
Limitless
Moneyball
Water for  Elephants
Favorite Comedy Movie
Bad  Teacher
Bridesmaids
Crazy Stupid  Love
Friends With  Benefits
The Hangover Part  II
Favorite Comedic Movie Actor
Adam  Sandler
Ashton  Kutcher
Bradley  Cooper
Ryan  Reynolds
Steve  Carell
Favorite Comedic Movie Actress
Cameron  Diaz
Emma  Stone
Jennifer  Aniston
Mila  Kunis
Natalie  Portman
Favorite Movie Star Under 25
Chloe  Moretz
Daniel  Radcliffe
Emma  Watson
Rupert  Grint
Tom  Felton
Favorite Ensemble Movie Cast
Bridesmaids
The Hangover Part  II
Harry Potter and the  Deathly Hallows: Part 2
Pirates of the  Caribbean: On Stranger  Tides
X-Men: First  Class
Favorite Animated Movie Voice
Anne Hathaway as Jewel  (Rio)
Jack Black as  Po (Kung Fu Panda 2)
Johnny Depp as Rango  (Rango)
Katy Perry as  Smurfette (The Smurfs)
Owen Wilson as  Lightning McQueen (Cars 2)
Favorite Movie Superhero
Chris Evans as Captain  America
Chris Hemsworth as  Thor
James McAvoy as  Professor X
Jennifer Lawrence as  Mystique
Ryan Reynolds as Green  Lantern
Favorite Book Adaptation
Harry Potter and the  Deathly Hallows: Part 2
The  Help
I Am Number  Four
Soul  Surfer
Water For  Elephants
Favorite Network TV Drama
The Good  Wife
Grey's  Anatomy
House
Supernatural
The Vampire  Diaries
Favorite TV Drama Actor
David  Boreanz
Hugh  Laurie
Ian  Somerhalder
Nathan  Fillion
Patrick  Dempsey
Favorite TV Drama Actress
Blake  Lively
Ellen  Pompeo
Emily  Deschanel
Eva  Longoria
Nina  Dobrev
Favorite Cable TV Drama
Dexter
Game of  Thrones
Pretty Little  Liars
True  Blood
White  Collar
Favorite Network TV Comedy
The Big Bang  Theory
Glee
How I Met Your  Mother
Modern  Family
Two and a Half  Men
Favorite TV Comedy Actor
Alec  Baldwin
Chris  Colfer
Cory  Monteith
Jim  Parsons
Neil Patrick  Harris
Favorite TV Comedy Actress
Courteney  Cox
Jane  Lynch
Kaley  Cuoco
Lea  Michele
Tina  Fey
Favorite Cable TV Comedy
Hot In Cleveland
It's Always Sunny in  Philadelphia
Nurse  Jackie
Royal  Pains
Weeds
Favorite TV Competition Show
American  Idol
America's Got  Talent
Dancing With The  Stars
So You Think You Can  Dance
The  Voice
Favorite TV Crime Drama
Bones
Castle
Criminal  Minds
CSI
NCIS
Favorite Sci-Fi/Fantasy Show
Fringe
Supernatural
True  Blood
The Vampire  Diaries
The Walking  Dead
Favorite Daytime TV Host
Al Roker, Anne Curry,  Matt Lauer, Natalie Morales, Savannah Guthrie (The Today  Show)
Anderson Cooper (Anderson)
Ellen DeGeneres (The  Ellen DeGeneres Show)
Kelly Ripa, Regis  Philbin (Live with Regis & Kelly)
Rachael Ray (Rachael  Ray Show)
Favorite Late Night TV Host
Conan O'Brien  (Conan)
David Letterman (Late  Show with David Letterman)
Jay Leno (The Tonight  Show with Jay Leno)
Jimmy Fallon (Late  Night with Jimmy Fallon)
Jimmy Kimmel (Jimmy  Kimmel Live)
Favorite TV Guest Star
Gwyneth Paltrow  (Glee)
Jim Carrey (The  Office)
Katy Perry (How I Met  Your Mother)
Kristin Chenoweth  (Glee)
Michael J. Fox (The  Good Wife)
Favorite TV CelebReality Star
Gene  Simmons
Giuliana  Rancic
Kathy  Griffin
Kim  Kardashian
Tia and Tamera  Mowry
Favorite New TV Drama
A Gifted  Man
Grimm
Hart of Dixie
Once Upon A  Time
Pan  Am
Person of  Interest
Prime  Suspect
Revenge
Ringer
The Secret  Circle
TerraNova
Unforgettable
Favorite New TV Comedy
2 Broke  Girls
Allen  Gregory
Last Man  Standing
Man  Up!
New  Girl
Suburgatory
Up All  Night
Whitney
Favorite Male Artist
Blake  Shelton
Bruno  Mars
Eminem
Enrique  Iglesias
Justin  Bieber
Favorite Female Artist
Adele
Beyoncé
Katy  Perry
Lady  Gaga
Taylor  Swift
Favorite Song of the Year
The Edge Of Glory, by  Lady Gaga
E.T, by Katy Perry  featuring Kanye West
Moves Like Jagger, by  Maroon 5 featuring Christina Aguilera
Party Rock Anthem, by  LMFAO featuring Lauren Bennet and GoonRock
Rolling in the Deep,  by Adele
Favorite Album of the Year
21, by  Adele
4, by  Beyoncé
Born This Way, by Lady  Gaga
Femme Fatale, by  Britney Spears
Own The Night, by Lady  Antebellum
Favorite Pop Artist
Beyoncé
Demi  Lovato
Katy  Perry
Lady  Gaga
Rihanna
Favorite Hip Hop Artist
B.o.B
Eminem
Jay-Z
Nicki  Minaj
Pitbull
Favorite R&B Artist
Beyoncé
Bruno  Mars
Chris  Brown
Ne-Yo
Rihanna
Favorite Band
Coldplay
Foo  Fighters
Linkin  Park
Maroon 5
Red Hot Chili  Peppers
Favorite Country Artist
Blake  Shelton
Keith  Urban
Lady  Antebellum
Rascal  Flatts
Taylor  Swift
Favorite Music Video
Judas, by Lady  Gaga
Last Friday Night  (T.G.I.F.), by Katy Perry
Party Rock Anthem, by  LMFAO featuring Goonrock and Lauren Bennett
Rolling in the Deep,  by Adele
Run The World (Girls),  by Beyoncé
Favorite Tour Headliner
Bon  Jovi
Katy  Perry
Taylor  Swift
U2
Usher