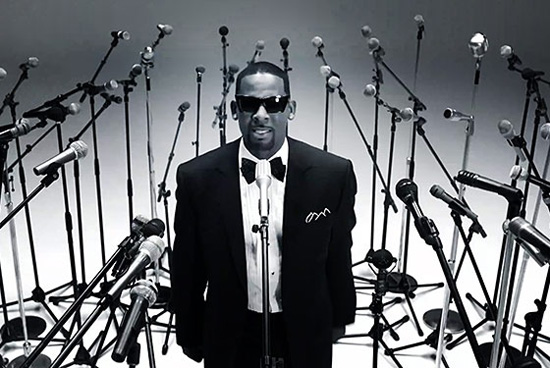 The Pied Piper of R&B R. Kelly is ready to put the "R" back in R&B with news that he's working on his 11th album, titled "Black Panties," which he likens to his 1993 album "12 Play."
"I just did the whole Love Letter joint and everybody thinking, 'Oh that's the direction he's goin' now,' " Kelly said in a recent interview with 107.5 WGCI's Morning Riot radio show in Chicago. "Nah, that was a moment in time, just like 'Ignition' and 'Bump n' Grind' and all this stuff was a moment in time. Now this Black Panties album … it's the new 12 Play."
Without revealing too much about "Black Panties," Kellz did reveal that the album's first single "10 Minutes" is on the way.
R. Kelly also spoke on the shots fired in his direction from Trey Songz, who criticized the R&B legend for using auto-tune, instead of maintaining his position as an interviewer.
"I was pretty numb. I don't feel those type of things. It's like I'm bulletproof when it comes to beef. I don't deal with beef, I love steak," he said about Trey's shots, before (almost) paying his rival a compliment. "I know Trey Songz is a guy that if he keeps with the hits and he humbles himself a little bit more, he will definitely be one of the runners up."
The singer is also currently recovering from surgery after having an abscess on one of his tonsils drained. He posted a video on his website saying that he's recovering well, and thanking his fans for all the support they've given him.
"I want to say thanks to all the prayer warriors out there for supporting me, praying for me," he says in the video. "The doctor said the surgery went well. I know it may not look like it, but it did. I want y'all to continue to pray for me, be strong out there. I will be back."