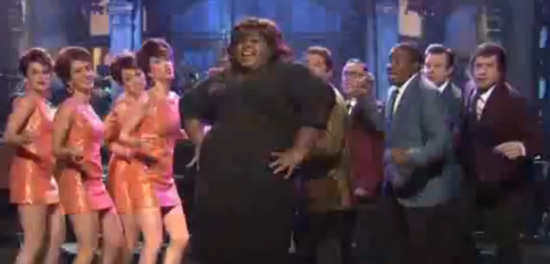 Up and coming actress Gabourey Sidibe lived out every celebrity's dream over the weekend: the rare opportunity to host an episode of NBC's popular sketch comedy series "Saturday Night Live!" With only one film under her belt, the actress got the chance to not only host, but perform in several skits throughout the live late-night telecast.
Sidibe, famous for her starring role in the Oscar winning movie "Precious: Based on the Novel 'Push' by Sapphire," poked fun at people's confusion between herself and her Precious character as she sang in a doo-wop-style opening monologue: "Movies are not real life, that's something you should know. Lenny Kravitz is not a male nurse, and Mariah Carey doesn't have a mustache," Gabby sang to a tune similar to "The Shoop Shoop Song (It's In Hiss Kiss)."
The young actress later played a Jamaican nurse in a sketch making fun of Suze Orman. She played a loud-mouthed, know-it-all neighbor who yelled at kids on her front stoop. She acted as herself in a press junket sketch, and in another skit, she hilariously sold alarm clocks that speak to you. And she also played a grumpy DMV worker as she competed at the "2010 Public Employee of the Year Awards." In addition, Gabby starred alongside Andy Samberg in an SNL Digital Short titled "Cherry Battle," where the pair, dressed in long robes, spit cherries at each other in slow motion.
Peep all of Gabourey Sidibe's sketches (plus her entertaining opening monologue) below…
GABOUREY SIDIBE'S OPENING MONOLOGUE
HAMILTON WANTS GABOUREY BACK PRESS JUNKET SKIT
THE SUZE ORMAN SHOW SKIT
CRAZY OLD LADY YELLING FROM WINDOW SKIT
THE STORY OF FRANK SINATRA SKIT
"CHERRY BATTLE" SNL DIGITAL SHORT
ALARM CLOCKS AND MORE SKIT
PUBLIC EMPLOYEE OF THE YEAR SKIT
WHO WANTS TO BE A MILLIONAIRE? SKIT