Protesters gathered in Los Angeles Monday night (Aug. 31) after deputies with the L.A. County Sheriff's Dept. opened fire on Dijon Kizzee, a 29-year-old Black man, during a foot chase in the Westmont area.
Video footage surfaced showing NBA star J.R. Smith beating the crap out of a man who allegedly smashed his car window Saturday (May 31) in Los Angeles during the city-wide demonstrations protesting police brutality after the killing of George Floyd by Minnesota cops.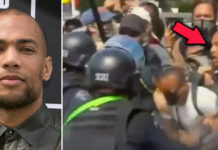 Kendrick Sampson is speaking out after he was attacked by police during Saturday's protests in Los Angeles.