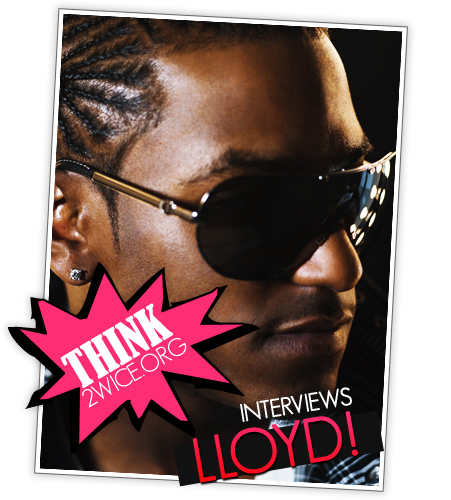 [audio:http://gossiponthis.com/audio-interviews/2008/lloyd/1-intro.mp3]
LLOYD SHOUT-OUT!
Lloyd has been on the scene since 2004 when he released his debut album, "Southside." It was another 3 years before he released his sophomore album, "Street Love." And now, in 2008, he's releasing his third LP, "Lessons in Love." Lloyd is now 22 years old, and he's showing that with the overall tone of his new album with song titles like, "Sex Education" and "Party All Over Your Body."
Think2Wice recently had the opportunity to sit down and talk with the singer, and the result is below.
[audio:../audio-interviews/2008/lloyd/2-partone.mp3]
PART 1 // LLOYD'S "LESSONS IN LOVE"

Lloyd: Yo, Dustin!
Dustin: Yo, Lloyd! What's up, man?
Lloyd: What up, my man?
Dustin: I'm doing pretty good, how are you doing?
Lloyd: Man I'm chilling, dawg. Up in the NY. New York City.
Dustin: Cool. Well, I got some questions for you. You ready?
Lloyd: Yup!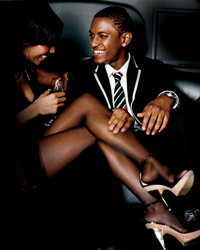 LLOYD'S NEW ALBUM "LESSONS IN LOVE" – IN STORES AUGUST 5TH 2008!
Dustin: Alright, first and foremost, let's talk about this new album coming out in a few weeks. Your last album was titled "Street Love," and your new album is titled "Lessons in Love." Is that pure coincidence or was that planned?

Lloyd: You know, love is something that I started to reflect on last year with "Street Love." It's more so about me giving love and showing love to the streets that raised me, that watched me grow. And make it to the point to where I was at. Now it's about that second thought of love. But, this time, I'm not gonna be as selfish. It's more so about my fans. It's about me sharing lessons that I've learned throughout my life's journey.
Dustin: As far as overall tone and sound, what exactly sets this new album apart from the rest of your albums?
Lloyd: The sound is different, of course. At certain times this album has ten-fold the soul that the last one did, by far. But I like to think the thing that's most different about it is the stability that's being created through the music with my fans. The fact that I can be that guy who they can look forward to giving them great music every time. Songs that make them feel better. Songs that describe their emotions at the time. Songs that help them get through their relationships. Maybe set the mood at certain times during the night hours. That's what's most different, is that I have created my own lane, and I am driving down that lane at 120 miles per hour, and not looking behind me. And kind of daring anyone to catch me. But this is my lane so no one can drive in it but me. I think that that's the cool thing about being different. Aside from that, I'm different naturally from every other person in the game. Through my tats, through my personal appearance, my style, through my voice, the way I'm singing. My single, "Girls Around the World," has a falsetto that no other song has right now. So it's just like taking a different approach. Making music is like making love and you have to come up with different ways and techniques and approaches to keep it interesting.
Dustin: Right, you have to keep it interesting. Okay now, I peeped your track-listing earlier today, and I see you have a song called "Sex Education," you have one called "Love Making 101," and you have another one called "Party All Over Your Body." So that leads me to believe that this album is a little more grown up, compared to your last two. Can you tell us a little bit about those three songs?
Lloyd: A little bit, or … ? [laughs]
Dustin: Well, a little bit [laughs] because you know our time is limited.
Lloyd: I think that's just coming with age. I'm 22, and I'm just really ready to talk about a lot of things. There's a lot of things that I find interesting on the female body. Just thought I'd share that with you. [laughs]
Dustin: Yeah, the female body is a beautiful thing! [laughs]
Lloyd: Yeah man, and love is a beautiful thing, sex is a beautiful thing. And what's even more beautiful is realizing the difference between the two. Sex is love, and this is me just trying to bring clarity to my life, between what is sex and what is love. What is lust, what is love. What is physical, what is emotional. What is the difference. By having sex, am I finding love, is this bringing me what I'm looking for? At times yes, at times no. And more so it's the times that it doesn't that make me feel like living the right way and making these changes about myself. Just like personal battles that I'm having, that I'm expressing through my music. And hopefully by releasing my confusion and my aggression, and my conscience, through my music, hopefully I will find balance.

[audio:../audio-interviews/2008/lloyd/3-parttwo.mp3]
PART 2 // LLOYD'S FRIENDSHIP WITH WAYNE AND HIS HAIR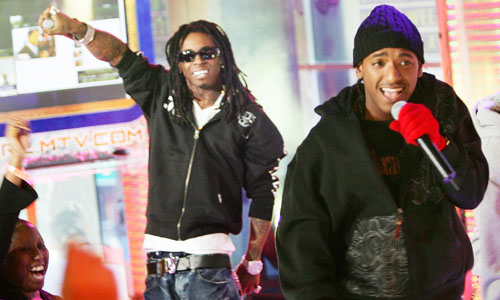 LLOYD & LIL' WAYNE PERFORMING ON TRL IN FEBRUARY 2007 // PHOTO: GETTY IMAGES
Dustin: Okay, now one major thing I noticed on your last couple albums is that you haven't featured any other artists besides Weezy [Lil' Wayne]. He was the only one on your last album, and I think he's the only one on this album. Did you do that on purpose? Or did it just end up being that way?
Lloyd: Who's the hottest rapper in the world?
Dustin: Weezy! Of course!
Lloyd: Alright!
Dustin: Okay! [laughs] Are y'all tight, or whatever? Is it just a business relationship? Or are you guys cool outside of the recording studio?
Lloyd: It's business and personal. We take our business personal. So whenever we're together it's no joking matter. We're pretty serious about what we're trying to do and accomplish. Whenever we have the chance to record music together we don't take it for granted. We go in and we give it our all. And that's something that I really like about Wayne. Whenever I listen to his music I feel like he is injecting energy and fuel into every line of every song with all of his heart. And I think that's something that makes him special. So yeah, I try to capture that with my music whenever I work with him. I think that we have a really good musical chemistry together as well.
Dustin: Now speaking of Lil' Wayne, I'm hearing rumors of a joint-album between you two that's set to be released some time next year. Are those rumors true?
Lloyd: It's funny how you can say one thing as just a creative idea, and then it gets set in stone the next day. I think somebody asked me about that a few months ago. And I told them that in my perfect world, me and Weezy would do a collaborative effort, like a best of young worlds. Kind of like Jay-Z and R. Kelly did both worlds. So I've got young gold, and he's got young money. We're both young … two of the youngest in the game. And everything we do is for young people. It's just a creative idea. Some kind of way it got printed out that we were [coming out with a joint album]. It's just a rumor. It's just an idea. But we'll continue to collaborate in the future … definitely.
Dustin: Well, if y'all get a chance, I think that is something that you two should definitely look into doing, because I think that'll be pretty dope!
Lloyd: Well it's just something that I think would have to come naturally. The more we record, the more we have opportunities for trying new things.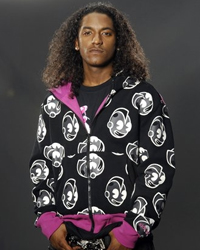 LLOYD HAS BEEN GROWING HIS HAIR SINCE 2000
Dustin: Okay, now earlier you mentioned something about your appearance is what makes you unique. Now, I don't know if you've noticed, but Busta Rhymes cut his dreads in 2005, Ludacris cut his hair in 2006, X-Zibit cut his in 2007, and Trey Songz cut his last month (June 2008). With 2009 coming up about 6 months away, do you plan on being the next one to cut your hair off? Or are your braids here to stay?
Lloyd: Nah, man, they cut theirs off because they can't rock it like I rock mine!
Dustin: Ahh, okay! I feel you! Just out of curiosity, how long have you been growing your hair?
Lloyd: Since high school, since 9th grade.
Dustin: Oh okay, so that's what? About 8 years now?
Lloyd: Oh yeah!
Dustin: Okay cool, that's a long time!

[audio:../audio-interviews/2008/lloyd/4-partthree.mp3]
PART 3 // RANDOM READER QUESTIONS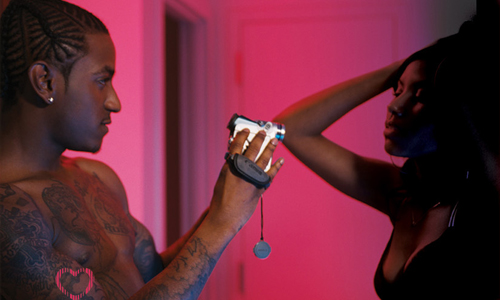 LLOYD'S NEW ALBUM "LESSONS IN LOVE" IN STORES AUGUST 5TH 2008!
Dustin: Okay, now I'm going to get into some random questions from my readers over at Think2Wice, if you don't mind.
Lloyd: Okay.
Dustin: What is your favorite color?
Lloyd: My favorite color is black. And I learned that from my uncle BJ. I love black, I love being black.
Dustin: That's right! Being black is a beautiful thing. I'm black and I'm proud, right? [laughs]
Lloyd: Definitely!
Dustin: What is one thing about you that might surprise people?
Lloyd: One thing about me that might surprise people? I listen to classical music.
Dustin: Really?
Lloyd: Yeah.
Dustin: Can you name off some names?
Lloyd: Bach, Mozart, even a little bit of Porcelli. Andrea Porcelli, the opera singer.
Dustin: Oh okay, that's pretty unique! Not including yourself, who would be your top 5 R&B artists (male or female) in the game right now?
Lloyd: Aww, I couldn't really rate them, but I can give you 5…
Dustin: Well, just give me 5 that you think are hot.
Lloyd: 5 who I'm listening to. Usher's hot, he's a good friend of mine. I like Chris Brown, I like Ne-Yo, I like R. Kelly. And I like the young homie, Boxie, who's a good friend of mine too. He hasn't come out all the way on the scene … he's coming out.
Dustin: Oh okay, I'll make sure I look out for him then. Being in the music industry, what was the hardest thing you've had to deal with?
Lloyd: The hardest thing I've had to deal with was easily perception, and having to answer questions that really weren't about me, when I first came in. It was more so about situations around me that really have nothing to do with me. Almost like just by Irv Gotti being a big brother and mentor of mine, just means that I take on these beefs and, you know, whatever. That whole thing where I'm trying to get my music out and having to deal with questions that's not really pertaining to that. And I think that the only way that I have been able to elevate above that is through consistently making good music.
Dustin: When you're not in the studio or touring or promoting, or anything like that, what are some things you like to do in your off-time?
Lloyd: Off-time? I just chill with my family at home in Atlanta. We barbecue on Sundays. We go to the lake with our jet-skis. Hit the movies. Shoot hoops. Play video games: Grand Theft Auto – "Get It Shawty," it's on there! Check it out [laughs].
Dustin: Okay, speaking of family, one of your fans on the site mentioned how humble you are. What keeps you so grounded? Would you say your family keeps you grounded?
Lloyd: It's no one thing in particular. I think it's just the idea that through hard work and preparation I can become better than I was the last time around. And the idea that I keep getting better the more I practice, I think that's what keeps me humble, even though this might have been a great year, even though this might have been a great song, the next song has the potential to be greater, and the next move has the potential to be a little more trend-setting. So it's just the idea of becoming better through hard work.

LLOYD USED TO BE A PART OF AN R&B GROUP CALLED "N-TOON." CHECK OUT THEIR VIDEO FOR "READY" ABOVE!
Dustin: Another fan mentioned N-Toon, the group you used to be with when you were younger. Do you guys still keep in touch?
Lloyd: Not as much as I'd like. You know we're all at pretty influential times in our lives. Those guys are pretty young guys. One of the guys is in college. One of the guys is recording inspirational music. My little brother is entering his senior year in high school. He plays football. So, you know, we're all kind of doing our thing and I've got nothing but love for all of them.
Dustin: Okay, that's what's up! Last question, what would you be doing right now if you weren't singing and pumping out hits?
Lloyd: I don't even want to think about it! I'm just happy to be where I am. I'm happy that I've been blessed with this gift. It's kept me out of a lot of sh*t! [laughs] And also, I'm 22. If it weren't for music, I'd probably be in college somewhere. I don't know, maybe studying psychology. I'm really into the human psyche. I wanna know what's on the mind of every girl in the world, so I think that'd be pretty hot.
Dustin: Girls all around the world, right?
Lloyd: All around the world!

[audio:../audio-interviews/2008/lloyd/5-partfour.mp3]
PART 4 // LLOYD'S FUTURE

Dustin: A lot of people in the music industry are trying to cross-over into acting. Is that something you're interested in doing? I know you've appeared on "One On One" in the past, but would you like to star in any movies in the future?
Lloyd: Would I like to? Of course! Definitely. Those are all aspirations of mine. Music, theater, behind the scenes work, actually introducing other acts. Those are all very real, and very possible aspirations of mine. But at the present moment, all I can think about is August 5th, "Lessons in Love" … August 5th, "Lessons in Love" … August 5th, "Lessons in Love."
Dustin: Say it one more time!
Lloyd: August 5th, "Lessons in Love"
Dustin: One more time…
Lloyd: August 5th, "Lessons in Love"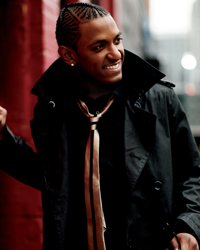 LLOYD'S NEW ALBUM "LESSONS IN LOVE" – IN STORES AUGUST 5TH 2008!
Dustin: [laughs] Where do you see yourself 5 years from now?
Lloyd: I couldn't tell you that. I'm a day-to-day kind of guy, I live in the moment.
Dustin: You don't have any goals that you're trying to reach? Like a diamond album, or something?
Lloyd: Oh, well, yeah, I have goals. I have a goal to win a Grammy award. I have a goal to touch the stage for BET or MTV. I have goals. I still have a goal to have my first #1 video on MTV. I've championed BET. I conquered that, and now I'm trying to get that MTV, #1, which is different for me. Another goal of mine is to introduce to the world to a new act, through Young Golden Music. That's probably the biggest goal of mine – to give other acts opportunities, the same way I've been given these opportunities.
Dustin: Oh, okay, cool, cool. If someone came up to you on the street and asked you what they needed to do to get where you're at right now, what would you tell them?
Lloyd: What would I tell them? If someone on the street walked up to me and asked me what should they do, to get to where I'm at?
Dustin: Mmhmm.
Lloyd: Make a diss song about me! [laughs]
Dustin: [laughs] Okay! I guess that would be one of the best ways to get your name out!
Lloyd: [laughs] That's the worst thing you could do! That's terrible. But I think that what I would tell them to do is to look around. We all have talent, we all have gifts. Some of us just don't recognize what it is. Just dedicate the time that's necessary to find out what's special about you, and don't be afraid to let your light shine.
Dustin: Do you have any last words for your fans?
Lloyd: Last words? Never last words! This is just the beginning.
Dustin: Well, anything you would say if you were to tell them, instead of goodbye, see you later.
Lloyd: Don't say goodbye, say goodnight.
Dustin: Alright! And when is that album dropping? One more time, in case they missed it.
Lloyd: August 5th – "Lessons in Love"
You heard it from Lloyd's mouth himself, but in case you didn't, be sure you pick up his brand new album, "Lessons in Love" on August 5th – which is today! Make sure you check out his links below: