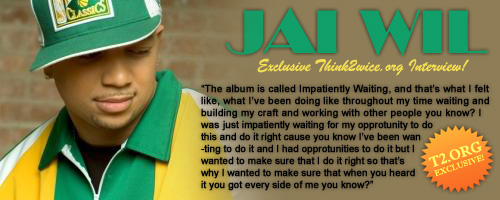 [audio:../audio-interviews/JaiWil.mp3]
CLICK ABOVE TO LISTEN TO THE INTERVIEW!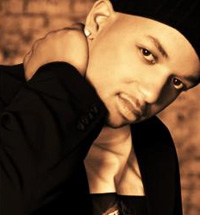 Mike: What's up guys? This is ya boi Mike of Think2wice.org bringing to you lucky people a EXCLUSIVE interview with singer, songwriter, AND producer…Jai Wil who was thoughtful enough to make this interview happen… Welcome Man!
Jai Wil: Hey, what's goin on man? It's Jai Wil man, I'm right here for ya, what's happenin?
Mike: OK… so, first things first, tell us your name again and a little bit about yourself…
Jai Wil: The name is Jai Wil, know what I'm sayin'? That's J-A-I, Last name W-I-L comin' from the streets of Chicago. Been here, was born here, all of my life. Been singing for all or my life. You know my mom and pops were singers and you know I'm just tryin' to do my thing man singing, writing, producing, all of that.
Mike: Where did you get your start in your type of specialization? Also in the industry?
Jai Wil: Basically, I started singing in church, I wasn't a often "church goer" but you know. I started there just learning the ropes and listening to people there and you know since my mom was a singer she started to help me out and give me tips and I went to school, a performing arts school, I think that's where it really started for me. Once I entered high school I had the opprotunity to be around a lot of really great singers, I had a really good teacher for music that took some special time to show me, what I really needed to know, how to sing. From there I just took off and started doing my thing and landed my first professional jig doing work with Diddy when he was doing Diddy And The Family Tour back in '99 so since then it's just been moving up.
Mike: Who were some of your inspirations growing up?
Jai Wil: Stevie Wonder that was one of the first, my mother told me, I needed to listen to she was like, "If you want to know how to sing, you got tolisten to Stevie, he's the man!" So he's definitely my idol. Luther Vandross, Kim Burrell, Brian McKnight, Daryl Coley, David Hollister, it's a lot.
Mike: Do you write your most of your songs?
Jai Wil: Well for the album, which I just finished, I wrote everything and usually when I work I usually write everything. I write one-hundred percent of everything I do because once I hear the song or once I get an idea in my head I usually just don't write an idea. I write the entire song bridge and all, you know? And just get ready to go in the studio and record it. So I write one-hundred percent of everything that you will hear from me.
Mike: Who produced "Crazy"?
Jai Wil: That was actually produced by these two kats Enoch and StrechMark, they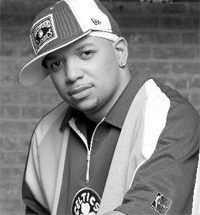 are known as "the Trendsedaz", they're out in DC [and] we pretty much worked on the album, the whole album, together. I wanted to work with one set of producers for my first album so we can like, get to know eachother you know and they're the type of producers where everything wont sound the same, you know what I'm sayin'? So I wanted to have that Janet with Jimmy Jam and Terry Lewis feel. so we can knock out everything and it just won't be like a one stop shop, we wanted to make good music, so that's what happen so I was really happy to be working with them and they are going to be working with me on my next album too!
Mike: What were you doing when you first heard your single on the radio?
Jai Wil: Well to be honest I was actually driving listening to Marques Houston's new CD and I had people callin' me sayin, "Jai, Jai your on the radio!" But by the time I got to hear myself, I missed it. But the second time I was on the radio I caught it on accident. I had just turned the radio on thinking about it like God was sending me a message cause I just cut the radio on and heard it like man it's so surreal cause you never thought you'd be on the radio and it happen, it's a really good feeling.
Mike: What's the title of the album gonna be?
Jai Wil: The album is called Impatiently Waiting, and that's what I felt like, what I've been doing like throughout my time waiting and building my craft and working with other people you know? I was just impatiently waiting for my opprotunity to do this and do it right cause you know I've been wanting to do it and I had opprotunities to do it but I wanted to make sure that I do it right so that's why I wanted to make sure that when you heard it you got every side of me you know? You got the love, the pain, you know? You got the real meaningful emotions that most people go through on a everyday basis so you know I was impatiently waiting to do this the right way and now it's here and it'll be out on Valentines Day.
Mike:Wow, that's what's up, so how long did you work on this album?
Jai Wil: Honestly it really didn't take a long time you know I got a professional work ethic so when we were in the studio we would knock out like 3 songs a day, so we went through at least 30-40 songs before we decided what was going to be on the album so I say it probably took about maybe 4-5 months, cause I had to keep fying back and forth from Chicago to DC for every few weeks to work on it so you know and inbetween me having a job and you know like doing the normal things I had to go out there, write the songs and record them and everything so yeah about 4-5 months-total.
Mike: Ok… so now we're going to get a little bit personal by asking you what do you like to do in your free time?
Jai Wil: I love to watch movies, I don't care what movie it is, I'm all into movies or just normal TV. I watch CSI, Lost, Prison Break, all of those things. I love to play basketball, I'm no Allstar but you know I can shoot the ball anywhere, yeah so that's always been my thing coming up since I was a shorty; I was always short 'til about sixteen so I had to learn how to shoot to get it over all the tall boys' head but yeah you know I like to play basket ball and just hang out with all my friends, I'm not really a heavy club goer but I will go out and have a go time, you know here in Chicago it's always places that are having live music, poetry, and things like that but I will go and get CRUNK from time to time, I do both but I just don't do it a lot.
Mike: What type of music do you listen to?
Jai Wil: Um…I listen to a lot, R&B of course, I listen to a lot of Hip-hop. My whole life has been hip-hop influenced you know just me growing up and everything…I listen to some rock; I like Green Day, Good Charlotte, Fall Out Boy, you know they're from Chicago so you know I got to support Chicago, but I really listen to a lot of different music…
Mike: Yeah, that's good, that's always good.
Jai Wil: Defintely.
Mike: What could we possibly find in your CD player right now?
Jai Wil: Honestly in my CD player right now, that new Omarion joint, 21. That CD is crazy. You know I am a fan first so if anybody comin' out with a CD I'm gonna check it out and you know, I am goin to respect all the artist that's out there cause we all doin our thing just tryin to make it. But that CD is crazy! [Laughs]
Mike: Yeah, it is. I like the new one that's out called Icebox.
Jai Wil: Oh yeah! Icebox is crazy. Timbaland, man he just snapped out on that joint forreal.
Mike: Yeah, Great producer.
Jai Wil: Yep, he did.
Mike: OK…Now where going to do a little segment called "Roll Out" it's sort of like a roll call, where I say a name or phrase and you tell me what comes to mind…ready?
Jai Wil: Alright, cool…
Mike: Diddy.
Jai Wil: Diddy-trendsetter.
Mike: Adversities.
Jai Wil: Adversity, Wow…you know I'd have to say family.
Mike: Childhood.
Jai Wil: Childhood, Chicago.
Mike: Music.
Jai Wil: Music, me. Jai Wil.
Mike: [Laughs] Fly.
Jai Wil: Fly?
Mike: Yeah.
Jai Wil: Outkaaaast. Haha.
Mike: Haha, yea. Oh wow you like Outkast?
Jai Wil: Oh yea, Outkast man, them dudes is crazy….
Mike: Yeah they're like my favorite band from Atlanta! So creative.
Jai Wil: Oh yea! Outkast is one of the best hip-hop duos ever, no what I'm sayin so you go to show them love.
Mike: Their style is crazy!
Jai Wil: And you know they always come out with something new and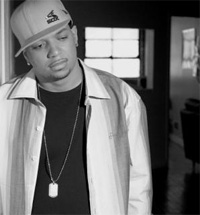 completely different, so no one can keep up, so that's why I like about them they not afraid of the challege of doing something different.
Mike: Yeah-trying new things and doing something different yeah.
Jai Wil: Yeah. So you know Outkast is like…shout out to Outkast forreal!
Mike: Well, thankyou so much for taking the time out with us Jai Wil! Your always welcome…Is there anything you'd like to tell the people before you go?
Jai Wil: Thankyou, yeah definitely! make sure that you come to my website, that's JAIWILMUSIC.COM, come check out the song defintely, you can click there to buy the album which comes out February 14th Valentines Day you can come you can come there and get the album, also I'm on MySpace as well: MYSPACE.COM/JAIWILMUSIC check me out! Yeah and were tryin to get a video right now for the single [Crazy] so we're goin to have that out there soon..check that out as well and just come support ya boy, fah sho' if you want to hear some good R&B, Holla at me!