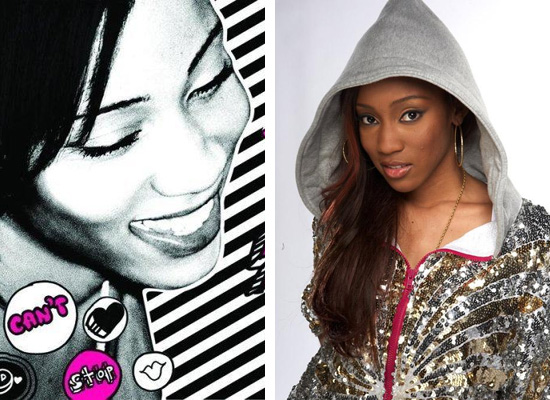 Hailing from Atlanta, Georgia please let GossipOnThis.com introduce the world to the quirky, genuine Dondria Nicole aka Phatfffat. You may have possibly spotted this rising star singing her heart out from behind her computer screen as she used to regularly upload videos of her performing covers of her favorite songs on the popular video sharing website known as YoauTube; that is, until producer/So So Def executive Jermaine Dupri reached out to the 5'2 powerhouse in a MySpace message and signed her to his record label. Elijah Miles of Gossip On This had the pleasure of sitting down with the up and coming R&B singer recently to discuss her future
You have possibly spotted this rising star singing her heart out from behind the computer screen the past 3 years until legendary producer/ So So Def executive Jermaine Dupri decided to reach out to the 5'2 powerhouse in a MYSPACE message. Dondria Nicole made her debut to the world in December 2006 singing her first cover song on YOUTUBE 'Love' by Musiq Soulchild. We had the opportunity and pleasure to sit down with Dondria Nicole in a phone interview last Monday and discuss Dondria's future endeavors and road to stardom.
Elijah (GossipOnThis.com): You know I'm going to start off by saying this is really crazy how I found you on YouTube two years ago and it's so interesting to see that process of an artist change and grow and it's exciting that I'm interviewing you 2 years later…
Dondria Nicole aka Phatfffat: Oh wow, it's been crazy for me too though, I don't know, I didn't think that anything like this would happen!
Elijah (Gossip On This): Where are you from?
Dondria Nicole: I am originally from Oklahoma raised in Texas.
Elijah: Are you a military brat?
Dondria: Umm, you can kinda say that, my dad is in the Navy. But I didn't move around with him though.
Elijah: What gave you the idea to start on YouTube and how did you get signed?
Dondria: I was told to go on YouTube to look at a fight, and when I looked at the fight, on the side column I saw freeze frames of people that looked like they were singing. And I clicked on a few and I saw that people were singing and I was like, you can sing on here? I just got really excited, since I already had a web cam and tons of instrumentals because I always did live open mic nights. So I was like let me just try it and put a song up and see what people say. And the first song I put up was "Love" by Musiq Soulchild. I put that up in '06, and I was getting a lot of feedback from people telling me how much they liked it.
Then people started requesting songs and I would do those. It seems like before a year had already passed, I had reached a million views on my video covering Ciara's "Promise." And that's when all the calls and messages started rolling in and one of those messages were from JD and I didn't know that it was him. So I kind of ignored him, because there were so many people trying to get in touch with me and over 50% of those were either movies or things I just wasn't interested in pursuing. So by the time he came along I was just like yeah, right. So he just kept writing me, and no one else was that persistent and I finally wrote him back. He told me that he saw me on YouTube and he wanted to work with me.
At first, he didn't say anything about signing me or doing a record of anything. All he kept saying was that he wanted to bring Jagged Edge to my mom's house and do a YouTube video. And in the back of my mind I'm like (laugh) you call me all this time to tell me that you wanted to do a video with me and Jagged Edge? We set the date and everything but when that date came, two days before the date there was a change in plans. I was like "Oh Lord, here we go." But he decided to fly me and my mom to Atlanta to work with him and meet some of the reps of So So Def, and not just do a video with Jagged Edge; and in 6 to 8 months I flew down and recorded my first song, "Crazy About Your Love."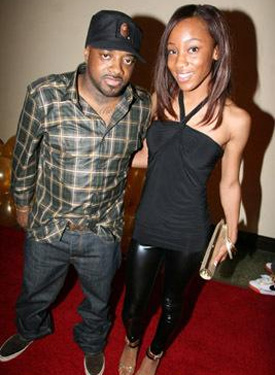 Elijah: How long have you been singing, and why the name Phatfffat?
Dondria: I have been singing forever. I have been singing since I was about 3. I grew up in church singing in the youth choir. Then once I got into middle school I started venturing outside of church singing at school in talents shows, choirs, competitions, etc. I don't know, from there my love for music started to grow… My freshman year of college during orientation I met this girl and she was one of the people I introduced myself to\o. We ended up hanging out the whole rest of the orientation; we got along really well.
So at the end of orientation we went to the office and requested to be roommates for the school year and she surprisingly lived in Dallas as well, so our parents got acquainted and decided we were going to ride together to go to CiCi's. So we were making our plates and mine was kind of piled up ((laughs)). And she was like, "Are you going to eat all of that?" And I was like, "Yeah I am." She said, "I don't believe it." And by the time we were finished talking I had finished my whole plate and got some more. And she said, "You know what? I'm going to call you 'Phatfffat.' That's ridiculous." And it stuck because nobody on campus knew who Dondria was. They only knew who Phatfffat was. ((laughs))
Elijah: I always find it interesting getting to know other artist's backgrounds especially if they went to school, because it's just something they don't talk about too much unless they're asked. So my question is: What school did you go to? Did you finish, and what did you study?
Dondria: Yes, I went to school; Charleston State University. I didn't finish, but hopefully I will soon. I want to finish before I turn 30. But whatever happens, happens. And I majored in Music Education.
Elijah: Who do you want to be recognized as, Phatfffat or Dondria?
Dondria: Overall, I want to be recognized as Dondria as far as my profession comes. But if I get stopped somewhere in the mall or something I don't mind people saying "Phatfffat." But I don't want to be performing at the Grammys and then they present me as Phatfffat ((laughs)).

Elijah: I can understand completely. Who are your influences and what fuels your creativity?
Dondria: First my influences come from being raised in church and being moved spiritually by someone's voice. So mainly it was Aretha Franklin, Etta James, Whitney Houston, and Beyonce. Those are my 4 people that starting in middle/high school I was listening to the most. People always ask how I do my runs and I always listen to how my favorite singers would do theirs. I would basically copy their runs, and once I mastered them, I would make my own. I would just listen to that emotion and power, close my eyes and pull it out of me.
Elijah: You recently released a mixtape hosted by DJ ENVY. How did that come to be and what type of feedback have you received?
(Editors's note: Dondria and So So Def created a mixtape of the Top 10 male R&B songs on the charts. This mixtape was released on November 6th and can be downloaded @ Global14.com. Controversy of the mixtape arose from concerned fans describing it as being "sex-driven." People and fans were drawn back at first. When critics arose with these claims Dondria quickly replied saying she was only giving the public what they wanted. This was simply for promotional use; nothing more. Dondria clearly states that it's a project to showcase some of her ability, and that her first studio album doesn't talk about sex.)
Dondria: When it comes to promo you have to do different things and we (So So Def) thought it would be a great idea to do the top 10 male R&B songs on the charts that people love and are playing on the radio like crazy. And put the female perspective on it. We did it and its been taken very well. Within the first few days its had 10,000 downloads.
Elijah: That's whats up!
Dondria: People are telling me that they like it. That I've done a good job with a great introduction of who I am and a little taste of what I can do. And I think it was a success.
Elijah: How would you describe your sound? What separates you from your Beyonce or Aretha Franklin, what separates Dondria Nicole?
Dondria: I know that I have a lot of soul in my voice and I know that there's a lot of power. People are always surprised what comes out of this little 5'2, 110 pound girl.
Elijah: Wait.Your 5'2? Wow!

Dondria: ((Laughs)) Yeah! Everytime people see me in person they're like "wow, you're a lot smaller." But I really only shoot shoulders up on YouTube… But I have a lot of soul. And I love, love, love R&B and country like Dixie Chicks, Miley Cyrus, Taylor Swift, Carrie Underwood. I like rock too, and I love Paramore.
Elijah: Do you think you would fuse R&B and coutry together? That would be hot if you did.
Dondria: I wouldn't mind at all. I actually did Taylor Swift's "You Belong with Me" on YouTube. Sometime this week. I love all types of music and I think I fuse all of that together. I always try to surprise you. It's not the same sound that you're like, "Oh my God I'm getting tired of this, she sounds the same every single time." I don't think its like that.
Elijah: Where do you see yourself 5 years from now, then 10 years from now?
Dondria: 5 years, I want to have a reasonable growth. I would like 3 or 4 albums and I want each album to be better than the last. I want a level to continue to strive for. I don't want to reach my peak and then there's nowhere to go. I just want to do what I love. Yeah, I want the awards, and to sing at all of the important events but I just want my fanbase to always love me. Once I get that real fan loyalty then I know they will always be there, and I won't have to worry about them excepting me. In 10 years, I'll be 32 (sigh,and laugh). I want to have a brand that never goes away. I want to be a legend.
Elijah: I completely agree. Are you working on any endorsements?
Dondria: Not right now. I hope to get a lot of endorsements with food. Especially Chipotle (mexican restaurant). Yummm… when the time is right ((laughs)).
Elijah: When and what is the concept for your debut album?

Dondria: The concept is "Dondria vs. Phatfffat," and its basically showing everybody that Dondria is more than the Phatfffat you saw on YouTube, who was on there eating right before she sang, forgetting her words, laughing, etc. ((Laughs)) She's more than that, and you'll get to see it. You got a chance to see the personality that drew everyone in, but now you will see her as the professional and you're going to hear her own stuff nkot just other people's songs. It's my music, and you'll see the person behind the computer.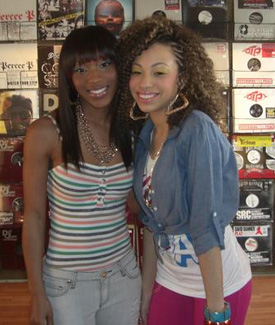 Elijah: Well, we will surely be on the look out for that. What producers/artist would you love to work with?
Dondria: First I have to work with Tank. I don't care if its him writing me a song, giving me a track, or doing a duet. But he's my number 1. Besides, that's going to be my husband one day ((laughs)). I met him a while back, and I was like "Hi, I'm JD's new artist. Nice to meet you. We need to do a song!" and he was like, "Yeah, sure." But he probably didn't believe me. He thought I was blowing smoke ((laughs)) But I hope it happens. I would also like to do a song with Chris Brown and Karina Paisan.
Elijah: Yeah, people like to sleep on her but she's really good.
Dondria: Yeah, she is. We did a photoshoot together, and she's really cool and talented.
Elijah: What are you trying to get across to your audience with your music?
Dondria: I want to be in part of bringing real R&B back. I'm not into talking about sex on my album. It's just not me. My album is doing its part in bringing real R&B back. People like Jazmine Sullivan, Chrisette Michele, and Karina Pasian are all doing a great job in bringing real R&B back. And I feel like I am too. We're talking about love, emotions, and how you deal with things.
Elijah: Last but not least, any message to your fans?
Dondria: Thank you. There is no way I would have been recognized, or signed it it wasn't for the views and subscriptions. I really thank them for supporting me because if I didn't have them I would just be looked over like everybody else.
Dondria filmed the music video for her debut single "You're The One" recently and the video will premiere online any day now. Be on the look-out for it! In the meantime, subscribe to Dondria's YouTube Channel or follow her on Twitter to stay updated on what she's got going on.