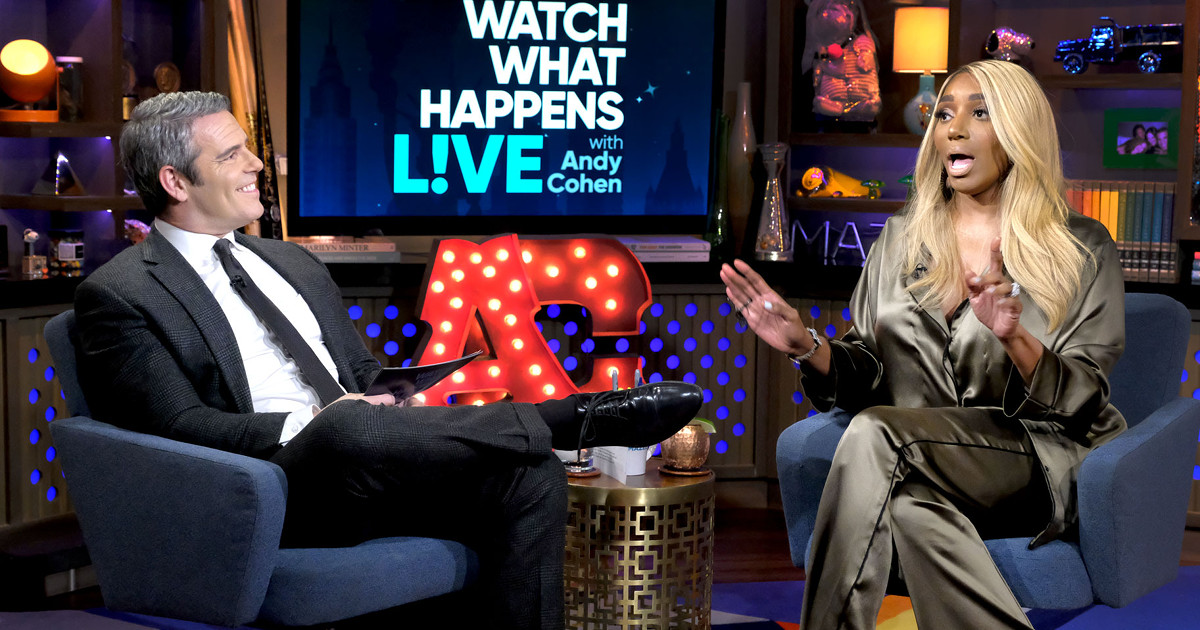 NeNe Leakes and Andy Cohen's relationship has become pretty strained over the past few months, but now it seems the two might be in an actual feud. And it is all over a perceived fashion faux pas.
During Sunday's broadcast of Watch What Happens Live, Cohen noted that one of NeNe's confessional looks for this season of Real Housewives of Atlanta is the same dress she wore during a previous WWHL appearance.
"By the way, one of NeNe's confessional looks this year is the same dress she wore to our big doorbell show in L.A. where the strap broke, so I guess she fixed her strap, which we love," he said.
The eruption of laughter from his audience and his guests, including Eva Marcille, prompted him to ask if the comment was shady.
"I didn't mean for that to be shady!" he said.
But the shade had already been thrown and NeNe was not here for it. She went all the way in on Cohen in an Instagram post.
"That was 2 years ago i wore this dress ONCE, so i can't sit in a confessional with it on @bravoandy How many times have you recycled your suits and ties? #pointless #messy why you care? It's enough that we #RHOA ladies come for each other and now we have to worry about executives coming for us! … I DONT APPRECIATE THIS AT ALL"
She then posted examples of several high-profile women recycling outfits, including Michelle Obama, Kate Middleton, Kim Kardashian, and Tiffany Haddish.
Cohen's timeline must have been flooded with tweets regarding the shady comment. But he wasn't backing down, defending himself with NeNe's now-iconic "I said what I said" meme.
— Andy Cohen (@Andy) December 9, 2019
Nene's epic response:
And what you said was some bullshit

— NeNe Leakes (@NeNeLeakes) December 10, 2019
Earlier this year, NeNe and Cohen engaged in a public war of words when Cohen wrongly stated that NeNe has unfollowed him on Instagram, like she did many of her RHOA co-stars after a rough season.
However, NeNe was never following Cohen on the platform to begin with, which Cohen then confirmed.
NeNe recently expressed her dissatisfaction with RHOA and intimated that this may be her last season.
"I don't know [if this is my last season]. I really don't know that. I never really know what I'm doing until the season is over and we talk about it," she told Hollywood Life.
"I just think there's a lot of things that aren't fair…Just things that—Behind the scenes things that you guys don't get to see," she added. "So I just have to talk with my team and decide what's best for me."
Be the first to receive breaking news alerts and more stories like this by subscribing to our mailing list.