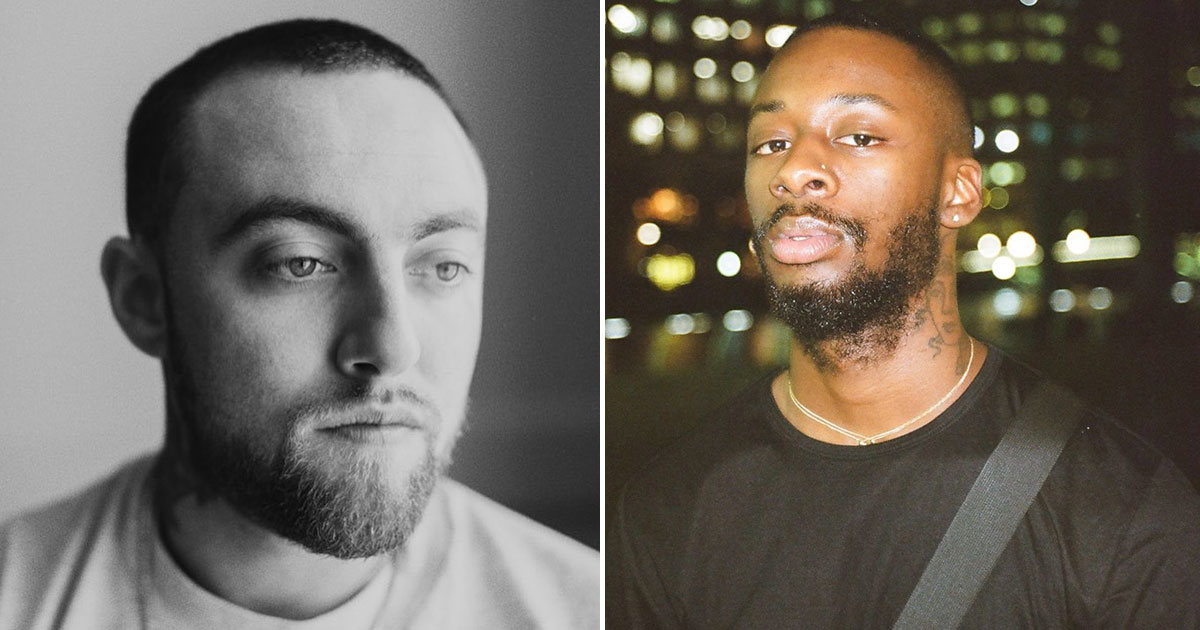 GoldLink has drawn the ire of social media after he posted an oddly timed message about Mac Miller accusing the late rapper of biting his style.
The "Crew" rapper took to Instagram late Tuesday night (Nov. 26) and uploaded a black-and-white photo of a somber-looking Mac Miller along with a lengthy caption addressing Miller's death and his relationship with him.
"I'd be lying if I said I was surprised to hear that you died on us," Goldlink's post began. "Not because you were necessarily troubled, but because you were special and because of that, you were troubled."
He continued: "At your peak, you were the archetypal rapper all of us wanted to be; which was independent. But also just a kid with really bright eyes about life. I'll keep it short because I want to continue our conversation for when it's my time to go."
The DMV rapper went on to say that while he and Miller "weren't always on the best of terms" and he "didn't always have great things to say" about Miller, that's actually what made their relationship special.
GoldLink also said that he appreciated the fact that Mac supported his music, however, GoldLink apparently had a problem with the similarities between Mac's 2016 album The Divine Feminine and his own 2015 project And After That, We Didn't Talk, citing the creative thievery as a source of tension between the two.
"When we were on the GO:OD AM tour, I played you my album 'and after that we didn't talk', and you thought it was absolutely incredible," GoldLink wrote.
"I released it under the 'Soulection' label and the single for my album was called 'Unique' ft. Anderson Paak, and that was your favorite song at the time. You loved it so much that you made the entire tour party listen to it, and surprised me with a cake after my set."
GoldLink continued: "I always thought you drove yourself insane about your own music. So much that, you would adopt styles as homage to those around you that you loved. That's where our problem started.
"Divine Feminine was an actual blueprint of 'and after that we didn't talk.' Your single was called 'Dang!' Ft. Anderson Paak…you had Soulection support you on the Divine Feminine tour and when I tried to contact you, about anything at all…you never hit me.
"A close mutual friend ended up just hittin' my DJ saying 'listen man, we love Link, but we just had to do what we had to do. And Mac said if he needs a verse at anytime, he got him'"
GoldLink said he considered Mac "family" and said he "could always call me."
The rapper closed out his message with this: "Afterwards, we seen each other at Coachella, and you put your head down like an innocent child, but I told you to pick it up and I hugged you like the brother you are to me.
"You were the first person brave enough to openly say 'he's dope' … and gave me a platform. That meant more to me than anything else.
"3 days before you died, I remember pullin up on you at the crib, walking in the house and seeing the Divine Feminine album plaque on the wall. I was so proud of you and what YOU created for yourself. And I'm forever grateful for that."
The timing of GoldLink's post—which confusingly went back-and-forth between touching and not-so touching—is hella odd … considering Mac Miller died in September 2018 and his birthday isn't until January.
Twitter, meanwhile, is NOT here for GoldLink's ill-advised post about someone who is no longer here with us, and Mac Miller's fans/supporters are especially dragging him.
This whole letter is disrespectful and weird. Something about this seems incredibly off. What the fuck was Goldlink thinking? https://t.co/TJT48oPVbn

— Beyoncé's Sweaty Leotard (@sometimeshomo) November 27, 2019
that "letter" to Mac Miller that GoldLink put up was wild weird and unnecessary .

do ppl really not have a pr team to proofread shit before they post? ?

— Radicule-Senpai. ? (@radiculebeats) November 27, 2019
Goldlink might've just CREATED the Memorial Post Triple Crown. He simultaneously gave props to Mac Miller, spoke ill of him AND bragged about himself being the bigger person. That's otherworldly talent.

— Z (@ZTheJustOK) November 27, 2019
Goldlink just wrote the most backhanded letter to Mac Miller and it's just tasteless to share it with the public. Mac is a beloved figure and goldlink sounds bitter even after his death. Smh

— Ð/RREN ? (@CVDarren617) November 27, 2019
Goldlink basically said "Hey man I'm sorry you died, but you remember when you took my idea without giving me credit that one time? But yeah R.I.P tho" HUH????

— Psycho Mantis (@MarkSparks718) November 27, 2019
BRUH this nigga goldlink said "that's crazy how this nigga bit my whole shit then died, miss that nigga"

FUCK IS WRONG WITH THIS NIGGA ???????

— Jay Jay the Signifyin Monkey Nigga/Knicks 4-15 (@jay_murph2099) November 27, 2019
That Goldlink post on Mac Miller is wildly passive aggressive

— ?Jamari ? (@jamaritorrence) November 27, 2019
Can't be the same person who was paying tribute in January now talking shit in November…

— Karen Civil ?? (@KarenCivil) November 27, 2019
Goldlink ?????… you gotta chill my brother.

You couldve wrote that in a journal…

Its Mfers not gon let that post slide like u thought they would…

— CHUCK ? (@Chuckisdope) November 27, 2019
man what the fuck, Goldlink is a weirdo and cornball for this https://t.co/b1rfz2P5zz

— Ahmed/Tinashe actually knows me (@big_business_) November 27, 2019
Somebody finna beat goldlink up… again… dork ass nerd

— Boogie Bousins (@bansky) November 27, 2019
And just like that we are no longer fuckin with goldlink

— KAMI (@LordWadibia) November 27, 2019
I like GoldLink's music someone tell him to shut the fuck up tho

— jake ????? (@JakesBadTweets) November 27, 2019
mac isn't even here to defend himself.. goldlink when i see you it's on sight pic.twitter.com/CMgZeSAT1b

— alexa (@urfavoritepart) November 27, 2019
"rip your fave but i'm different" – goldlink on a random tuesday in november for some reason

— sulkyboy (@whatcan_browndo) November 27, 2019
Goldlink should've waited till he was 100 years old to tell everybody that like Quincy Jones lol

— TP (@OGxTP) November 27, 2019
Be the first to receive breaking news alerts and more stories like this by subscribing to our mailing list.