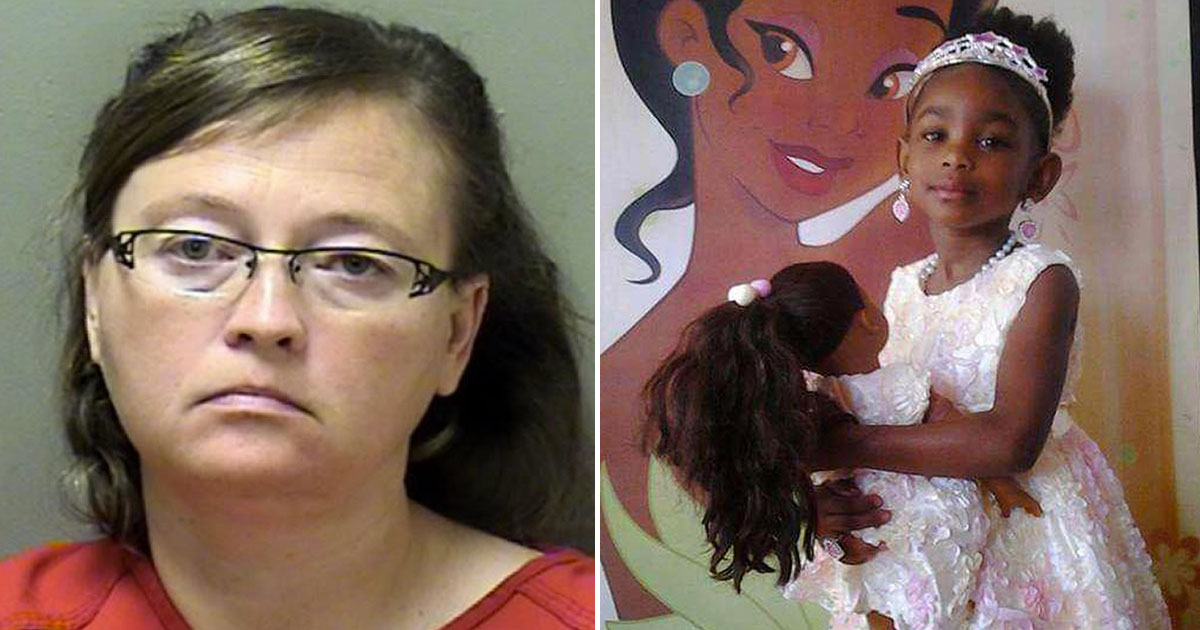 An Illinois woman found guilty of killing her boyfriend's daughter by kicking the little girl in the stomach so hard that her intestines ripped apart could (hopefully) spend the rest of her life in prison for her heinous crime.
41-year-old Cynthia Baker was convicted by a McLean County jury last Tuesday (Nov. 19) of first-degree murder, aggravated battery, endangering the life of a child and domestic battery in the tragic death of 8-year-old Rica Rountree.
According to records from the Illinois Department of Children and Family Services, Rica was taken to a hospital on January 26th when she suddenly became responsive after complaining about having stomach pains for several days.
After doctors discovered the girl was suffering from internal injuries, they immediately performed emergency surgery, however, the girl died during the operation.
Following Rica's death, Baker was questioned, but denied ever harming the girl, prosecutors said, even attempting to explain away black eyes and swollen lips.
However, during an investigation that lasted three months, police were able to uncover a number of cell phone videos all recorded in 2018 showing Baker abusing Rountree by forcing her to strip naked and hold cans for long periods of time.
The video footage—which, among others, was presented to jurors during Baker's trial—also showed that whenever Rica would drop her arms, Baker would place her hands around the child's neck and ask her: "Do I need to put a collar on you?"
Another video showed Baker dragging Rica by her neck to her bedroom, while another showed her smacking the child and kicking her in her back before hitting slamming her head against a wall.
"For most, it's unthinkable, but for Rica, it was her normal," McLean County Assistant State's Attorney Erika Reynolds said in her closing arguments regarding the abuse Rica suffered.
"In [Baker's home], Rica was treated as less than, as this defendant's punching bag and her pain served as entertainment for the entire family."
Prosecutors also revealed during the trial that Baker and Rica's father, Richard Rountree, exchanged multiple text messages complaining about her.
"I love u too but dam [sic] I really hate your f**king daughter," one text from Baker read.
Prosecutors also said that they'd obtained a letter Baker wrote to Rountree asking him to "take the blame for everything."
Reynolds noted Rica was abused so often that Baker and Rountree's other children would walk past the girl as if nothing was going on. Rica "was battered and abused in front of every kid in this house," Reynolds added.
In the days leading up to her death, Rica showed signs of suffering from fatigue and had unexplained injuries, according to witness testimony from the child's third-grade teacher.
"She became sickly looking and walked funnier as time went on," Prairieland Elementary School teacher Suzanne Schertz recalled of the victim's condition, which she said continued to deteriorate during the short 12-day period she attended the school.
Schertz became emotional when she described Rica's behavior during her final afternoon in school just days before her death.
"She was laying down on the carpet and looked really, really tired," the teacher said, adding that she'd sent Rica to the nurse after noticing a mark on her abdomen. Rica denied being ill, the teacher said.
Prior to being admitted to the hospital, Rica vomited at dinner, said she was unable to see, and almost fell down the stairs, Baker told Detective Kendra DeRosa the night Rica died.
"Sometimes she does this, and it's like attention, you know. She's like pretending," Baker said, according to the Pantagraph.
Dr. John Denton, the forensic pathologist who performed Rica's autopsy, took the stand during Baker's trial and said Rica died of peritonitis from intestinal perforation after blunt force trauma—a condition that progressed over a three-to-five-day period.
The doctor also said the girl had 67 marks all over her body from the extensive abuse she suffered at the hands of Baker.
Baker's own 7-year-old daughter also testified during the trial, saying that she saw her mother kick Rica twice in the stomach in the weeks before the girl's death.
Baker's sentencing is scheduled for February 3rd, 2020, and she faces more than 200 years in prison, Central Illinois Proud reports.
Be the first to receive breaking news alerts and more stories like this by subscribing to our mailing list.