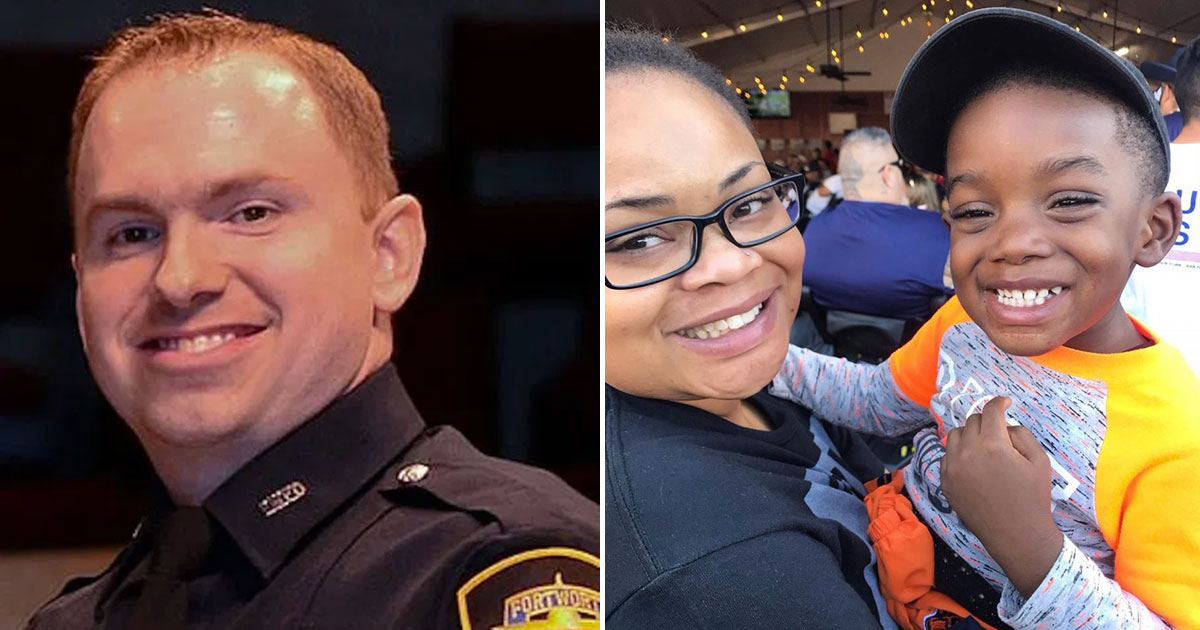 The white police officer who shot and killed an unarmed, innocent black woman while she was minding her own business in her own home in Fort Worth, Texas over the weekend has resigned from his job amid calls from the woman's family for him to be fired and charged as a criminal.
The Fort Worth Police Department identified the cop in question as 35-year-old Aaron York Dean during a press conference Monday afternoon (Oct. 14) noting that he had resigned but would still be facing criminal charges for the shooting death of 28-year-old Atatiana Jefferson.
The Fort Worth Police Dept. said officers responded around 2:25 a.m. early Saturday morning (Oct. 12) after a concerned neighbor called a non-emergency line to report that the front door to Jefferson's home had been left open all night, which was unusual.
Aaron Dean, one of the responding officers, shot through a window, killing Jefferson in her bedroom.
Fort Worth police said in a statement that officers saw someone near a window inside the home, and after "perceiving a threat," Dean drew his service weapon and fired one shot.
At a press conference on Sunday, police officials couldn't comment on what the "perceived threat" was.
Officer Involved Shooting – Oct. 12, 2019 pic.twitter.com/tCvn4nySjg

— Fort Worth Police (@fortworthpd) October 12, 2019
As shown in recently released bodycam footage, the responding officers did not announce themselves nor did they knock when they arrived at the home.
Fort Worth police later said they were investigating why the cops didn't say they were with the police.
The edited bodycam footage shows the officers passing two open doors without announcing themselves before walking through a closed gate in the backyard and shining flashlights.
After seeing someone through a window of the house, Officer Aaron Dean yelled "Put your hands up! Show me your hands!" and, without hesitation, shot through the window.
Attorney Lee Merritt—who represented the family of Botham Jean and investigated Joshua Brown's shooting death—is now representing Jefferson's family.
He said on Twitter that Atatiana Jefferson was playing video games with her 8-year-old nephew Zion when the welfare call was made.
Merritt said Jefferson thought she heard a noise in her backyard and was shot when she went to investigate. Fort Worth police confirmed that Jefferson's nephew was with her when she was killed.
A North Texas cop just murdered another law abiding citizen in their home. Her name was #AtatianaJefferson "Tay". She was playing video games with her 8y/o nephew, when they heard a noise in the backyard. When Tay went to investigate, she was shot to death. pic.twitter.com/mFJ1O2TNMK

— S. Lee Merritt, Esq. (@MeritLaw) October 12, 2019
In a family press conference on Monday, Merritt said Zion remembers much of what happened and was in the room with Jefferson was shot.
"He never left the room. He saw her when she fell," Merritt said, adding that Zion wanted to be the one who looked out the window but Atatiana (also known by her nickname "Tay") wouldn't let him.
Family members also demanded that Officer Aaron Dean be fired and criminally charged.
Ashley Carr said her sister was killed by Dean's "reckless act," and suggested that the federal government take over the investigation.
"She was enjoying a life in her home, where no one would have expected her life to be in harm's way, especially not at the hands of a civil servant who has taken an oath to serve and protect," Carr said.
"There is simply no justification for his actions," she added. "We demand justice for Atatiana through an independent and thorough investigation."
Jefferson's brother, Adarius Carr, said: "This man murdered someone. He should be arrested."
"Why this man is not in handcuffs is a source of continued agitation for this family and for this community," family attorney Lee Merritt said.
Community activists also voiced their frustration and pledged their support for Jefferson's family.
"We are not looking for a slap on the wrist," community activist Cory Hughes said. "We are demanding that he be charged like the criminal he is."
Brotherhood Movement member Malikk Ed said: "We will not stand down on this one. There's no Kumbaya for this one. There's no forgiveness for this one. There's no judge-hugging-officer for this one."
Jefferson, a 2014 premed graduate of Xavier University, worked as a pharmaceutical sales representative, her family said.
Fort Worth Police Chief Ed Kraus said Monday that Dean was not cooperative in the initial investigation, and turned in his resignation before he was able to fire the rookie cop.
"He resigned before his opportunity to cooperate," Kraus said. "Had the officer not resigned I would have fired him for violations of several policies, including our use of force policy, our de-escalation policy, and unprofessional conduct."
Kraus said that Dean was stripped of his badge and firearm on Sunday.
Dean was hired by the FWPD in August 2017 and was commissioned in April 2018. Kraus said the only thing on his record was a traffic accident and nothing else.
Fort Worth police officials said that despite Dean's resignation, his record and separation paperwork will show that he was dishonorably discharged.
Kraus also said during Monday's press conference that Dean will still face criminal charges, and noted that a preliminary case had also been presented to the FBI as a possible civil rights violation.
"We take these incidents seriously," Kraus said.
James Smith, the neighbor who made the call, told WFAA that he called the non-emergency line to ask for a welfare check because he was concerned that the lights were on, the front door was open and he didn't see any movement inside the house.
James Smith said he saw the lights on and front doors open at his neighbor's home overnight. He said he called a non emergency number for a wellness check. Smith said minutes later he heard a gunshot. @wfaa pic.twitter.com/7XYsVBCFz2

— Cleo Greene (@cgreeneWFAA) October 12, 2019
Atatiana Jefferson's mother was in the hospital and Atatiana was staying at her house at the time so that she could take care of her.
Smith said that he was worried because he thought that Atatiana's mom had returned home from the hospital and was having medical issues again.
"I called for a welfare check. No domestic violence, no arguing, nothing that they should have been concerned with as far as them coming with guns drawn to my neighbor's house," Smith said. "I don't know what went on in the house but I know that she wasn't a threat."
Be the first to receive breaking news alerts and more stories like this by subscribing to our mailing list.