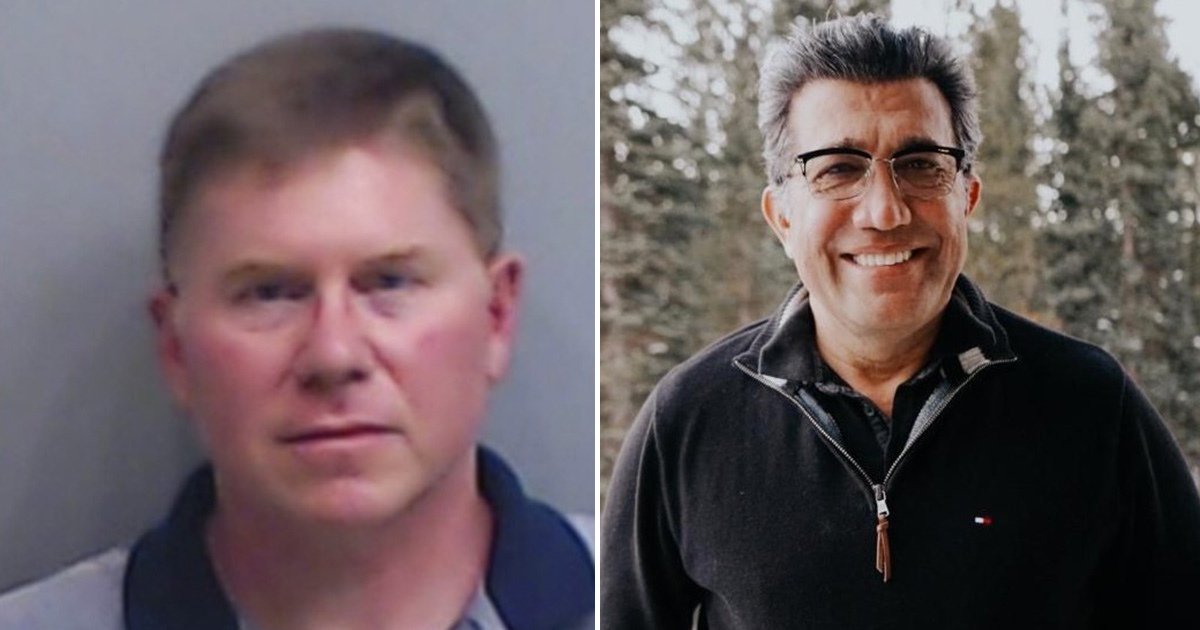 The Atlanta attorney who is facing murder charges for using his vehicle to kill a man may have lied to police about his car being hit with a golf ball, court documents show.
Police say on the morning of Tuesday, July 30th, 2019, 47-year-old Bryan Schmitt and 60-year-old Hamid Jahangard, described as a "prominent real estate investor," got into a violent road rage incident that resulted in Jahangard's death via Schmitt's 2011 Mercedes CLS 550.
In his statement to detectives, Schmitt said: "I was driving home northeast on River Valley. Around 5:15, a man was standing by (the) side of road next to trash cans. He made a throwing motion with his arm, and I saw a white object strike my car."
Schmitt said he then made a U-turn and pulled into Jahangard's driveway to confront him.
"I rolled down my [window] to ask why he'd throw something at my car. He yelled at me to '(expletive)! It's none of your business!'" Schmitt claimed, according to the court docs.
"When I attempted to pull into the driveway he pushed a trash can at me. I swerved to the right to miss it and ended up hitting a second trash can. When I came to stop, he was lying on the other side of the first trash can."
In the days following the crash, however, surveillance footage and statements from witnesses told a completely different story.
Via Atlanta's WSBTV Channel 2 News:
The criminal complaint describes what a detective saw while reviewing footage from a neighbor's home security system

"Victim walking down driveway, standing at the bottom to the right where the garbage can were. Bryan Schmitt drives by, as he passes the driveway, he hits his brake. Schmitt pulls back up and remains stationary for 25 seconds. Two cars pass him on the wrong side of the road and he quickly makes a left and starts to accelerate. You can't see impact. Victim Hamid (Jahangard) is slammed to the ground, head bounces twice off pavement and his body is rotating."

Another neighbor, who identified herself as a nurse, told police that she didn't see the crash but became very concerned when she saw the driver attempting to pull the victim's body out from underneath his car. She told him to stop and waited for paramedics to arrive, the complaint confirmed.

"She stated he was lying and that he did not knock him down. He ran over him," according to the complaint.

Court documents also confirmed Hamid was talking on the phone to his brother when the crash happened.

Manoucher Jahangard told detectives he heard his brother say, "I did not throw anything! I did not throw anything! Get out of my face," before the line went dead, according to investigators.

Manoucher Jahangard said he "feared the worst" and drove to the scene in the 300 block of River Valley Road. He also told police Hamid Jahangard was waiting on painters to meet him at one of his rental properties when the incident happened, court documents confirmed.

The day after Hamid Jahangard's death, investigators served a search warrant at Schmitt's home, where they seized his cellphone. They also informed him Hamid Jahangard had died at a local hospital.

Court documents said detectives were standing in Schmitt's kitchen when they broke the news to him. "You all sure picked a fine time for this," responded Schmitt after detectives asked him for his cellphone.

"Yes, we sure did. The victim was taken off life support yesterday (Aug. 1) and is dead," the officer replied. Schmitt began to shake, according to the complaint.

The medical examiner said Hamid Jahangard's cause of death was "blunt force injury of the head." The report also ruled his death a homicide.

According to court records, when Hamid Jahangard arrived at the hospital, doctors discovered a massive skull fracture, swelling on his brain and multiple leg fractures.
Police said they were able to recover a golf ball at the scene, but pointed out that Schmitt was the only person who said the victim threw it at his car, suggesting that he lied about it happening and possibly planted the golf ball himself to corroborate his story.
For what it's worth, the surveillance footage didn't show Jahangard throwing the golf ball and witnesses didn't mention anything about it either.
Police also said there was no damage to Schmitt's vehicle, so there's that.
There's also this (via AJC):
Family members did not find Jahangard's phone among his possessions after he was rushed to the hospital. According to case documents, one of his daughters tracked the cellphone online and found it was at Schmitt's address.

When police went to the home after midnight, Schmitt knew nothing about a cellphone. After calling the number and listening for the ring, officers found it lodged under the windshield wiper.

Schmitt's statements were not consistent with the video evidence, Williams wrote in his report.

"Schmitt's vehicle plows into the driveway and is not the type of driving for someone to 'turn around,' 'swerve to miss a garbage can,'" he said, referencing Schmitt's prior claims.

The driveway is 23 feet wide at the bottom, which Williams said was plenty of room for Schmitt to turn around and miss Jahangard completely.

"The speed used to vault the garbage can, lift the front end of his car up and to slam the victim down so hard it causes a massive skull fracture … is not an accident," he said.
On Friday, August 12th, Bryan Schmitt—with his attorneys by his side—surrendered to police on murder charges.
Schmitt is currently being held at the Fulton County jail without bail and a preliminary hearing is scheduled for August 27th.
Jahangard was a widower. His wife died from cancer just eleven months ago.
The Jahangards leave behind two daughters in their early twenties who are now orphaned. You can donate to their GoFundMe here.
Be the first to receive breaking news alerts and more stories like this by subscribing to our mailing list.