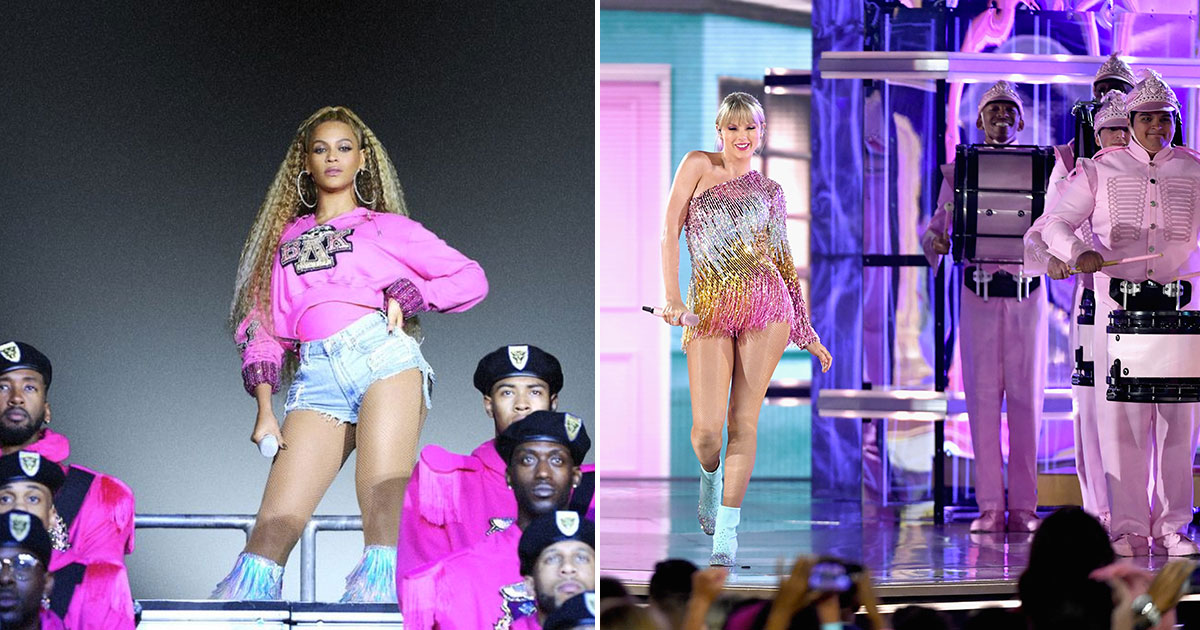 Taylor Swift opened up the 2019 Billboard Music Awards in Las Vegas Wednesday night (May 1) and kicked off her performance with a marching band wearing all pink.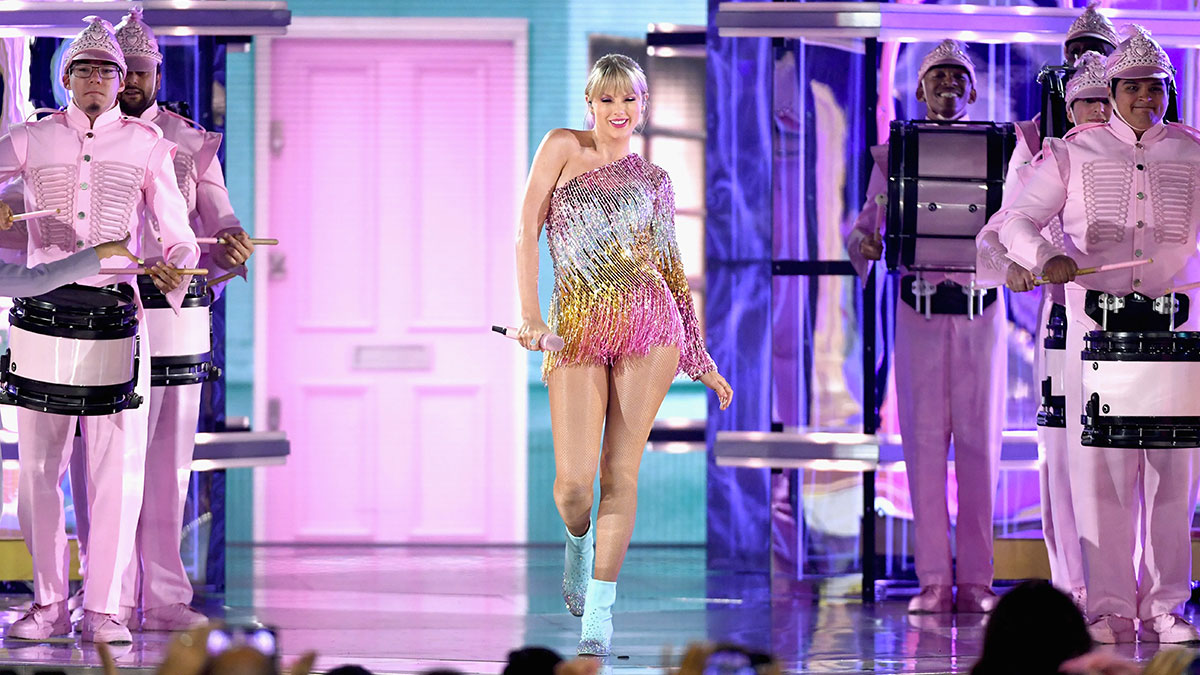 Does this sound (and look) familiar?
Well, it should, because Beyoncé did the same thing last year at Coachella!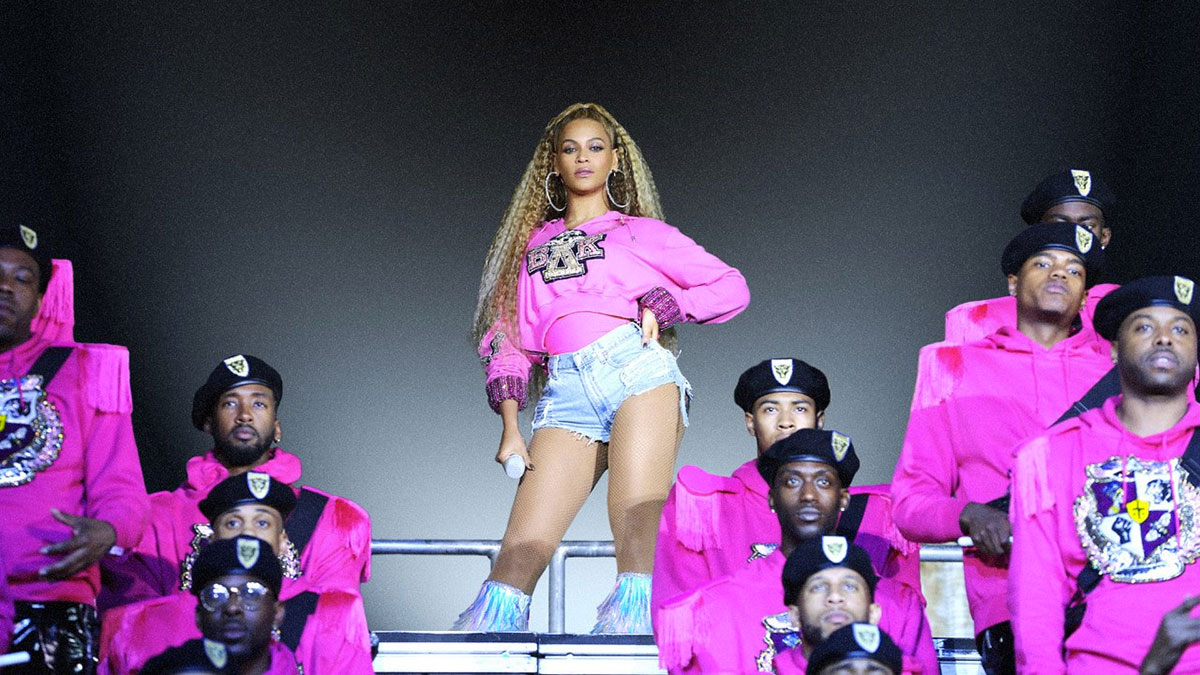 THE CAUCASITY, RIGHT?!?
Of course, Black Twitter let poor little Tay Tay have it over her gentrified #Beychella-esque performance, and they've been dragging her all the way to #Mayochella hell and back all morning.
The dragging has been so widespread that our friends over at Bossip are trending on Twitter right now for this hilarious headline:
MAGAchella: Beyoncé Tether Taylor Swift Used The Unseasoning Stone And A Marching Bland To Gentrify Beychella And Got Banished To The Alabaster Abyss

[Ethan Smith/Getty]https://t.co/p5UoyLBgLY pic.twitter.com/GFu0bAy23s

— Bossip (@Bossip) May 2, 2019
Check out more HEE-LARIOUS tweets from the best of Black Twitter below:
Hey @Bossip is this the marching bland from Taylor Swift's performance? pic.twitter.com/Iwc0U3Zxw3

— The All-Mighty Xilla Valentine (@BlogXilla) May 2, 2019
They lack rhythm, style, & grace

Now it's time for you to get an unseasoned taste

Of the only drum line certified by the broiled chicken breast herself#Mayochella is what happens when Beyoncé is the bar: https://t.co/xRLn0FDsBb pic.twitter.com/YAs2Tc2r0f

— The Root (@TheRoot) May 2, 2019
visual representation of beyhive vs taylor swift stans #Mayochella pic.twitter.com/jokf36Jhde

— ???? ????? ? (@ShanghaiTheDon) May 2, 2019
"Okay ladies, let's promote colonization." #MayoChella pic.twitter.com/p8nZfam2F8

— Preston Mitchum (@PrestonMitchum) May 2, 2019
What in the Melania copying Michelle's speech is this. #Mayochella pic.twitter.com/piWkZ1o95l

— Courtney Enlow (@courtenlow) May 2, 2019
"I got mayonnaise in my bag! Swag!" pic.twitter.com/jq6V2EDDmO

— M'BlockU (@rodimusprime) May 2, 2019
Did you copy Beyoncé's performance?

Taylor Swift:
#Mayochella pic.twitter.com/Qm8VRZldRd

— Julian Hagins (@julian_hagins1) May 2, 2019
nobody:#mayochella : pic.twitter.com/obmbcxRX03

— un·der·score D (@mthu_d) May 2, 2019
Nobody:

Absolutely Nobody (maybe a few white folks):

Taylor Swift after Beychella: #Mayochella pic.twitter.com/SRhiGFOekw

— Frederick Joseph (@FredTJoseph) May 2, 2019
Beyoncé served us Fried Chicken with macaroni and cheese and collard greens with Hamhocks and homemade skillet cornbread

And here come Taylor swift with rotisserie chicken and potato salad with raisins pic.twitter.com/Nh1a4Sv36C

— Wanda Maximoff stan account (@ThatsJaymar) May 2, 2019
Beyoncé looking at Taylor Swift performance pic.twitter.com/g9PA1VtV7m

— Marley (@irondyketyson) May 2, 2019
The vision the Beyhives had tonight at the Billboard Music Awards

"BEYCHELLA & THE HIVE vs MAYOCHELLA & THE SWIFTIES"

I had to do it ?#BBMA #beychella #mayochella pic.twitter.com/QoOt078a9g

— theetinolewis (@tino_lewis) May 2, 2019
#Mayochella
Yall Sombody called her taylor Christopher Columbus swift lmaoooo pic.twitter.com/1rxEV6iLWR

— Big Girl Slay ? (@Biggirlslay) May 2, 2019
remember when Taylor Swift opened the Fearless Tour with a marching band in 2009 #Mayochella pic.twitter.com/XNtpkWu4dX

— rick ME! (@thedelicateguy) May 2, 2019
For everyone saying Taylor Swift did a drum line in 2009, Destinys Child did a drum line sequence in 1999 for bug a boo. ????? #Mayochella and They also did multiple performances in 2005 with a drum line!!! pic.twitter.com/SN4V9oL3xt

— Justin Cannon (@J_Buffy25) May 2, 2019
twitter's wild because there are ppl on here saying Beyoncé didn't invent marching bands and we all saw when she did

— Desus Nice (@desusnice) May 2, 2019
Me Walking On Twitter And Seeing #Mayochella And I Don't Have To Check The Hashtag To Even Guess Who It's About.

Let Me Guess…
Taylor Swift, Right? pic.twitter.com/lv0jPnhCDV

— Wrestle Bunny ?? 3000 (@CandiceTinnon) May 2, 2019
when you ask for Gucci and you get the Walmart brand #Mayochella pic.twitter.com/QfHwi2SoVf

— Abir Toumi (@AbirToumiDe) May 2, 2019
Chile how she gentrified the beyonce Coachella performance tho? pic.twitter.com/KQmB5vg2fI

— Meth McLaughlin Cocaine (@Marcmak) May 2, 2019
The shade of it all????. Sis looked like the whole dammn boot beyonce was wearing at Coachella. ?? https://t.co/ayCQMnZwhV

— Gay Pretty Boi (@GayPrettyBoi1) May 2, 2019
Taylors fans defending her performance. #Mayochella pic.twitter.com/uzQMOOJWNR

— Ina90sKindofworld (@TeekusRaps) May 2, 2019
Blue watching #Mayochella pic.twitter.com/mCfPZXgbyl

— KweenErinn? (@ErinnCamille) May 2, 2019
y'all really have #Mayochella trending. i cannot STAND y'all pic.twitter.com/CWKzm43vkF

— sequoya?? (@SBarb11__) May 2, 2019
I don't know who started #Mayochella but I can't fucking breathe rn pic.twitter.com/Tig5d7tDnb

— colby (@originalgenome) May 2, 2019
they said #mayochella, #dietlemonade & #homegoing ???????????? pic.twitter.com/5cKw1wSgdP

— enrique (@riqu3q) May 2, 2019
Somebody on this #Mayochella hashtag called Taylor's performance the "Homegoing" ??????????????????????????????????? what's wrong with y'all? pic.twitter.com/gAybvRZ1FR

— SLAYSARAH ?? (@SlaySlaysarah) May 2, 2019
No kind of home training! ???? somebody even called it the "shortcoming"

?SKSKSKS?????? I AM UNABLE!!#Mayochella pic.twitter.com/oiyQacRDDv

— SLAYSARAH ?? (@SlaySlaysarah) May 2, 2019