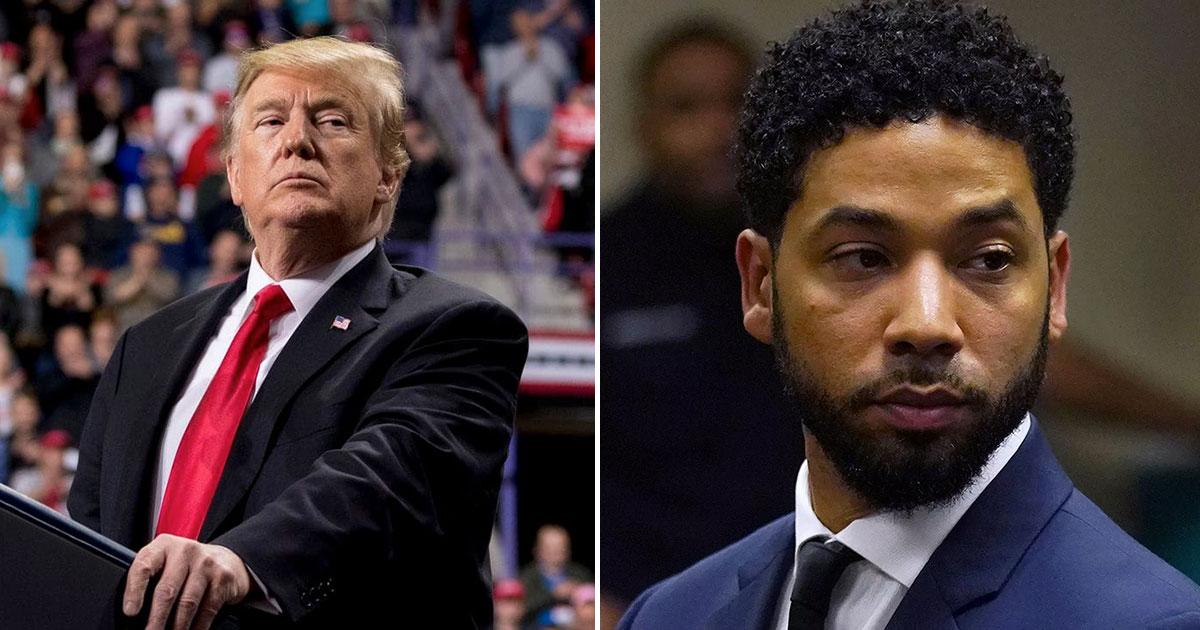 Donald Trump lashed out at "Empire" star Jussie Smollett at a rally Saturday (Apr. 27), calling him a "third-rate actor" and saying his legal trouble—in which he allegedly lied about Trump supporters attacking him in a hate crime—was a "disgrace to our nation."
"We may have the greatest theme in the history of politics: It's called Make America Great Again. MAGA. It's called MAGA country," Trump told his supporters in Green Bay, Wisconsin.
"You know, I didn't hear that term until that third-rate actor in Chicago went out and he said, 'I was beaten up by MAGA Country.' Can you believe that?" he continued.
"Now, that's a hate crime, right? He said he was beaten up by MAGA country," Trump added. "Turned out to be a total lie, but think of it. MAGA. Make America Great Again," he said.
Jussie's case received national attention after the "Empire," who is openly gay and black, said he was attacked on January 31st by masked men who shouted "This is MAGA country!" and poured bleach on him.
In March, Smollett was accused of faking the assault and was indicted by a grand jury on 16 felony charges, but Cook County prosecutors later dropped the case while maintaining that they still believed he lied about the attack.
Text messages later surfaced in which Cook County State's Attorney Kim Foxx referred to Smollett as a "washed up celeb who lied to cops," echoing Trump's sentiments.
The City of Chicago later sued Smollett after he refused to reimburse them $130K to cover the costs of their investigation into his alleged attack.
Smollett's alleged assailants, brothers Abel and Ola Osundairo, also filed a defamation suit against Smollett's lawyers for continuing to accuse them of perpetuating a homophobic and racist attack.
Trump made it a point to note that he wasn't pleased with how the City of Chicago handled Jussie's case.
"And by the way, I have to tell you that case in Chicago was a disgrace to our nation," he said. "A disgrace."
Be the first to receive breaking news alerts and more stories like this by subscribing to our mailing list.