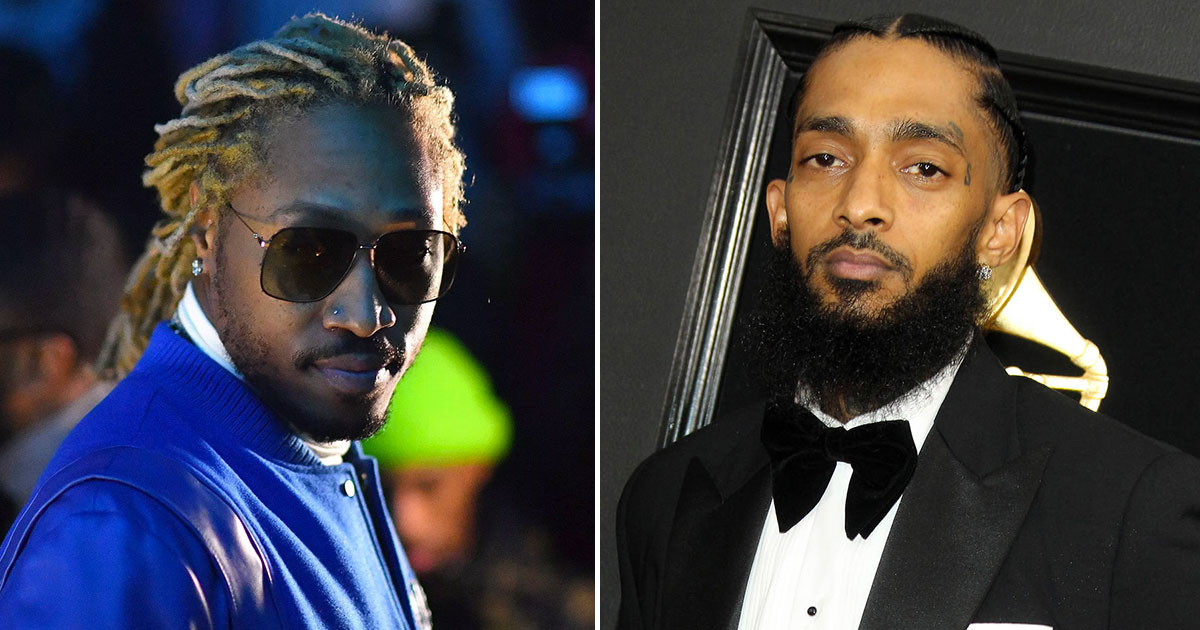 As we all deal with the tragic loss of Nipsey Hussle, social media has been flooded with tributes, anecdotes and inspirational quotes from Hussle.
When Atlanta rapper Young Scooter reposted one of Nipsey's old tweets about taking care of your own on Instagram, Future hopped in the comments and compared himself to the late rapper, and was quickly met with backlash.
"I taught all my ni**as how to fish," the Nipsey quote read. "Some caught more than others. Some said they rather be fed. Some [passed] me up in the process. But at the end of it all, I know ain't hide the game from my people and I'm real for that."
Scooter wrote in his IG post that we need more people in the world like Nipsey, and Future's response was "Yeah we do need more like us.. I been teaching and preaching for a decade also showing and proving what hard work and dedication get u."
Scooter has since deleted the post, but screenshots live on forever.
Needless to say, some people weren't here for Future's comment comparing himself to Nipsey Hussle and the "Crushed Up" rapper was subsequently dragged for seemingly making the situation all about himself.
To be fair, Future does give back to the community … but many pointed out that he had no business putting himself in the same light as someone like Nipsey Hussle.
"Nigga I know you ain't comparing yourself to Nip," one fan wrote. "I rocks rocks with some of your music, but you need to sit the f**k down! You haven't done sh*t for your son, let alone your community…and all you rap about is bitches, drug addiction and a bunch of bullsh*t…don't ever compare yourself to a man like Nip!!! Make sure you're able to compare yourself to a man like [Russell Wilson] first mf!!! Wtf…what's one thing you've been teaching other than Molly Percocet, stick talk and low life! Sitcho goofy ass down!"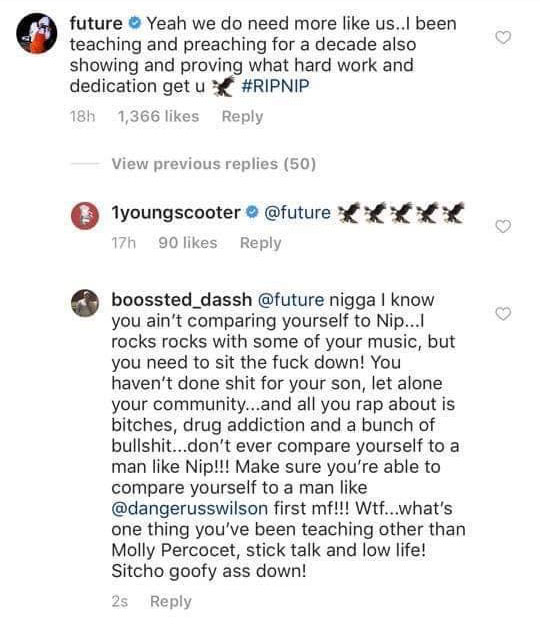 Another fan commented: "STFU…Mr. I Want My Credit [Too]. You can't even RESPECT a woman or be faithful and it shows… A real KING doesn't have just a following but a FAMILY FOUNDATION also… Sh*t crazy, everybody [wants] RECOGNITION for sh*t they should be DOING ANYWAY!!! You should be EMPOWERING OTHER BLACK MEN TO BE SUCCESSFUL OR SUCH AS YOURSELF. That's what [you're] supposed to do!!!"
Said another fan: "Boy that's a big cap. No you need to help these kids, [you're an] influencer bruh, get these young ni**as off the street. Teach them how to own sh*t. Y'all ain't teaching them nothing but drugs. Bruh stop with the cap my ni**a."
Another fan wrote: "@future ni**a shut up.. don't you dare say 'us' … [Nipsey] actually raps about life [and] struggles [and] our people. You rap about drugs [and] bitches smh. FOHHHHH"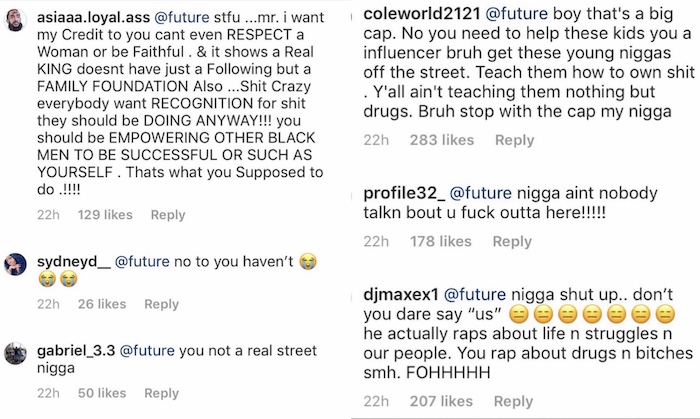 The dragging didn't stop there either. You already know folks on Twitter had something to say too.
Scooter: We need more niggas like Nipsey

Future: Yeah we do need more like us!

Me: USSSS? pic.twitter.com/yIpgPNkd0r

— Negrita ?? (@HustleAndFro_) April 3, 2019
Future comparing his impact on the black community to Nipsey is hilarious

— Bon3 (@BordeauxShawty) April 3, 2019
It ain't even that Future is active in his community. It's that he took a moment that should've been praise for Nipsey and his life…..to only really praise himself.

— SpraggaBenz ?? ?? ? (@Suzuki_Bj) April 3, 2019
Nipsey really in a lane of his own. Future crazy. Jay-Z can't even sit with that man. Idc that's FACTS.

— ??? (@_callmeGORGEOUS) April 3, 2019
Future seriously thinks he on Nipsey's level in terms of community building?

Same man that stopped using lean but still advocates drug abuse in his music?

That Future?

— A (@LionsAndLegends) April 3, 2019
Future making Nipsey's death about him really pissed me off.

— E. (@LowProCessna) April 3, 2019
Future really said "US" when talking about nipsey pic.twitter.com/av0zbsiG4q

— Raycon Global Ambassador (@TIMxMACK) April 3, 2019
People: Damn, we need more people like Nipsey.

Future: Yeah we need more like US out here.

People: pic.twitter.com/2wRl62xLnK

— Wodie of Tha Norf? (@_NoJokesAside) April 3, 2019
Future in regards to losing Nipsey: "We need more like us"

Me: pic.twitter.com/BGTuJwK3lo

— Stan (@stvnthemvn) April 3, 2019
I know Future's deadbeat ass ain't comparing himself to Nipsey. I just know.
All that codeine is getting to his brain. pic.twitter.com/6gXtTXVDPK

— Oxtail Enthusiast (@mayavado) April 3, 2019
Future probably sees that Nipsey gave back and knows that he gives back and thinks they're equivalent when they aren't in the SLIGHTEST

— Chennedy Carter/.Paak Stan Account (@Trisity_) April 3, 2019
Nipsey never lied to us in his music. Future told us he was gonna get his bitch back and a nigga who dress like this foiled his plans. pic.twitter.com/OigpHs29Op

— Haze (@DayHaze) April 3, 2019
Nobody:
Absolutely nobody:
Future: Me and Nipsey Hussle a lot alike with our positive messages and music pic.twitter.com/Wxs970b5X2

— Coochie Nectar (@BecauseItsSoft) April 3, 2019
In the words of DJ Khaled … Future, you played yourself!
Be the first to receive breaking news alerts and more stories like this by subscribing to our mailing list.