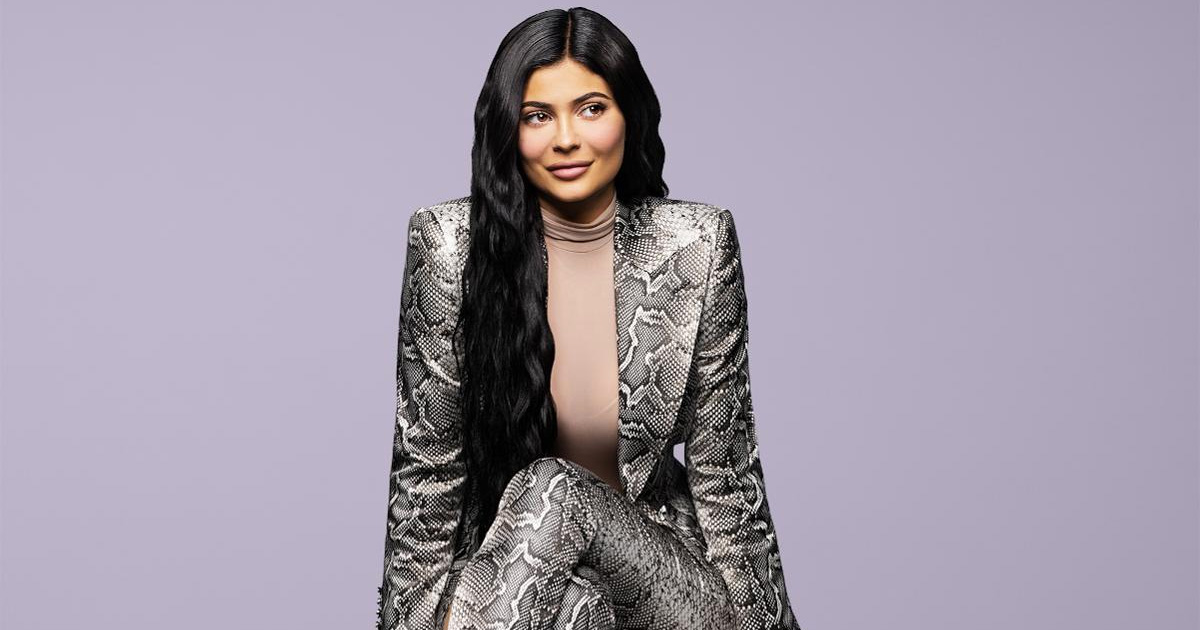 At 21 years old, Kylie Jenner is "the youngest self-made billionaire EVER," according to Forbes magazine.
Last July, Forbes revealed that Jenner built a $900 million fortune in less than three years. It was projected at the time that she would soon reach billionaire status, thanks to her wildly successful Kylie Cosmetics company.
Now that the brand has expanded and is now being offered in Ulta beauty stores across the country, the youngest Karjenner sibling has officially hit that major milestone and is considered to be the world's youngest "self-made" billionaire.
In mid-November, Kylie Jenner marked a milestone moment with a visit to a strip mall. For the past three years, her Kylie Cosmetics had only sold its makeup online and briefly in pop up shops.

But after signing an exclusive distribution deal with Ulta, the beauty retailer, Kylie Cosmetics was rolling its $29 lip kits—a matte liquid lipstick and matching lip liner—into Ulta's 1,000-plus stores. And Jenner showed up to the Richmond Avenue Ulta in Houston to greet customers, sign autographs on lip kits and, of course, pose for selfies with her fans.

Over the next six weeks, Kylie Cosmetics sold $54.5 million worth of products in Ulta, according to estimates from Oppenheimer. "I popped up at a few stores, I did my usual social media—I did what I usually do, and it just worked," she says.

Fueled in part by the Ulta expansion, Kylie Cosmetics' revenue climbed 9% last year to an estimated $360 million. With that kind of growth, and even using a conservative multiple from the booming makeup industry, Forbes estimates Jenner's company is worth at least $900 million. She owns all of it.

Add in the cash Jenner has already pulled from the profitable business, and the 21-year-old is now a billionaire, with an estimated fortune of $1 billion. She's the youngest-ever self-made billionaire, reaching a ten-figure fortune at a younger age than even Mark Zuckerberg (who was 23 when he hit that mark).

"I didn't expect anything. I did not foresee the future," says Jenner, who is the youngest billionaire in the world. "But [the recognition] feels really good. That's a nice pat on the back."

The beauty of Kylie Cosmetics, which Jenner started in 2015, is its minuscule overhead—and the outsize profits that go straight into Jenner's pocket. Her empire consists of just seven full-time and five part-time employees.

Manufacturing and packaging is outsourced to Seed Beauty, a private-label producer in nearby Oxnard, California. Sales and fulfillment are handled by online merchant Shopify. Her shrewd mother, Kris, takes care of finance and PR in exchange for the 10% management fee she siphons from all of her kids.

Marketing is done mostly through social media, where Jenner has a massive following. She announces product launches, previews new items and announces the Kylie Cosmetics shades she's wearing directly to the 175 million-plus who follow her across Snapchat, Instagram, Facebook and Twitter.

"It's the power of social media," Jenner says. "I had such a strong reach before I was able to start anything."

When Kylie Cosmetics launched in Ulta in 50 states, the reaction was a real-life version of the online rush Jenner created years earlier, when her initial kits sold out online in less than a minute. Ulta shoppers went wild. In some stores inventory was gone in hours. "It sold out faster than we planned," admits Tara Simon, Ulta's senior vice president of merchandising.

Ulta and Jenner are a sensible pairing. With Ulta's mix of pricier prestige brands, like MAC Cosmetics, and cheaper selections, such as Nyx Professional Makeup, it has a larger footprint than that of its closest competitor, the more expensive Sephora.

Analysts say Kylie Cosmetics is drawing younger customers through Ulta's doors—teens who might not have a credit card to shop online. Plus, selling in physical stores gives Jenner a chance to reach "people that would never buy my products online," she says. The ones who want to "see, touch and feel before they buy."

Ulta provides access to a wide swath of America—more than just kids on the coasts—with stores across middle America. (It also has 714 more standalone stores than Sephora.)

Ulta, meanwhile, gets a brand that requires no marketing push. So far, the retailer hasn't spent a dime on traditional marketing to launch the brand in stores, which is "unheard of," Simon says: ""[Jenner's] ability to communicate with well over 120 million people in a snap has a lot of power."
Impressive.
Now, most people scoff at the idea that Kylie Jenner would be considered "self-made" since she comes from a family that is known for their wealth.
But, according to Kylie, she's been on her own financially since she was a teenager, so Forbes isn't wrong to consider her self-made.
In a cover story for the February 2019 issue of Paper Magazine, Kylie said "the self-made thing is true" because her parents "cut [her] off at the age of 15" and told her to start fending for herself financially.
"My parents told me I needed to make my own money, it's time to learn how to save and spend your own money, stuff like that," she said. Though Kylie recognized she has a huge platform, "none of my money is inherited," she added.
Still, some would argue that Kylie, who makes a sizable income from paid appearances and being a part of the longest running reality TV series ever, her family's Keeping Up With the Kardashians show, was practically set up for success.
But even with that, reaching billionaire status is still a big deal for Kylie, considering no one else in her family has a net worth even close to that.
The next richest person in the Karjenner Klan is, of course, Kim Kardashian, who brought her family to the forefront and is basically the reason why any of them makes the money they make, is only worth $350 million, less than half of Kylie's net worth.
Kylie's dad, Caitlyn Jenner, is next with $100 million, and her mom/manager, Kris Jenner, has a net worth of around $90 million. Kylie's brother Rob has the lowest net worth of the bunch with around $10 million.
So, it's safe to say if anyone in the Kardashian-Jenner family ever runs into money issues, it's pretty clear who they'll be calling for a loan.
Be the first to receive breaking news alerts and more stories like this by subscribing to our mailing list.