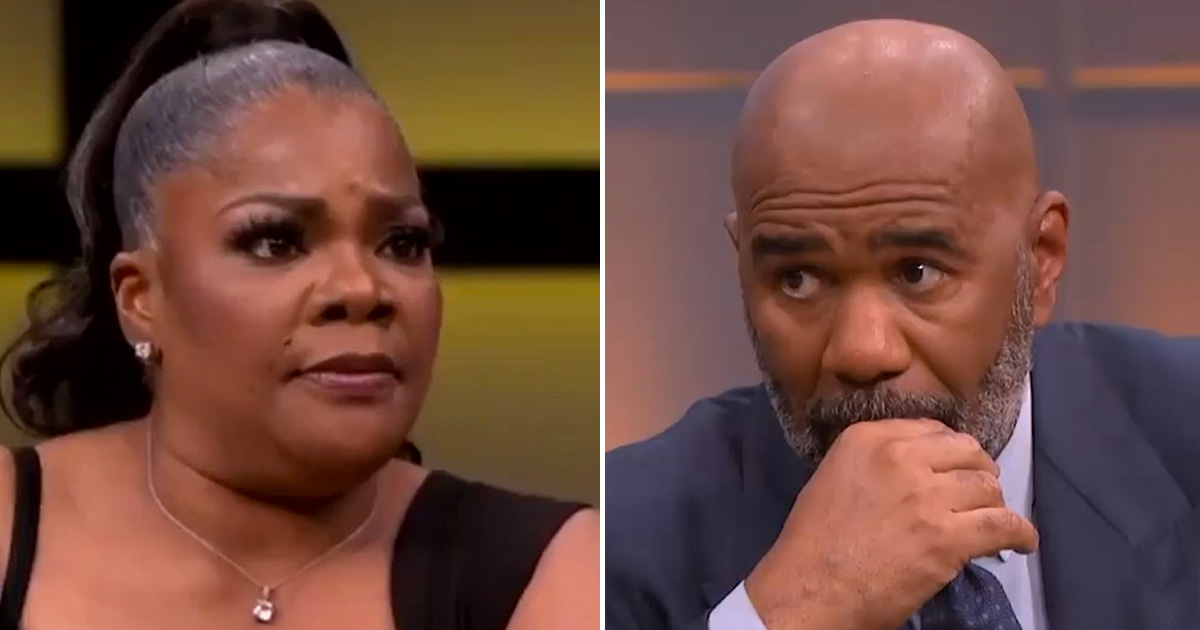 Following Mo'Nique and Steve Harvey's heated discussion on his talk show last week, the "Precious" actress kept that same energy on social media by sharing two videos accusing him of being a sellout.
Mo'Nique appeared on Harvey's show last Wednesday (Feb. 13) and talked about being "blackballed" by Hollywood over accusations that she's difficult to work with.
Harvey claimed Mo'Nique had "burned too many bridges" and said that she went about things the "wrong way," citing the time she tried to organize a boycott against Netflix after she was offered $500k for a comedy special, while Amy Schumer was given $13 million by the streaming giant for hers.
"The two problems we had," Harvey said, "No. 1, the boycott of Netflix, we never gave people a point of action … the second problem with me was that the problem you had with Netflix is rich people problems."
Mo'Nique didn't agree with Harvey's sentiment. "Inequality is devastating and it's extreme," she said. "When people said, 'Mo'Nique, do you think calling a boycott on Netflix is extreme?' You're damn right. Isn't inequality extreme? We got to get to a place where we are unafraid to say it aloud."
At one point during their back-and-forth, Steve told a clearly annoyed Mo'Nique: "This is the money game. This ain't the black man's game, this ain't the white man's game. This is the money game."
After the tense on-air conversation aired, Mo'Nique shared two videos on Instagram aimed directly at the "Family Feud host." The first, which she posted on Thursday, showed Muhammad Ali explaining why he would never "sell out" no matter how much money it may cost him.
"As of now, money means nothing to me, nor boxing, when it comes to the freedom of your people. So, everything I'm doing, if it means hitchhike tomorrow, if it means be raggedy, if it means looking for a job. I'll be happy because I can go to bed, my conscience is clear, and I didn't sell out or trade my people just because I can be rich in Hollywood with a yacht out here," the boxing legend says in the video. "But I wouldn't want that damned yacht if I couldn't go back over in the black neighborhood and protest a black woman being raped. The hell with your yacht; the hell with the championship."
The video was posted in a meme format with the title "Y'all Think Steve Harvey Need to Hear Title."
Mo'Nique wrote in the post's caption: "I JUST HAD TO REPOST THIS. THIS IS FOR ANYBODY PUTTING MONEY FIRST AND NOT THE LOVE OF YOUR PEOPLE. I LOVE US FOR REAL!!!!!!"
A second video Mo'Nique shared the next day shows the most tense part of her interview with Steve intertwined with a scene from "Roots," basically comparing Harvey to the house slave in the film.
"[Master] can do anything he wants with you. Ain't nothing you can do about it!" the man in the "Roots" scene says. "I've been scratching and scrambling most of my days to get where I got. Now, I eats in the big house kitchen. I got pine boards on the floor in my cabin. And it don't take much coughing for the master to make me have a cup of corn whiskey for my medicine. Now, that is fine living for a ni**er and I'll be damned if any African Guinea man is gonna make me lose all I've been working for."
Above the video, also in meme format, reads the text: "Selling out. A common idiomatic pejorative expression for the compromising of a person's integrity, morality, authenticity, or principles in exchange for personal gain, such as money. In terms of music or art, selling out is associated with attempts to tailor material to a mainstream or commercial audience."
Mo'Nique said of the footage: "THIS GAVE ME CHILLS! WHAT HAS CHANGED!!! Y'all I LOVE US 4 REAL!!! WE DESERVE TO LOVE US BETTER!"
Do you agree with her?
Be the first to receive breaking news alerts and more stories like this by subscribing to our mailing list.