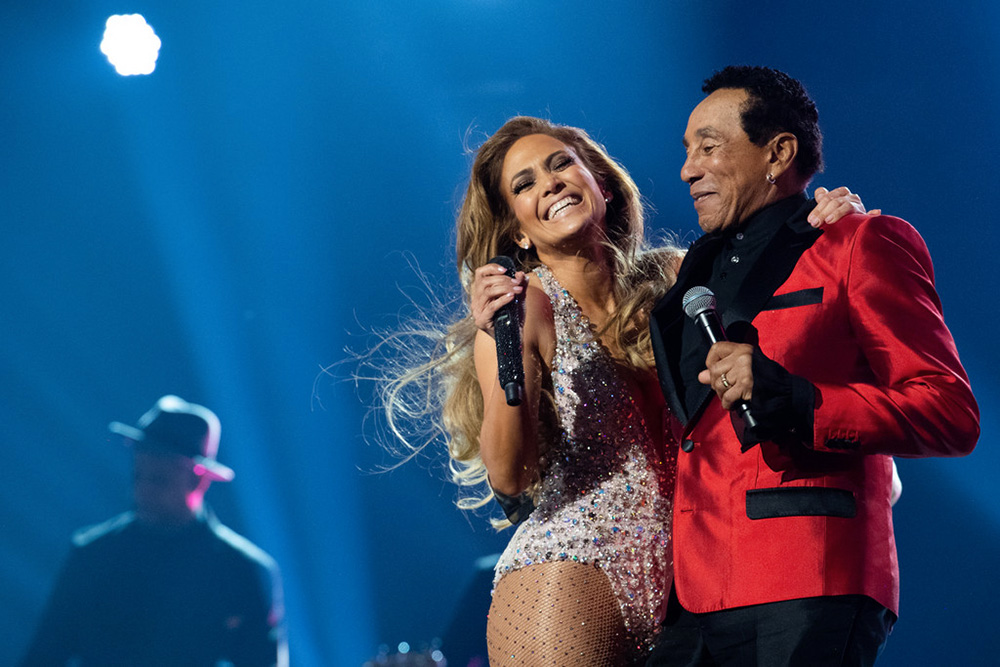 When Jennifer Lopez was announced as the headlining performer for the Grammys' Motown tribute, folks naturally scratched their heads and collectively asked: "How Sway?!?"
When she finally took the stage Sunday night (Feb. 10) at the 61st annual Grammy Awards in Los Angeles to perform, she did her thing, yet, something was still… missing.
Twitter took notice and basically said, "Nah, sis, that wasn't it" as they roasted the hell out of her for "Jentrifying" a Motown tribute.
Maybe it was the fact that Motown artists were of a certain heritage, and Jenny from the Block is not. Maybe it was the fact that Motown artists have a certain soul of about them, and J.Lo does not.
I mean, she did have Ne-Yo and Smokey Robinson with her (they came out near the end), but something just didn't seem right about having a Latina woman with limited vocal abilities performing a whole ass tribute to legendary Motown artists.
Regardless… Twitter was clearly NOT here for J.Lo's Jentrified Motown tribute.
Peep some of the best and most hilarious responses below:
The #GRAMMYs hello… Hi… What the heck was that?!? That was all about Jlo and that performance was about her dancing. That was NOT about Motown at all.
Neyo as a Motown artist didn't even get his shine and fair time!
This was wack tribute ?? pic.twitter.com/bdRHydYbAj

— Natalie Nadeen (@natalienadeen) February 11, 2019
JLo was really up there doing the salsa to MOTOWN……… MOTOWN #Grammys pic.twitter.com/LjhFxWlIBs

— ?_RY_? (@ryder_1999) February 11, 2019
I don't remember Motown artists doing the salsa #GRAMMYs pic.twitter.com/oRarzZajCN

— The Honorable Joshua Chenault (@joshuachenault1) February 11, 2019
Berry Gordy is rolling in his grave – and he's totally alive and well.#GRAMMYs #JLo #MotownTribute #BerryGordy #Grammy2019 #JenniferLopez pic.twitter.com/VhOOQfnpjD

— A.C. Junior (@OfficialMisterC) February 11, 2019
"Chile, they got Jenny from the Block up here singing my mama's songs!" pic.twitter.com/ILmCnCj0vl

— keisean m. (@Keisean) February 11, 2019
Why is Jennifer Lopez in the Motown tribute? I'm suing pic.twitter.com/JC4IHG9q1n

— no lace bitch, scalp bitch (@mortalslut) February 11, 2019
Jlo doing all that shaking and gyrating during black history month on THIS land pic.twitter.com/QDnnLggZ5N

— Rudy (@TweetsbyMont) February 11, 2019
I hope Teena Marie's spirit haunts you tonight girlfriend @JLo

— Aristhotle (@JawnRedcorn) February 11, 2019
Teena Marie when she heard Jennifer Lopez' miserable attempt at singing "Square Biz" during that Motown tribute at the #GRAMMYs pic.twitter.com/8AwddWEqo5

— Andreas Hale (@AndreasHale) February 11, 2019
if Motown sounded like what JLO is making it sound like they would have called it Notown

— chai goth, a hit 2000s reality show Survivor fan (@Abid_ism) February 11, 2019
Michelle Obama could've stuck around and done the Motown tribute if it was that dire

— Ira (@ira) February 11, 2019
No shade, JLo is truly a great artist, but let's be real, this wasn't her performance to give. Plenty of other black artists could have been given this platform and moment and we need to acknowledge that. #GRAMMYs

— Pero Like (@BFPeroLike) February 11, 2019
J Lo dancing, all those dancers and theatrics that's not MOTOWN. I don't care what anyone says. The Grammys could've found a better artist(s) to do that tribute

— shannon sharpe (@ShannonSharpe) February 11, 2019
They really got JLo lip syncing Motown's finest songs like there's not 1000 black women with R&B vocals ready for this moment #GRAMMMYs

— Sylvia Obell (@SylviaObell) February 11, 2019
I'll never understand why they didn't choose someone Black for a MOTOWN tribute. #Grammys pic.twitter.com/MmiGvIZRam

— philip lewis (@Phil_Lewis_) February 11, 2019
Anyone else confused why J.Lo is doing a Motown tribute or nah? #GRAMMYs pic.twitter.com/hWrAbGKAwZ

— MadameNoire (@MadameNoire) February 11, 2019
JLo doing a Motown tribute #Grammys pic.twitter.com/dWxb8nd0T6

— Damien Woody (@damienwoody) February 11, 2019
JLo performing the "Motown tribute:

me: pic.twitter.com/AgUXFq5EDt

— Broderick Greer (@BroderickGreer) February 11, 2019
Old souls when they saw JLo doing a "Motown tribute" pic.twitter.com/gTyYXeQeqU

— Jonathan Bailey (@JonathanB_ailey) February 11, 2019
Wait! So, JLo actually did a Motown tribute???!!! That wasn't just myth, gossip, innuendo??? #GRAMMYs pic.twitter.com/iEUBBnCrQH

— Tanisha C. Ford (@SoulistaPhD) February 11, 2019
Lmmfaooo omg my Mom's Reaction to JLo doing the Motown Tribute ??? #GRAMMYs pic.twitter.com/LZkbDz7QMJ

— Sexpert Tyomi (@Glamazontyomi) February 11, 2019
Y'all didn't want Mary J. Blige in this dancery?

Kelly Rowland ain't want to bump like this?

Ciara didn't want to level up on stage?

HOW did we get to the point where someone thought a J Lo Motown tribute was ok during #BlackHistoryMonth?

Rosa didn't sit for this #GRAMMYS pic.twitter.com/UyNlcL3xLc

— The Root (@TheRoot) February 11, 2019
"Hello, 911…I would like to report a fraudulent Motown Tribute at the #Grammys…" pic.twitter.com/6dOyzdAjrN

— Global Grind (@GlobalGrind) February 11, 2019