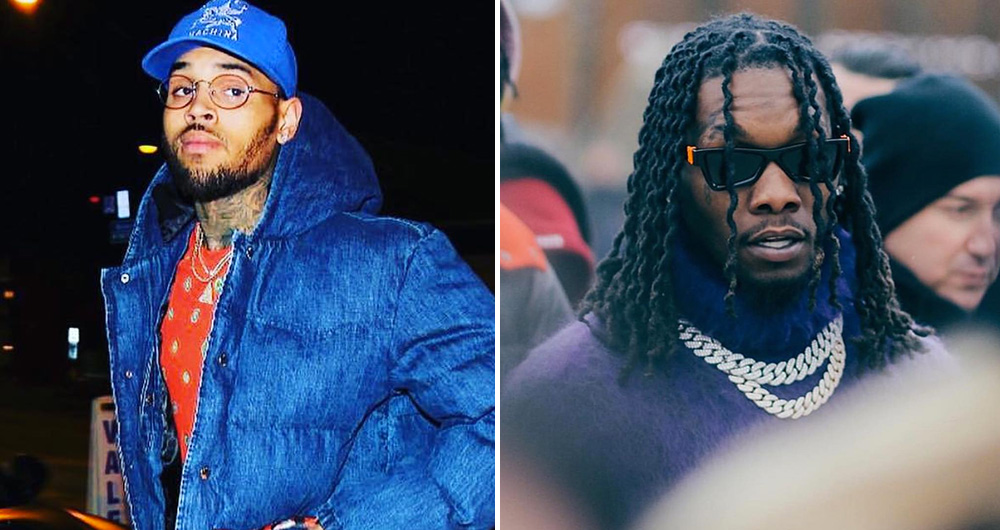 Chris Brown isn't quite done with Offset just yet, and now he's dragging Cardi B into their beef.
Taking to Instagram this morning, the singer continued to roast the Migos rapper in his latest verbal assault, saying that he's "his father" and promising to send his wife Cardi B flowers "so she know I respect her."
Chris Brown and Offset's back-and-forth started over a 21 Savage meme. After Offset called Chris Brown "lame" in the comments of the singer's 21 Savage meme post on Wednesday (Feb. 6), Chris fired a multitude of shots at Offset.
"All this cap on IG is what's lame," he wrote on Instagram. "IF U A REAL MAN FIGHT ME. Oh, and another thing, SUCK MY D**K!!!!"
Offset replied back via his Instagram stories: "Coke head don't want smoke."
On Thursday (Feb. 7), Chris responded by comparing Offset to Pootie Tang and A Pimp Named Slickback from Boondocks, which prompted Offset to threaten to "smack the sh*t" out of him.
https://www.instagram.com/p/Btm2a-Bhbdc/
"Check my record and yours," Offset said to Chris, "only people you go toe to toe with is women, that's for lame ni**as."
Chris then posted a series of screenshots showing Instagram DMs between him and the Migos rapper, with Chris daring Offset in one message: "RUN ME MY FADE TODAY!"
Offset replied asking Chris to give him his address but ultimately backed off by claiming that Chris was the police. "BOI U P**SY AS HELL," Chris responded. "U SCARED TO FIGHT?"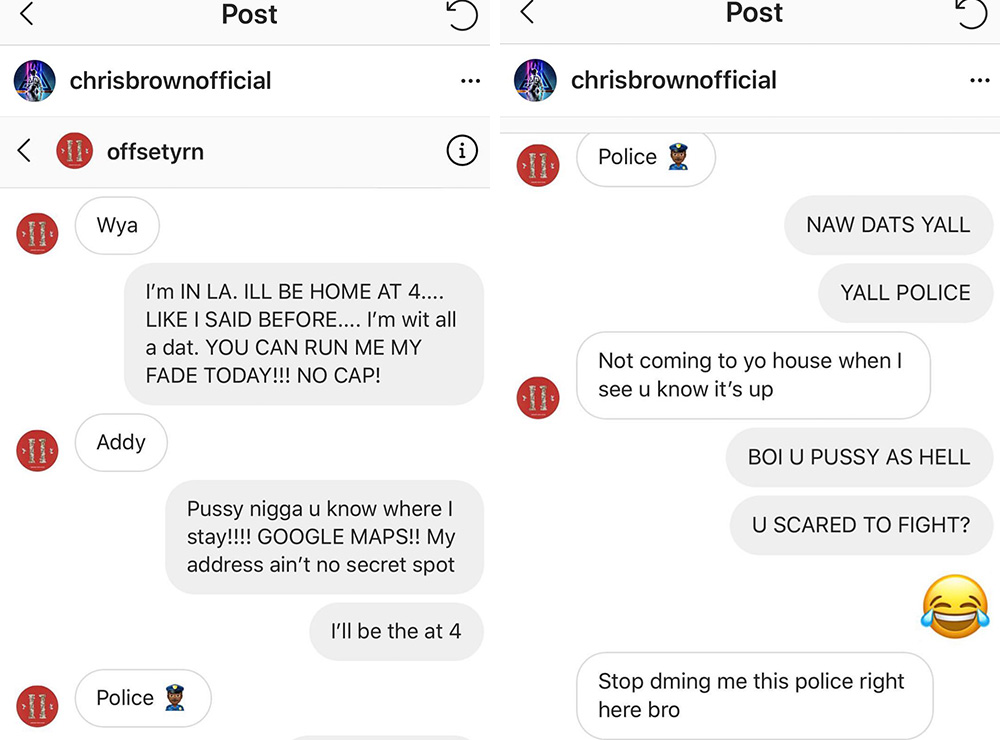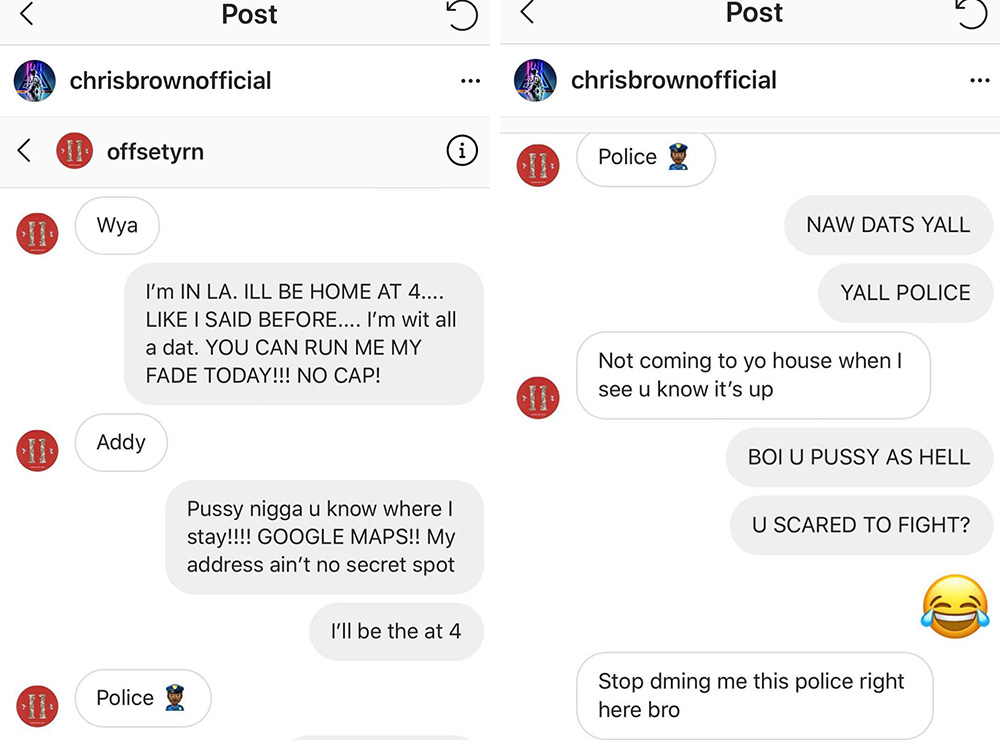 Chris continued: "I'M A GROWN MAN U A LIL BOY. I'LL BE HOME AT 4. No opp sh*t, cameras, police, none of that [sh*t]. I'm just gone beat you the f**k up."
Chris then gave Offset his address, as requested, and begged him to show up. "I pray you come," Chris said to him.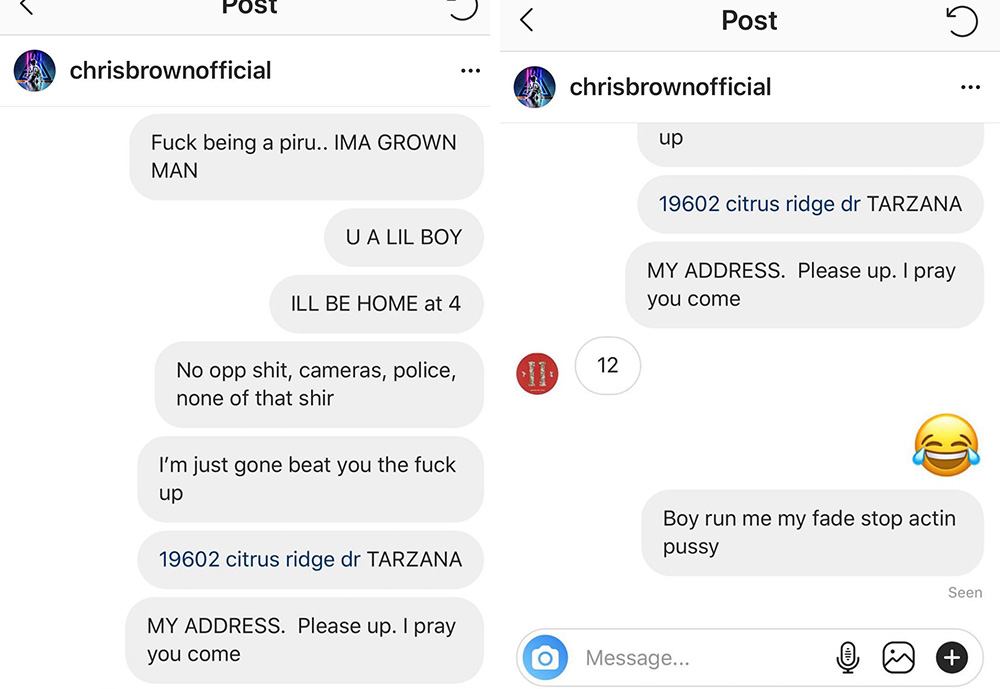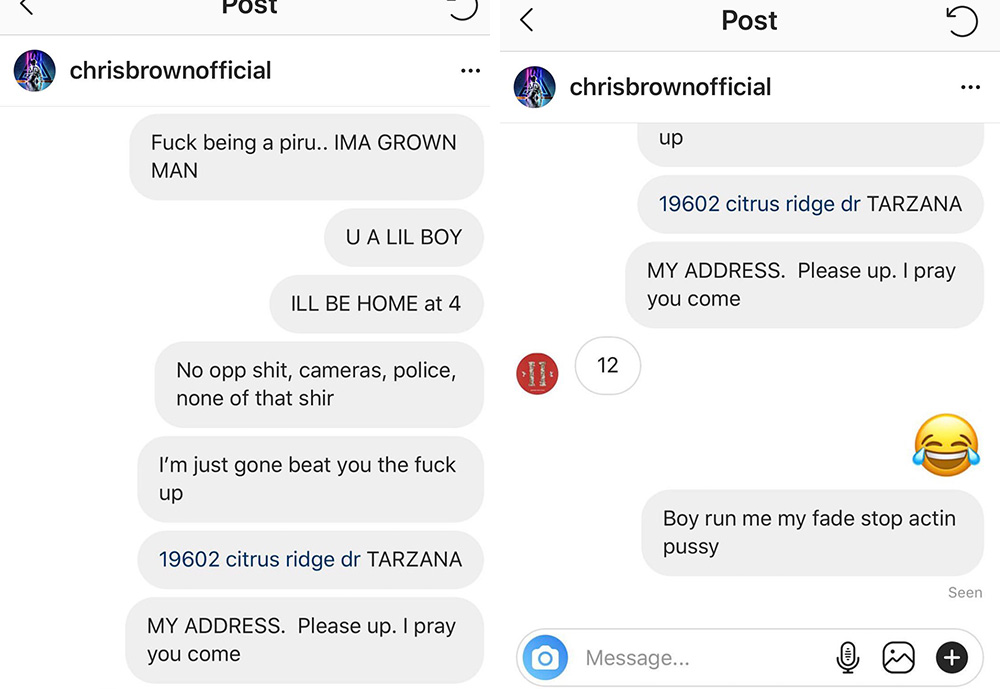 Offset hasn't responded in a while, but Chris felt the need to get some more things off his chest Saturday morning (Feb. 9).
He wrote in a post on Instagram (emphasis ours):
"Don't consider myself GANGSTA. BUT I PROMISE THE WORST THING IN THE WORLD IS WHEN A SINGING N***A GOT N***AS SCARED TO TO FADE. AND WHATS LAME IS N***AA ALL IN MY COMMENTS WORRIED ABOUT ANOTHER N***A. ILL LEAVE THIS WHERE ITS AT!

SO YOU JUST DANCE YA WAY OUT MY COMMENTS! Ima send ya girl flowers so she know I respect her. I'm disappointed in this n***a, AS HIS FATHER I SHOULD HAVE BEEN THERE MORE IN HIS LIFE SO HE WOULDN'T COME OUT A LAME AZZ N***A!"
Yikes. Them's fightin' words!
Your move, Offset.
Be the first to receive breaking news alerts and more stories like this by subscribing to our mailing list.