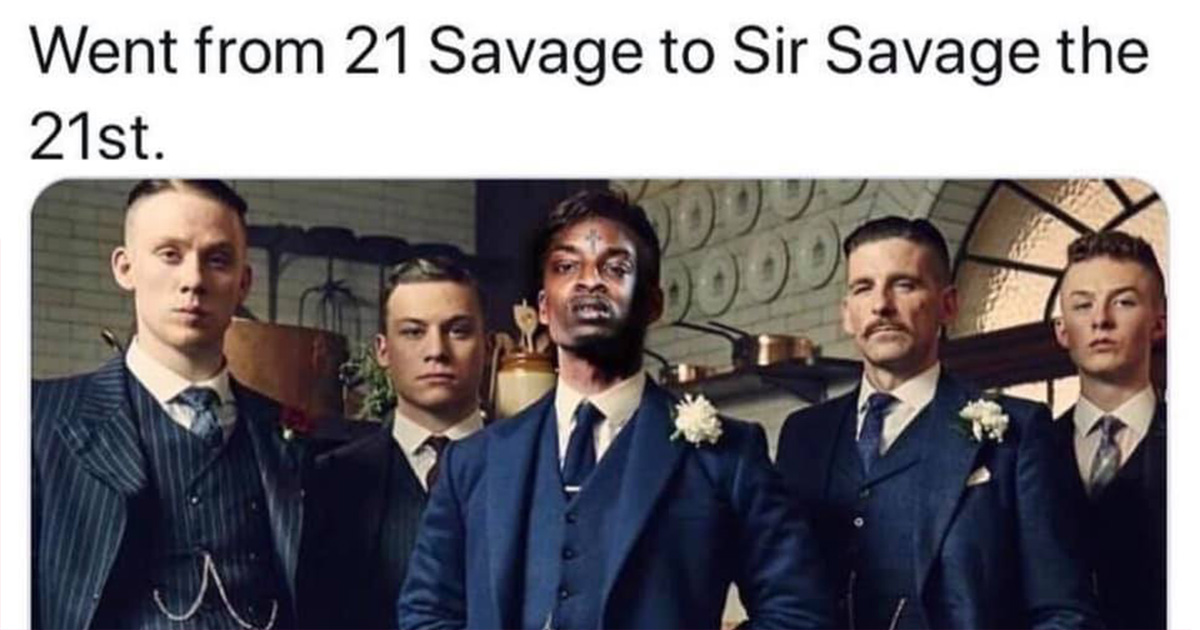 On Sunday (Feb. 3), a breaking news report revealed that 21 Savage had been arrested by ICE and was being held for possible deportation back to the U.K. because he had been in the United States illegally with a visa that expired back in 2006 (a year after he moved to the country).
Needless to say, fans were shocked, not only because 21 Savage (real name: Shéyaa Bin Abraham-Joseph) was being detained by ICE, but because no one knew he was actually from the United Kingdom, and not at East Atlanta, as his rap persona and music has suggested over the years.
Because the internet will internet, it didn't take long for memes to start popping up all over social media. The situation is, of course, extremely serious and there's nothing funny about it, but when has that ever stopped the internet?
Let's just hope that everyone's laughing at the irony of a U.K. citizen assimilating himself enough to become an American rap star, and not the fact that someone who has lived on U.S. soil for most of his life is being detained by immigration and could possibly be banned from returning for anywhere from 5-20 years.
Take a look at the funniest memes/Twitter reactions below:
He no longer 21 Savage .. That's Sir Savage the 21st ??????

— mary-go-round ?? (@trustmeimmary) February 3, 2019
no one:

jk rowling: 21 savage was a student at hogwarts

— ??????? (@notlipglosse) February 3, 2019
If 21 Savage is really British, they really are the best actors and I understand now why they keep getting all the good black roles in Hollywood

— Rae Sanni (@raesanni) February 3, 2019
21 savage: but mum i want to be a rapper

his mom: ur not bloody skipping school again i swear to god if u don't sit down and eat that fucking crumpet

— cory (@_coryrichardson) February 3, 2019
Drake when he found out 21 savage was a British citizen before him pic.twitter.com/pGmW0UtyLJ

— Ishaan.S (@Ishaan_S1) February 3, 2019
I really just asked myself "if 21 savage is British then what am I?" lmaoooo

— Quinta. (@quintabrunson) February 3, 2019
Nobody:

21 savage: pic.twitter.com/4F5sQsfvr7

— Cris ? (@criss_349) February 4, 2019
21 Savage nah he 21 Scallywag pic.twitter.com/CX24EtXrVH

— enishi (@finessedyourex) February 4, 2019
when 21 savage said "everyday that i'm alive, ima ride w the stick" this is what he meant pic.twitter.com/nU3Mpz5Zzb

— roha (@vschoee) February 3, 2019
21 Savage being British was right in front of us this whole time pic.twitter.com/Kj2Ym8sp2d

— Big Head Sam (@BIGHEADSAM) February 3, 2019