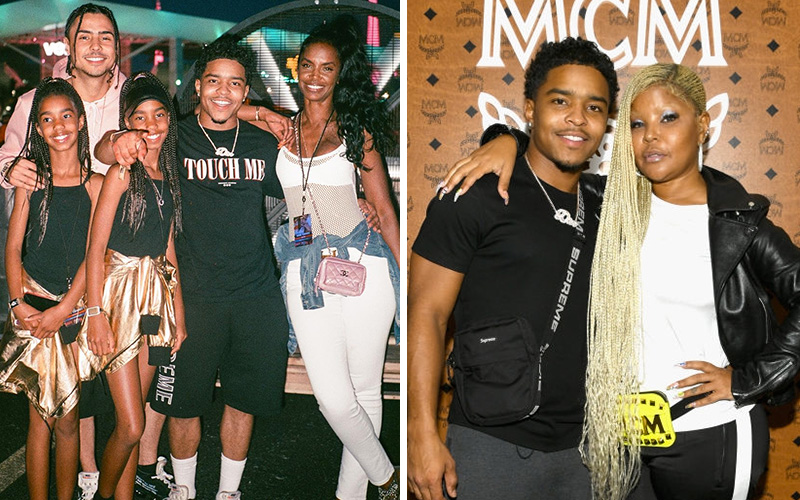 Sean "Diddy" Combs has a HUGE family—a total of six children, including Kim Porter's oldest son Quincy, who isn't biologically his, but he helped raise him as if he were his own.
Diddy has a strong bond with all three of the women who are his children's mothers—the late Kim Porter, Misa Hylton-Brim and Sarah Chapman—and not only that, but the women also have strong bonds with each other.
Fans have admired and respected the co-parenting relationship Diddy has with the women of his life, and after the sudden passing of Kim Porter, all of the social media tributes from everyone further proves just how close they all are as a blended family.
On Sunday (Nov. 18), Misa Hylton-Brim, the mother of Diddy's first-born son Justin Combs, took to Instagram to pen a touching message to the woman who she raised her children with for the past two decades. In her IG gallery, she included three photos of Kim, including one with her and all of their children.
Misa not only thanked Kim for being a second mother to her Justin, but for also accepting her younger children (who are not Diddy's) as well. She also shared her reaction to Porter's death, describing it as one of the "most shocking and painful experiences" she's ever been through and a "devastating loss" to the family.
Alongside a beautiful black and white photo of Porter, Hylton-Brim wrote: "For the last 20 years we have raised our children together, my mind cannot begin to wrap around the fact that you are not going to be here. Thank you for being a 2nd mother to Justin and for loving Niko and Madison just the same. This is one of the most shocking and painful experiences that I have ever been through. A devastating loss to our family."
Misa went on to describe a recent conversation the two shared about the kids and "how proud we were of them all."
She said: "We spoke about their futures and how we could come together to support them in business. That was a very special conversation. But you were cool like that, and that is what I will miss the most. Our inside jokes and the fact that we shared an unspoken understanding around what it was like to raise our children in this life."
Misa also vowed to be a pillar of support for all four of Kim's children, saying that she'll continue to love them as though they were her own. "I promise to love and protect Quincy, Chris, D'lila and Jessie. I will always be here for them," she wrote. "Rest in Power Beautiful Queen #familyForever."
https://www.instagram.com/p/BqVuPbiDoiZ/
Justin also wrote a beautiful message to the woman he considered his "second mom." The 24-year-old recalled how they had recently spent time together as a family, noting how quickly life can change.
Justin also thanked Kim for accepting him as his own, adding that he would "forever cherish all the special moments and talks" they had together. Read his message in full below:
"This can't be real I keep waking up hoping this is all a bad dream.. I just don't understand. The other day we were all together dancing & celebrating! My second mother, thank you for loving & accepting me as one of your own I will forever cherish all the special moments and talks we had together please stay close with us and let us hear your voice to guide us. @quincy @kingcombs Jessie & D'lilah I got yall forever!"
https://www.instagram.com/p/BqVp1GoHBEl/
Justin's sister (and Misa's daughter) Madison also took to Instagram to share a heartfelt to her "Aunt Kim," thanking her for opening her home to hear and treating her and her brothers like "one of [her] own." She also thanked her for giving her her "best friends" (Christian, Quincy, D'Lila and Jessie) and for "embodying love, beautify and grace." You can read Madison's message in its entirety below:
"I think shock and saddened are the only words that come to mind in this moment when looking to describe how we all feel. Wow.. Aunt Kim, thank you for opening not only your home but your heart to Justin, Niko and I.. Thank you for treating us like one of your own, thank you for always reminding me that I looked, acted and sounded 'JUST like Misa'.. and most importantly thank you for giving me my best friends.. my siblings & for making me a big sister of not one but two beautiful, smart and loving girls. We all miss you and love you and still really cannot believe that you are gone. Thank you for embodying love, light, beauty and grace.. wow.. Rest In Peace Aunt Kim… my heart is so heavy."
https://www.instagram.com/p/BqOk72cFWrE/
Diddy honored the mother of his children with a private memorial service at his mansion in Bel-Air. The service was attended by close family and friends, including French Montana, Pharrell and Mary J. Blige.
According to TMZ, the house was filled with photos of Porter and the family, and a candlelit walkway lined the entrance as guests arrived.
Be the first to receive breaking news alerts and more stories like this by subscribing to our mailing list.